Wintry mist from a non-level playing field!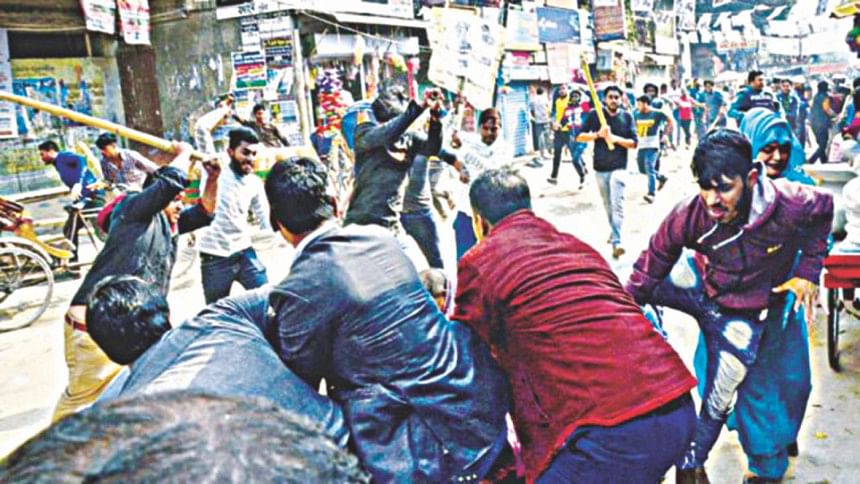 If almost every past election in Bangladesh had been a test case for democracy, the one the nation is going to in two days' time is a veritable litmus test for the country's democratic future.
It is a high-stake election not just for both sides of the political spectrum but equally, if not more significantly, for the sake of orderly, stable and rights-based governance and development of the country.
Given the baggage of cumulative political irreconcilabilities, the new equations within and between the political alignments, and their possible ramifications for the two-party system, the election has the potential as a clearing house conduit for certain puzzles. On the other hand, it may be looked upon as a stepping stone, ad interim kind of election, something of a precursor to a perfected version next time around.
A scenario may also be brewing under the surface of more of the same kind of outcome in the now-unlikely-but-not-entirely-ruled-out prospect for a last-minute opposition pull-out. According to Prothom Alo, this may be courted by some ruling party leaders as a contingency measure for which stand-by candidates from alliance partners are said to be in a state of readiness.
The whole world is watching what with our socio-economic profile, handling of Rohingya refugee crisis and containment of ideological extremism. Some reports suggested a sloshing of big money aimed at influencing poll result in a particular way. Of course we need to stand guard against fake news and rumour-mongering which by their very nature should be identifiable by the voters themselves.
For her part, AL Chief Sheikh Hasina is clearly looking for an untainted electoral mandate behind her third term in office on her much-vaunted plank of continuity of socio-economic progress. She has stressed on two points publicly: She wants a competitive election understandably underscoring the credibility and legitimacy of the process. Her exact words have been to avoid proshno-biddho nirbachan (an election that must not be marred by any question-mark). All this was predicated on her express desire to see an "alternative" political formation or platform emerge; in other words, engaging the opposition aiming to take the wind off its sail, strategically speaking.
Even a layman knows competitive election presupposes existence, more or less, of a level playing field depending on whether the election was being held under an incumbent government. But in view of the largely one-sided electioneering by the ruling AL-led jote with violence and intimidation stalking the opposition campaign to top it up, the wintry mist from the so-called level playing is all but lifting. The BNP knows at heart that their expectation of an "equal election campaign opportunity" with the ruling party could be belied by their compulsion to stay the course so as not to lose their party registration.
Yet they, led by Oikyafront leader Dr Kamal Hossain, latched on the Election Commission, the most powerful institution urging it not to "side with the police" in the face of specific instances of breaking norms. In their meeting with the CEC on Tuesday which ended on a sourly note, the political leaders sought EC's intervention in ensuring a free and fair election and "restraining the police from terrorising and intimidating the opposition candidates." One would have hoped the CEC to have assured a probe.
The diminution of election as the springboard to launch a constitutional government and a democratic system with a reasonably effective opposition in parliament looks like an unfolding scenario. Between the build-up and the countdown to the 11th Jatiya Sangsad election, there has been a marked aggravation in the electoral climate. Since December 10 till last Wednesday even an incurable optimist has had trepidations. "Violence rages on", headlined this newspaper on Wednesday. Its subtitle screamed "Goyeshwar, 30 others hurt in attack at Keraniganj"; "4 injured as petrol bombs hurled at AL procession in Sitakunda."
The Oikyafront leaders who met the CEC on Tuesday cited 88 cases of attacks on opposition candidates by the AL "where no protection was provided by the police," they added. On the other hand, HT Imam, the co-chairman of Awami League Election Steering Committee, claimed 5 ruling party men were killed and 350 injured since December 10 in BNP-Jamaat attacks.
But the redeeming feature though is all electioneering activities cease from today with the high voltage tension morphing into a calmer clime. The Army's role would be pivotal from here on.
Shah Husain Imam is Adjunct Faculty at East West University, a commentator on current affairs, and former Associate Editor, The Daily Star.
Email: [email protected]