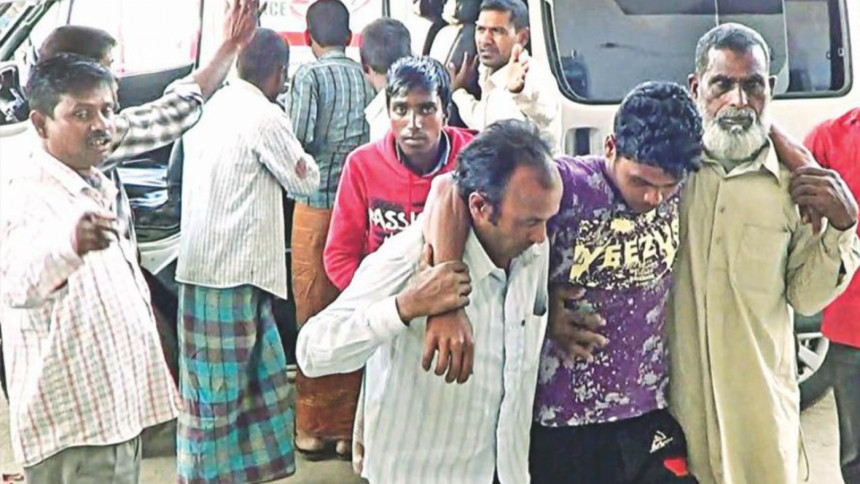 Last Tuesday, from the northerly Himalayas, a blustery wind cascaded down to Haripur area of Thakurgaon leaving a patch of ruins in a manner of speaking! An attention-grabbing cattle rattle turned the heads of the local people in a certain direction with digital media and newspapers falling on the trail for the sheer news value of the unfolding incident, and in public interest. In a clash between Border Guard Bangladesh (BGB) personnel and locals—on what the former claimed as smuggled cattle and the latter saying they had bought them on auction to put on sale in a haat—three persons including a 12-year-old boy were killed. Another 28 people including BGB troopers were injured in the clash.
No regrets or condolences for the deaths and sympathies for the wounded were instantly issued nor any compensation announced for the victims. After all, it all happened in unfortunate—and one would have thought avoidable—circumstances. The immediate sequel has, however, seen the formation of BGB and administrative inquiry committees. While those are routine requirements, there needs to be an independent, broader investigation having regard to the sensitivity of the border areas.
In fact, the BGB's narrative stated that as part of an anti-smuggling drive, a BGB patrol team seized two "Indian cows" and while on its way back to its camp with the cattle, a mob armed with "staves and bladed weapons" blocked the road and threatened an attack.
The incident has been put in a broader perspective of border deaths being a contentious issue between India and Bangladesh. The recent spike in border killings by the BSF has left the BGB and the locals "confused in absence of a probable cause behind the Indian forces' trigger-happy behaviour." That the Indian promise on use of non-lethal weapons is often reneged on is an open secret. But the takeaway from the Thakurgaon incident is this: on our side of the border, we need to be wary of any sneaky trigger-happy attitude of which we so very rightly accuse the BSF. Indeed, border management requires specialisation, more so because of a prevailing notion that folks on the border lack loyalty.  
It was a full-scale mayhem caused by the security personnel firing on the mob who had allegedly attacked the conveyance carrying the cows from Chandgaon to Betna camp. Without prejudice to an independently carried out inquest into the lethal step, one could raise a question as to whether persuasive methods were exhausted before taking the extreme measure like shooting. Two important missing links in the chain appear to be: a) asking for proof from the alleged smuggler of the purchase of the cows on auction in addition to other forms of verification available to make sure no excess was committed; and b) the lack of blaring out warnings through a microphone to make a mob scurry off. In the first place, why allow a mob to form?
However, it is learnt that the blank shots fired to warn were preceded by directives from the local commander urging people to disperse peacefully. Yet, could these have staved off trouble minus any waving of a red flag to send out a chilling warning? Most of all, one sees a clear need for seeking  public cooperation in checkmating smuggling, a powerful motive that should be instilled in both sides. Any adversarial relationship between our border guards and the people in border areas doesn't just fit in with the modern concept of frontier management. On the policing side, mob control techniques are imperative to apply, instead of any ham-handed treatment, even unwittingly. For that does not sit in with democratic norms we have struggled for and hold so dear in our collective consciousness.
The factsheet speaks for itself. Interpretations may vary; versions may be self-righteous and defensive; but truth is self-explanatory making itself felt. Let the facts of the case be bared and whoever is found guilty held to account; for we must know that "every death diminishes humanity."
Shah Husain Imam is adjunct faculty, East West University, a commentator on current affairs and former Associate Editor, The Daily Star.
Email: shahhusainimam@gmail.com