Good cricket is not enough, better cricket expected!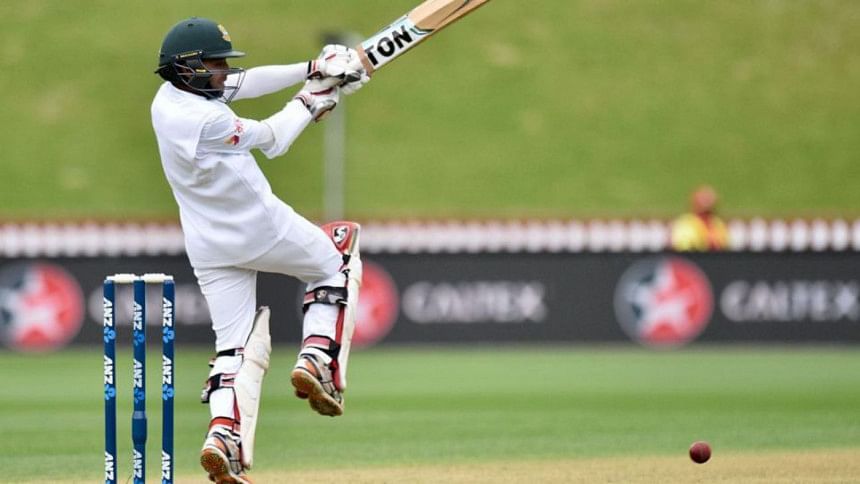 The second and final Test is on at Christchurch. The Tigers, hopefully, are going to make their last stand in the same venue they had launched their cricket expedition against New Zealand on December 26 last year. Is their ammunition still dry and live enough to give a crackling fight to the Black Caps after all the defeats sustained by our national team ?
What are our takes from the last Test match? The clichéd argument has been to build on the positives and avoid the negatives. We have been saying all these after every failed encounter and equally frequently dumping them on the ground. The sparkle of our performance has been individualistic, falling critically short of delivering collectivised team-driven success. Why? Because after each laurel, far from replicating it, back-to-back (remember Ken Williamson here!) we almost habitually slacken as if one good performance is one too many. After good batsmanship, the performer's legs jam to drop a dolly but a potentially game changing catch.
On the third day of the last Test, catches were dropped off the bowling of Taskin and Mehdi Miraj Hassan. Were this not to happen, New Zealand would have appeared on the fourth day with a much reduced score than 303 for 7. Altogether 4-5 opportunities for taking wickets went down the drain.
Another oft-repeated resolve you get to hear is, "It is a new game and we shall try something new here". The new seldom comes about. Try as you must new things, watchful of the ebb and flow or highs and lows of a match to train your gun on the opponent but never forget your one deficiency. Develop a killer instinct and never flinch from displaying it like New Zealand does to perfection.
The whole nation is so committed; I saw two small girls holding up two thin placards, one reading: "Wagner wag the Tigers' tail"; and the other was full of cricket sense, urging their national side to up the run rate to 3.6 per over (on the fifth day)!
Why did we declare at 595 for 8 when Sabbir was on the crease after his half century? Could we not add more runs to save the match? Declaration is a tactic, and not a feel good fiction!
Among the positive records were the dream-come-true partnership between Shakib and Mushfique and the sprightly five catches taken by substitute wicket-keeper Imrul Kayes, only second time in cricket history. While these dazzle as spectacular milestones, one particular record is heart-breaking, never ever, we must add: It is a shame that we lost the Wellington Test after having scored 595 runs. In 123 years of cricket history this is the second debacle of its type; but again the last time it happened was in an era of timeless Test matches—seven –day long. 
Well, you may ask why must we be so touchy over the prospect of Banglawash. After all, it's not just New Zealand which got a series wash from Bangladesh; other formidable visiting sides have been trounced by Bangladesh on its grounds. These keep happening in bilateral series between top teams played on each other's ground. A team playing on its home ground has an edge over a visiting opponent. In a sense, the exchanges are even handed. Since we are coming of age in world cricket we must learn to cope with reverses.
The Tigers with their back to the wall have nothing to lose, but everything to gain from a fresh strategic start backed by vigorous mental, physical and skill training regimens. Some tend to point to the robust physical features of New Zealanders, Australians providing them with stamina vis-a-vis Bangladeshis.
The tragic injuries of Mushfique and Imrul Kayes who could be match saviours or even winners in the last two days of the first Test match, and may be missed for this one, tend to cross one's mind. But an informed judgement on the issue would suggest that Wagner, Southee and Bolt bowled high rising bouncers, some 51 at Mushfique who had earlier retired hurt but returned to play on the fifth day to save the match. That time a bouncer hit his helmet, sent him reeling on the ground and eventually he was taken to hospital. Imrul who was batting brilliantly was hurt while rushing to the wicket to complete a run.
The Wagner bouncers were relentlessly frequent which made the umpire to warn him once. But according to the rules if he had received a second warning he would have been ordered out of the field.
The physical feature-related argument about stamina or prowess is refutable; just look at the Sri Lankans with similar stature as ours! But that has not stopped them from dominating the cricketing scene for a long time. On the other hand, well-built Afghan, Irish cricketers though improving their performances, still have a good distance to cover before being elevated on the cricketing scale.
The writer is a current affairs commentator and former Associate Editor, The Daily Star.

E-mail: [email protected]