Rethinking our way forward
Infrastructure development is crucial for Bangladesh's future, but the lack of skilled manpower for project implementation is hampering our progress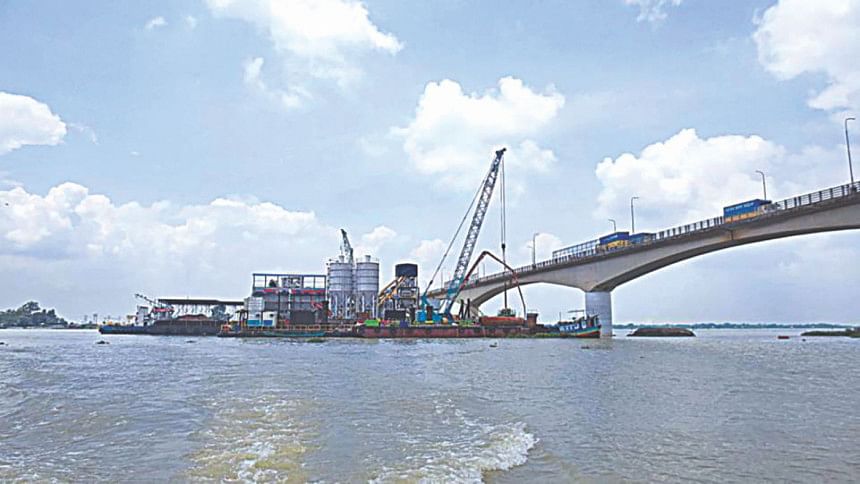 Recently, The Daily Star held a roundtable conference on how infrastructure development projects in Bangladesh can be better managed and the summary was published in the daily on December 12 which I read with interest.
It is a general view of the Western world that the developing countries should all aspire to become developed countries by adhering to the indicators set out by institutions such as WHO, UN, WB, IMF, etc. As such, the development initiatives are also guided by the policies adopted by these global institutions. Needless to say, the thought process behind these policies is heavily biased towards Western values, stemming from the core belief that the Western way is the only way to development.
Bangladesh and many other developing countries have followed the prescriptions of these institutions, ignoring the fact that any development initiative must come from within, not outside the society that they are trying to develop. As a result, development projects have been imposed from above, without taking into account the local conditions, local wisdom of generations, potential alternatives, and, most of all, opinions of the very people for whom this development is meant for.
We all know about the Bhabadaha river debacle in Jessore ("Bhabadaha: A tale of sorrow", The Daily Star, August 5, 2017). Up until 17th-century Bengal, the zaminders were responsible for managing the rivers and floodplains. They followed a process which was environmentally sustainable and people-friendly, at the same time facilitating optimum production of crops, fish, cattle and poultry ("River management in Bangladesh: A people's initiative to solve water-logging", Ashraf-Ul-Alam Tutu, Participatory Learning and Action, April 2005).
In Bangladesh projects are implemented through various executing agencies (EAs) like the Roads and Highways Department (RHD), Bangladesh Water Development Board (BWDB), Power Development Board (PDB), Bangladesh Bridge Authority (BBA), Bangladesh Railway (BR), etc. The respective ministries, in coordination with the planning ministry, select and prioritise development projects, monitor progress, and accord approval or otherwise at every milestone of such projects.
It all looks rather good. However, a crucial piece in all this is missing; there is simply not enough skilled manpower to drive through the whole process of project implementation from start to finish. At the same time, the organisational arrangements that have been in place for so many decades are strained to the limit in their effort to cater to the changes and much increased demand in the development process.
PricewaterhouseCoopers (PwC) projects fast growth for several countries including Bangladesh which are currently categorised as developing but by 2050 will cross several developed countries in terms of GDP ("The World in 2050: Will the shift in global economic power continue?", PwC, 2015). According to this study, institutional strengths and weaknesses of these countries will play a major role in them being able to realise their true potential.
In his famous book The Origins of Political Order, American political scientist and political economist Francis Fukuyama showed the cases of Iraq and Afghanistan where a blind following of the formula set by developed countries, without taking due account of the local situation, failed miserably. Sri Lanka is another case in hand; on December 9, 2017, it handed over control and operation of the Hambantota Port (called Magampura Mahinda Rajapaksa Port by the Rajapaksa government, not surprisingly though) to China Merchants Port Holdings of China under a 99-year lease because Sri Lanka has no other means of paying back the debt to China. This is reminiscent of the situation under which Hong Kong was leased out to Britain as China went bankrupt during the Opium War.
The aforementioned roundtable conference has come up with a very important recommendation—that of creating a project management cadre in the civil service. Of all the recommendations, this is perhaps the most relevant and crucial aspect that should be looked into. However, this should be done from a much broader perspective.
The time has come for Bangladesh to review the role of its ministries, EAs, consultants and contractors who actually carry out the job. In short, the country needs a thorough review of how it manages its development process. Every stage of a development project (planning, financing, negotiating, designing and implementing) needs specialised skills including legal, commercial, finance, economics, engineering, environmental and social, just to name a few. It may not sound all too reasonable, but there are few other kinds of skills that can add great value to the implementation process of such projects. These include history, geography, anthropology and above all wisdom of the local people.
With the large number of infrastructure projects being implemented in the country, there is already an acute shortage of conventional skills (for example, engineers, environmentalists and economists). To make matters worse, there are simply not enough professionals to address matters on contracts, negotiations, financing, planning and the like.
As an example, consultation with a historian with knowledge of the zaminder-era water management system could result in major improvement to water management projects, many of which are faced with problems such as waterlogging or lack of water. Similarly, legal specialists can negotiate better terms for Bangladesh, and financing specialists can wade through the bureaucratic maze of the WB or ADB and secure a better deal.
Two aspects perhaps are most important of all: i) public servants and politicians must realise and believe that by borrowing a fund, Bangladesh becomes a valuable customer for WB or ADB, and owner of the borrowed fund, and therefore should be the one making decisions which are beneficial to the country and not be dictated terms by these banks; and ii) the EAs must be given the authority and flexibility to undertake project implementation in a professional manner and not be micromanaged by the ministries.
---
Sayeed Ahmed is a development professional involved in the infrastructure consulting business for over 20 years and has worked on projects under several government agencies in developing countries, Asian Development Bank and other institutions.
---
Follow

The Daily Star Opinion

on Facebook for the latest opinions, commentaries and analyses by experts and professionals.
To contribute your article or letter to The Daily Star Opinion, see our

guidelines for submission

.
---