The sins of our daughters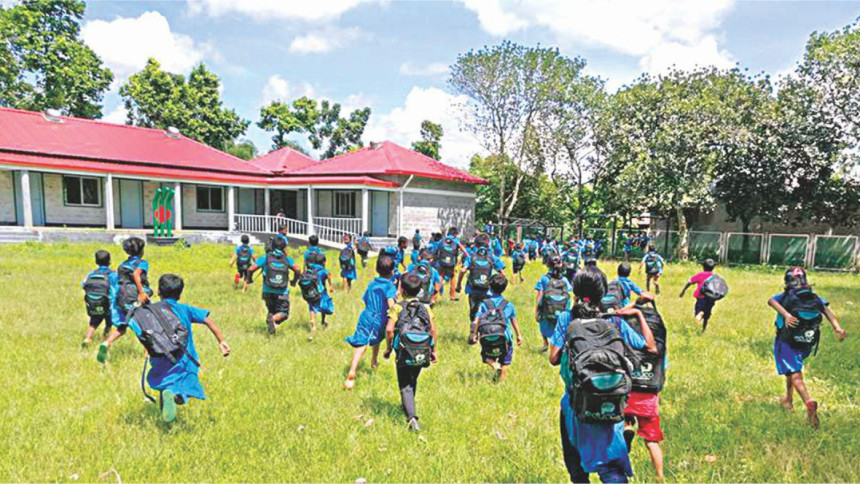 Who among us, if we were parents of a daughter, would not want to protect her from the perils of our world? Who among us does not consider their daughter to be the centre of their universe? Parenting is supposed to be a joyous experience, yet it happens to be something that keeps you in a perpetual state of anxiety. It makes you wake before the alarm. It makes you sit through her breakfast at the risk of being late to work, sacrifice your after-hours social life, or readjust other such personal and professional priorities. It keeps you worried even if there is no reason to be. But the tragedy of our time is that even our best efforts are sometimes not enough to keep our daughters out of harm's way.
Consider two recent headlines used by The Daily Star—"4-year-old 'raped' in Sunamganj" and "9-year-old raped by uncle"—and ask yourselves if you're still comfortable with raising your child in a society where danger "lives next door". Ask yourself if you're still enamoured with the concept of society. Ask yourself what led to girls of that age being vulnerable to abuse in the first place. And ask, if you will, if we're not all somehow responsible for the perpetuation of this condition.
To read about tragedies like these and still function with a semblance of normalcy is getting increasingly difficult. As a writer, I am expected to spread positivity and play the happy citizen, and pretend that the world is not crumbling around us when, in reality, the world indeed is, bringing down with it everything that we cherish and hold dear. When a girl as young as four is raped and we move ahead in life without so much as a backward glance, you cannot help but wonder, surely something is wrong here? Headlines like these hold a mirror up to our society—and us who populate it—and it's terrifying to look into that mirror. Despite what we promised to tell each other, Bangladesh's progress as a society has not been on a par, to put it mildly, with its growth as an economy. It's ironic that ours was a country born out of a socialist dream at the heart of which was a belief that economic growth and social development are complementary, and that Bangladesh, as a nation bound by common aspirations and unshackled by foreign subjugation, would be well-suited for that kind of transformation. It didn't happen.
As the years went by, the society grew more fractious, more morally compromised, and more insensitive to its weaker members. Women's empowerment, which is fundamental to the make-up of a fair and equitable society, has been relegated to mere numbers—number of female leaders in parliament, number of female CEOs, number of girls enrolled in school, etc.
The result was, far from having an environment in which our daughters would feel safe and truly empowered, we have a society where nearly two girls are raped every day. According to the latest annual review of Ain o Salish Kendra (ASK), the number of children raped every year has increased from 377 in 2017 to 444 in 2018, with an 18 percent increase in one year alone. The ASK report further says that a total of 1,011 children suffered from different kinds of torture in 2018; among them, 283 children died, 108 committed suicide and 28 died under mysterious circumstances. Between 2012 and September 2016, according to Bangladesh Shishu Adhikar Forum, a total of 1,301 children were raped. The average age of these girls was between 5 and 12. That last bit of information would seem like a statistical absurdity if you try to align the age factor with what makes a victim "sexually violable".
But more importantly, the impunity with which rape and harassment of girls of any age is still being committed, despite all our progress and defying all manner of countermeasures, is truly mindboggling. This, again, brings forth the question: what makes our girls vulnerable to abuse in the first place? Is it because we as a society have failed to rein in our basest instincts? Is it because we have failed to teach our boys properly? Or has it something to do with our retrograde social structure that has all but normalised subjugation of the weaker sex? All three questions lead to a scenario in which girls are basically "guilty" of being born girls—or "born sinners", as a popular refrain puts it sarcastically. Only a girl who is familiar with this experience can perhaps relate to Sophocles' assertion that the "greatest boon of all" for us would be "to never have been born". Such a pessimistic view of life is probably a bit anachronistic, all things considered. But for most girls for whom individual dignity and security is a relative term, there are no greener pastures waiting for them at the end of the tunnel.
I remember a friend who once explained to me how superstitious rural folks sometimes give derogatory names such as Pocha/Pochi ("rotten") or Felani ("disposables") to at-risk newborns as a "buffer" against Death. The idea is, even Death would not approach an infant of such names. These names are usually temporary, and replaced with better names as soon as the danger is deemed over. But the threat facing girls and women in our society is never really over, as those grim statistics keep reminding us. It's a threat that is relentless and comes in many forms: if something is not happening, someone else is indeed happening. If they are not raped, they are inappropriately touched; if they are not catcalled, they are stalked or bullied; if they are not forced out of school, they are forced to choose a narrow career path; if they are not married off early, they are forced to stay in abusive marriages; if they are not harassed at work, they are harassed outdoors. If they are not paid less, they are discriminated against in other ways... all because of a choice in the gender department that was not their own. How very male of us, I wonder.
And through our inability to evolve, our inaction in the face of injustices done to them, and our tacit approval of a climate in which their vulnerabilities are promoted through popular culture, existing social norms and even legal practices or lack thereof—we have made sure that our daughters will remain at risk in one way or another.
If rape is about power, and not just sex, have we done enough to change the male-dominated power dynamics within most families that are eventually thrust onto the larger social stage (with often grotesque demonstrations of that power)?
---
Badiuzzaman Bay is a member of the editorial team at The Daily Star.

Email:badiuzzaman.bd@gmail.com
---
Follow

The Daily Star Opinion

on Facebook for the latest opinions, commentaries and analyses by experts and professionals.
To contribute your article or letter to The Daily Star Opinion, see our

guidelines for submission

.
---