. World Autism Awareness Day
My journey through the mysterious world of autism
One day, when we were very tiny, I remember watching my severely autistic and non-verbal twin brother Ayman during a session with a therapist in his room.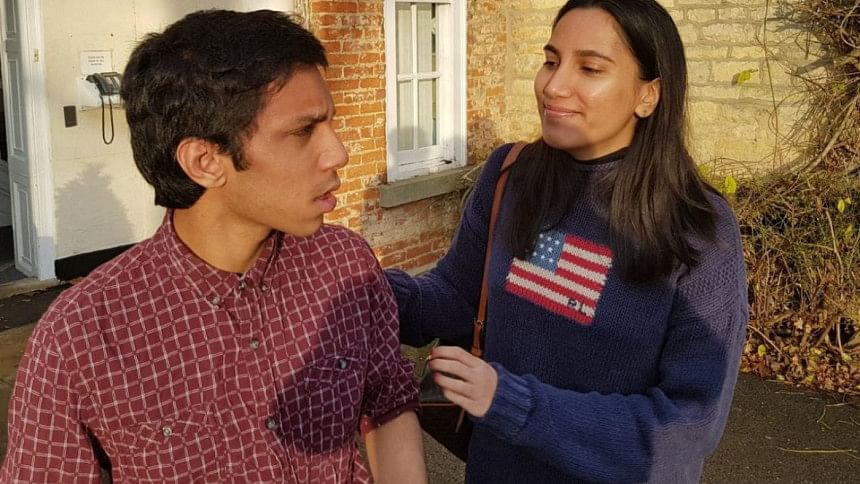 One day, when we were very tiny, I remember watching my severely autistic and non-verbal twin brother Ayman during a session with a therapist in his room. The therapist had laid out three plastic cups in front of him on the table and, making sure he was paying attention, overturned each of them to reveal a different snack under each one: peanuts, cashews and crisps. Immediately, I saw a change: a big smile grew on his face, and we had his attention.
After covering the snacks, she asked my brother, "Ayman, which snack do you want?" What followed amazed me: Ayman lifted up his arm, and pointed at the cup containing the peanuts.
Before this, I had never seen Ayman communicate so directly. Being non-verbal, and having severe learning difficulties, made this all the more difficult. But this therapist had managed to reach him and teach him this skill—one so simple yet important as pointing. When I got older, I learned the name of this form of therapy: Applied Behavioural Analysis, or ABA; and another important term: Positive Behaviour Support (PBS).
ABA is a scientific discipline that helps people to learn methods that will produce an observable change in behaviour. It is well known as a therapy to help autistic people. In the case of Ayman, in order to teach him a communication skill (pointing), the therapist used food, one of his favourite things, to positively reinforce that behaviour. This is a key part of changing the behaviour: if behaviour is quickly followed by a stimulus (in Ayman's case, yummy food!), this will cause an increase in the frequency of that behaviour happening in the future.
PBS, on the other hand, is a long-term, person-centred approach to help those with learning disability who are displaying, or at risk of developing, challenging behaviours. Its key message is that all behaviours have a reason, and by learning these reasons, we can help reduce the challenging ones and support the person in living a fulfilling life with fewer restrictions. Ayman would often rock back and forth very quickly and with a lot of vigour, hitting his head, for example, against the wall or on the back of the car seat. Through assessments we learned that there is a sensory need he is trying to fulfil. By providing sensory experiences that he enjoys like listening to music (another big love of Ayman's) and head massages, we are able to help him to meet that need.
It is an ongoing journey: he still rocks back and forth and bangs his head, and the same behaviours can have multiple different functions, but we continue to use PBS to help us understand Ayman and his needs.
My curiosity about autism continued as I got older. I was led to studying psychology for my Bachelor's degree at university, where I learned about behaviourism, a strand of thought underpinning ABA. After graduating I eventually secured a position as an assistant psychologist within Child and Adolescent Mental Health Services (CAMHS) as part of the National Health Service (NHS) in London, specifically, the Learning Disability (LD) Team. Here I work with a clinical team consisting of clinical psychologists, a psychiatrist, and the same kind of therapists who helped Ayman: behavioural analysts.
I had the opportunity to visit a boy with autism who had been referred for challenging behaviours, for whom I had created a "choosing board"—a board containing pictures of his favourite activities like playing with slime or baking. During set "choosing times" in his day at home, or at school, he could choose which one he wanted to do. By doing this, the boy could gain some independence and control over his free time. This was successful, and the boy's mother called to tell us that he was much happier and his behaviours had gone down.
I am continuing to pursue experience that will help me to understand autism and learning disability, and to help people like Ayman.
---
Antara Mirza is an Assistant Psychologist with the CAMHS (Child and Adolescent Mental Health Services) LD (Learning Disability) Team in London.
---
Follow

The Daily Star Opinion

on Facebook for the latest opinions, commentaries and analyses by experts and professionals.
To contribute your article or letter to The Daily Star Opinion, see our

guidelines for submission

.
---