Dragon meets elephant: China and India's stakes in Myanmar
China and Myanmar share a close linguistic link. The Burmese and Chinese are both parts of the Sino-Tibetan language and people. They were also involved in conflicts in the past. It was during the critical times of World War II that China realised that Burma had geostrategic and military significance. The Burma Road is the most illustrious example of Myanmar's importance to China that helped the allied force defeat Japan in World War II. Originated in Assam of India, the road provided a lifeline to the British, Chinese and other allies to move weapons and goods into Japanese-besieged Burma and China.
The relations between India and Burma also date back centuries. Burma was made a province of British India in 1886. In 1937, it became a crown colony of Britain acting as a buffer zone between India and the rest of Asia. However, in the post-independence era, the relations between India and Myanmar varied markedly. While China backed the military government of Myanmar, India rendered its support to the country's pro-democracy movement. New Delhi reversed its decades-old policy of isolation adopting the "Look East" policy in 1990s.
While China has been investing in Myanmar for decades, in recent years, one notices greater Indian interests in the country. In this piece, I will try to explore both China and India's stakes in Myanmar.
CHINA'S STAKE IN MYANMAR
Myanmar shares about 2,000 km borders with the Chinese province of Yunnan. The province is the starting point of the Yangtze River Delta and the Pearl River Delta. It connects China with Southeast Asia, South Asia and two oceans, the Indian Ocean and the Pacific. Beijing has empowered the province to function as a bridgehead to Southeast Asia and South Asia.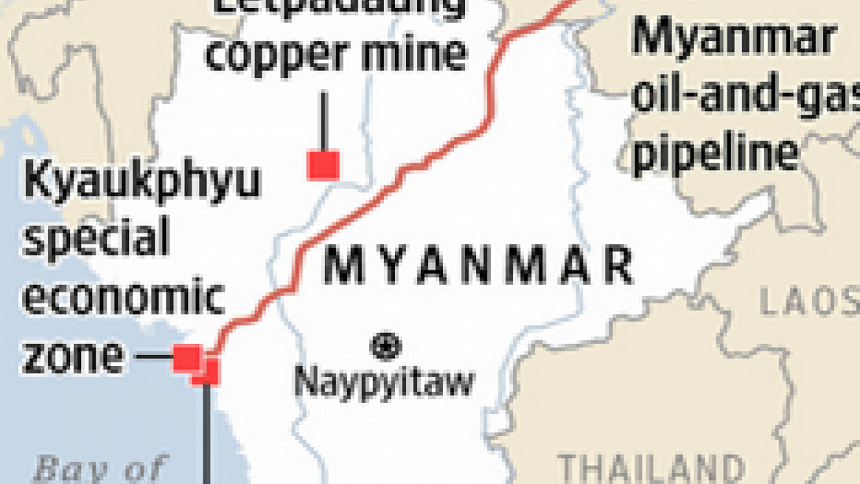 A seamless connectivity between China and Myanmar offers Beijing an alternate route to passage of goods through the Straits of Malacca which is essentially controlled by the United States. To pursue its goal, Beijing has invested at least USD 15 billion in Myanmar. Under the aegis of "Yunnan International Passage," the local government has developed roads and highways leading to Myanmar. The roads of Kunming-Ruili-Yangon and Kunming-Tengchong-Myanmar-India are the updated versions of the Burma Road. The Kunming-Ruili-Muse- Mandalay-Yangon is the main trade and connectivity route of China and Myanmar. 
The Yunnan government has modernised the key trading borders between the two countries. It pumped millions into developing the Ruili Development and Experimental Zone (RDEZ), the biggest land port of Yunnan bordering Myanmar. The China-Myanmar oil and gas pipeline project also passes through the region. Ruili is linked with Muse, a border town and port in Myanmar's northern Shan State, which is connected to Myanmar's second largest city Mandalay via Lashio. The historic Burma Road reaches Yunnan through Mandalay, Lashio and Muse. There is also a plan to connect the two countries through railway reaching up to Kyaukphyu of the Rakhine State. 
China is also investing heavily in Rakhine. A USD 2.45-billion pipeline from Kyaukphyu to Western China is already operational. The goal of the pipeline (793 km gas and 771 km oil pipeline) is to secure a key route for Beijing to import crude oil from the Middle East, reducing the country's reliance on oil supplies that pass through the Strait of Malacca. The pipeline can carry up to 22 million tons of oil a year, accounting for about 5-6 percent of China's annual oil imports. Myanmar itself is also a hydrocarbon-rich country.
Moreover, Beijing has an ambitious infrastructure development plan worth USD 7.3 billion in the state developing the Kyaukphyu Special Economic Zone and a deep seaport. It is one of the major projects of China's Belt and Road programme in the region, connecting the country to the Bay of Bengal. A consortium led by China's CITIC Group intends to take a 70-85 percent stake in the port project, although Myanmar government prefers a 50/50 joint venture. The port is part of two projects including a special economic zone. CITIC was awarded the lead role in both initiatives in 2015. 
INDIA'S STAKE IN MYANMAR
Myanmar's importance to India increased markedly following the launch of India's new "Act East" policy in 2014. From a security perspective, Myanmar is very critical to maintaining stability in Northeast India (NEI). The four states of NEI—Arunachal Pradesh, Manipur, Mizoram and Nagaland—share a common border of 1,643 km with Myanmar. Myanmar is also critical to limiting the influence of Naga insurgency. 
Moreover, as China's clout increases in Myanmar and Bay of Bengal, New Delhi intends to counter the influence by increasing its presence in the country. The confluence of all these factors has prompted New Delhi to build up maritime and other infrastructure in Myanmar, including the Kaladan multimodal project, a road-river-port cargo transport project, and India-Myanmar-Thailand Asian Trilateral Highway.
The Kaladan Multi-Modal Transit Transport Project is India's flagship investment programme in Myanmar. The USD 484-million project, consisting of river dredging and port and road construction, is designed to connect Sittwe in Rakhine and Chin hinterland with Mizoram of India. This could provide the land-locked northeastern India with a vital route to Bay of Bengal along the Kaladan River. It would also reduce the distance from Kolkata to Aizawl by less than half from the existing 1,550 km. 
India has completed the construction of Sittwe port, at the estuary of Kaladan River, Rakhine. The development of the river terminal and dredging of the river are currently underway. The road and other infrastructure on the Indian side are also under construction. India is likely to set up an SEZ at Sittwe, located closer to the Chinese port and SEZ at Kyaukphyu.
New Delhi's goal is not only to increase its presence in Rakhine, it also intends to access the rest of ASEAN markets through Myanmar. In this pursuit, a 1,360-km-long tripartite highway project has been designed jointly by India, Myanmar and Thailand aimed at connecting Moreh in India to Mae Sot in Thailand through Myanmar. 
CAN CHINA AND INDIA COEXIST IN RAKHINE? 

China is ahead of India in terms of investment and influence in Myanmar. But New Delhi is an answer, at least partly, to Naypyidaw's current policy to reduce its overdependency on China. In doing so, the country faces huge diplomatic challenges to manage the two Asian giants. Nevertheless, there are some real challenges both for China and India beyond their rivalry. Myanmar's volatile politics and fragile society are constant worries for Beijing and New Delhi as they pump billions into the country. While there is a ceasefire with a number of ethnic groups, the country has been waging the world's longest continuing civil war in which the ethnic Bamar Buddhist majority seeks to dominate dozens of non-Buddhist ethnic minorities. The volatile Rakhine, the home of Rohingyas, is a real worry for all the parties.
India and China's growing presence in Rakhine, which is barely 150 km from Chittagong, is changing the region's economic and geo-political maps very rapidly. Bangladesh is losing its strategic importance to its near-far neighbour. 
---
M Shahidul Islam is an economist. Email: [email protected]
---
Follow

The Daily Star Opinion

on Facebook for the latest opinions, commentaries and analyses by experts and professionals.
To contribute your article or letter to The Daily Star Opinion, see our

guidelines for submission

.
---