A special birthday gift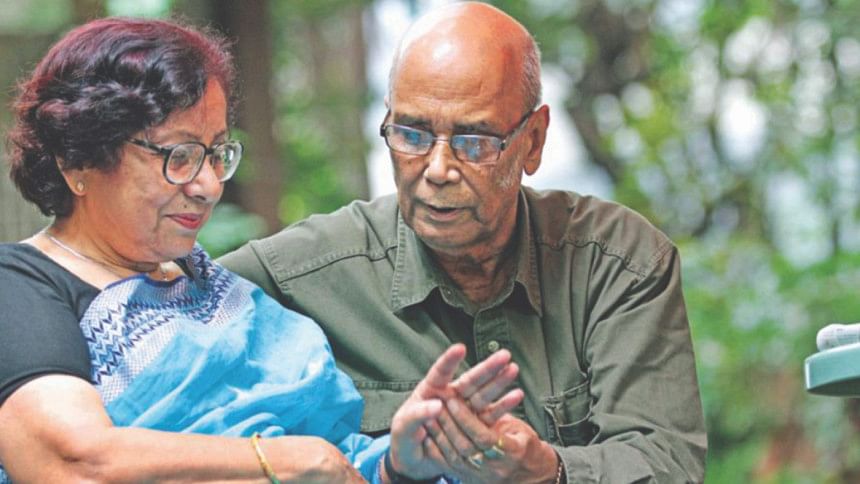 A state of numbing grief to the point of being lost is what Anwara Syed Haq seems to be in as I meet her at her residence. "Everyone is telling me to move on. But it's easier said than done. It takes time. It feels like I don't even have time to grieve. It's not easy to forget overnight the memories of 50 years," she murmurs.
She seems disoriented. "I don't have any time for myself. Mr. Haq is not giving me time to mourn," she says, more as a statement than a complaint. I am confused. What does she mean? "I have had no time for myself. Journalists, publishers, officials have been calling and stopping by; friends have been calling from home and abroad. I knew that he was a great writer but I did not know that he was loved by so many people. His books are getting published. I have to proofread those. I have to sort out poems that he dictated to me while in the hospital," she says, all in one breath.
What books?
"Three books of poetry, three books of short stories and two collections of stories. Besides these, about 22 books are being published in the book fairs in Dhaka and Kolkata. These books contain stories and poems both published and unpublished. I have to go to different places and newspapers. I have to write about his final days. Although he is gone, I am busy doing his work."
Would she not feel lonelier without these tasks? Has she thought about that? "That's probably true," she says taking a long pause.
What was his health like during the last days of his life? "He retained his sanity and intellectual capacity till the very last moment. On April 12 we learned that he had cancer. We left for London three days later. The doctor said that he did not have much time left; he would have to finish his work fast. Going back to my sister's house, I found him reading Sharatchandra. Then he read a book by Hemingway and a couple more. He even read Sandesh edited by Satyajit Ray. He bought a book on women's liberation and gave it to me as a present. All these books he read while translating Hamlet in about two weeks."
How was it after coming back home? "He did not die of cancer as such. He died of intercurrent infection due to pneumonia. Every day he had so many visitors who sat on his bed, shook his hands, and took pictures with him. He said no to no one. He loved people. He loved his friends."
Was he afraid of dying? "Not at all. He took death as a continuation of life. Even at 80, he made plans for the next two years. That means he never thought of dying. That's because the creative stream in him never dried up. Most writers become mundane when they reach sixty or seventy. He never repeated himself. After coming back, at the hospital he used to get up around during the wee hours of night and tell me to wake up. He wanted me to take notes."
How would he like to be remembered? "He received a lot of adulation. But he received a lot of criticism as well. Some people said awful things about him. I see that they are remorseful now. He knew a lot of people. But he was a lonely man. I believe that a truer appreciation of his work will come from the youths of this country. They are more modern in thinking."
What did he say about her writing? "He always encouraged me to write. It was difficult to find my own voice living under the shadow of such a great and talented writer. I was always careful so that I would not get motivated by his thoughts. Now when I read his books and I don't understands something, I repent that I should have read them earlier so that I could ask him questions. But I don't want to write. I want to finish the work he has left for me."
That sounds like a pretty big sacrifice even by the standards of a mourning wife. After all, she is an accomplished writer with several books to her credit. She is also a renowned psychiatrist who has her own practice. "I wish I spent more time with him. I wish I wrote down everything he said to me. I will do everything to keep him alive even if that means no more writing for me. I am an independent woman. But I cannot see anything but love in my heart now—an overwhelming love that overshadows everything else. You have to understand it."
What could be a greater birthday gift?
The writer is a member of the Editorial Team at The Daily Star.