Diversity is strength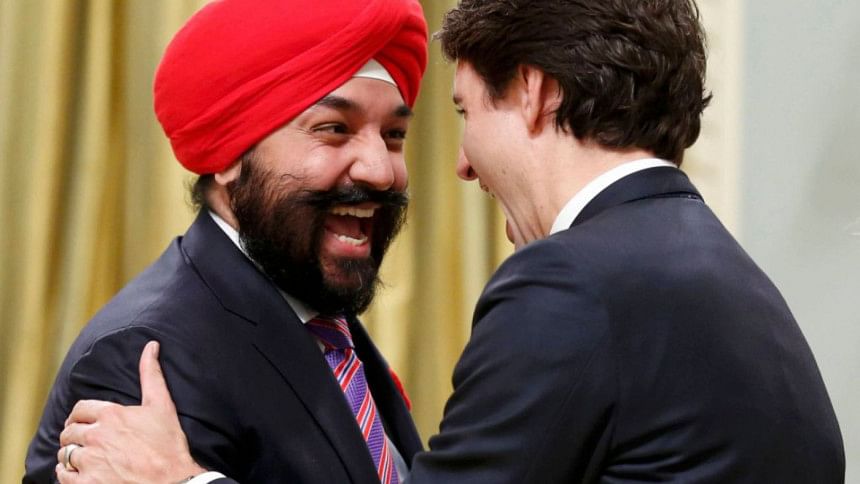 In the same way that political leaders in some countries make diverse picks in their cabinet appointments, business leaders can step up to help change the way their organisations are run. Canadian Prime Minister Justin Trudeau appointed a gender-balanced cabinet of 50 percent women and 50 percent men, some of whom are minorities even among minorities. 
Somalia-born Ahmed Hussen is Canada's Minister of Immigration, Refugees and Citizenship. Harjit Singh Sajjan, born in Punjab, became the first Sikh Minister of Defence and the fourth Sikh to be inducted into the Trudeau cabinet. Known for his witty repartees, Trudeau told an American audience last year that he has more Sikhs in his cabinet than his Indian counterpart Narendra Modi. Today Trudeau's country proves that diversity is like fresh air. It benefits everyone who experiences it. 
Similarly, organisations that create inclusive workplaces and encourage equal opportunities for all employees outperform their competitors. A 2015 McKinsey survey found that those in the top quartile for ethnic and racial diversity in management were 35 percent more likely to have returns above the industry average, and those in the top quartile for gender diversity were 15 percent more likely to have returns above the industry average.
Other bodies of research have proven that diverse teams are smarter and more creative. A study published in the Journal of Personality and Social Psychology suggests that people from diverse backgrounds can alter the behaviour of a group in ways that lead to sharpened group thinking. Non-homogeneous teams are more likely to re-examine facts and remain objective. They also encourage greater scrutiny of each member's actions, keeping their collective cognitive resources at vigil. 
By making the workplace more diverse, an organisation can encourage employees to watch their own potential biases—fixed ways of thinking that can hinder their ability to see important facts and even lead them to make mistakes in decision-making processes. According to Harvard Business School Professor Francesca Gino who teaches a PhD course on behavioural approaches to decision-making, "That our decisions get sidetracked by biases is now well established. While it is hard to change how our brains are wired, it's possible to change the context of decisions by architecting the composition of decision-making teams for more diverse perspectives."
There is also evidence to support the rational idea that people with different perspectives can boost creativity. Research by the University of Chicago has indicated that people with more diverse sources of information usually generate better ideas. Diverse workforces are often more innovative than others. 
Despite all these arguments for diversity, the human tendency is to resist it. Most of us feel more at ease with those who share our backgrounds. A Harvard Business Review paper titled "Why Diverse Teams Are Smarter" published in 2016 cautions us against that. "Don't be fooled by your comfort. Hiring individuals who do not look, talk, or think like you can allow you to dodge the costly pitfalls of conformity, which discourages innovative thinking." 
Adding to the evidence for diversity's benefits, several studies show that companies with more women are more innovative. Women take their jobs beyond box-ticking. A recent report by The Daily Star on the eight female UNOs of Kishoreganj District titled "Women take helm of Kishoreganj haors" will support this claim. It is encouraging to see women become deputy commissioners and even secretaries nowadays. 
Diversity is strength. It does not, however, produce better results automatically. It does so only when managed well. Experts believe that the biggest challenge has to do with trust. Employees from different backgrounds need to trust each other to produce their best work. And different groups forge trust in different ways. 
A second challenge has to do with culture. Too many companies fail to re-strategise their management styles as they hire new groups. They issue one-size-fits-all instructions to everyone hoping that they will get the message. For example, companies should be careful about telling employees to "act like an owner". To some, it might mean playing golf all day rather than showing up at work. 
Some employers are impressed by the ability to "speak up" without realising that some people—women especially, in many cultures—are brought up to be submissive. Research shows that women are shy when it comes to asking for promotions as often as men do, and are reluctant to take jobs for which they feel they are not experienced enough. Organisations should have the cultural intelligence to acknowledge these issues. 
In a nutshell, when companies open their doors to members of different genders, races, and ethnicities, they boost their intellectual and financial potential. We live in a universe that is characterised by diversity. It is only natural for organisations to be the same. 
---
Amitava Kar is a member of the editorial team at The Daily Star. 
---
Follow

The Daily Star Opinion

on Facebook for the latest opinions, commentaries and analyses by experts and professionals.
To contribute your article or letter to The Daily Star Opinion, see our

guidelines for submission

.
---