Remembering the oath-taking of Mujibnagar government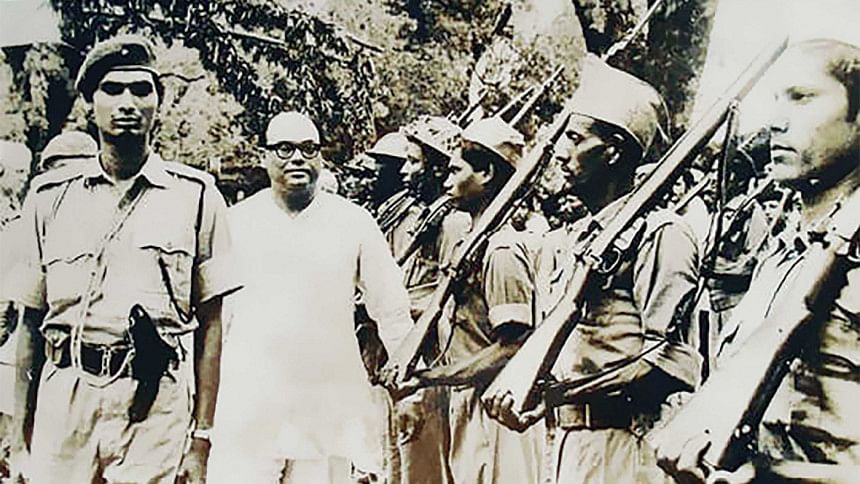 On April 17, 1971, the history of Bangladesh, and indeed the history of our Liberation War, took a drastic turn as the subcontinent's map was redrawn with the emergence of a new sovereign state headed by its first government. This was shortly after Pakistan military's brutal crackdown on innocent civilians and the declaration of independence by Bangabandhu Sheikh Mujibur Rahman. 
That day, in Baidyanathtala, later renamed Mujibnagar, the new cabinet was sworn in. It included Bangabandhu, then held captive in a Pakistani prison, as president, Syed Nazrul Islam as acting president, Tajuddin Ahmad as prime minister, Mansur Ali as finance minister, AHM Qamaruzzaman as relief minister, and Khondaker Mostaq Ahmad as foreign minister. Thus, a new country with a legally constituted government of elected public representatives entered the comity of nations. 
The significance of this event cannot be emphasised enough. It marked the start of our journey as a nation, led by a government that would not only lead the hitherto-disorganised freedom fighters and soldiers to emerge as a fearsome force but also, eight months later, lead the nation to its most coveted moment: its independence. In the history books, this government is variously known as the provisional government, the government-in-exile (as it operated out of headquarters in Calcutta, India), or the Mujibnagar government. As well as its visionary cabinet, it also had a diplomatic corps, an assembly, an armed force, and a radio service.
What was the moment of origin like for those who observed it? What happened on that day? Curious minds can now find ample literature on this part of our history, but suffice it to say, the first government actually came into being on April 10, when it was established. Then, on April 17, the journey for the oath-taking ceremony began from Calcutta Press Club and ended at Baidyanathtala, Meherpur (then under Kushtia district) around 11 AM. A motorcade of nearly 50 or more vehicles carried about a hundred VIPs, including the five members of the newly formed cabinet, as well as local and international journalists. 
They gathered at the bottom of a large mango groove known as Baidyanathtala Mango Garden, which provided a natural canopy of green over a hurriedly set-up stage to hold the oath-taking ceremony. 
The ceremony had none of the usual pomp and circumstance you see on such occasions today, yet it was a joyous moment with excited crowds and their tireless chanting of "Joy Bangla," "Joy Bangabandhu," "Tumi ke ami ke, Bangali, Bangali," "Jeler tala bhangbo, Sheikh Mujib ke anbo," and deafening clapping of hands. The slogans were so loud and boisterous that they reverberated throughout the landscape. 
At one point, with the red-green-and-yellow flag flapping atop a bamboo pole near the makeshift stage, the whole venue came alive when thousands of people began to sing "Amar shonar Bangla, ami tomai bhalobashi" in chorus. It was a beautiful moment. It was a hopeful moment. 
Thus the epochal moment is imprinted in the minds of those who were present there, including myself, as well as in the history of the independence of our nation, which came through the blood and sacrifices of countless people. 
Mahbub Uddin Ahmed, Bir Bikram, was a sub-divisional police officer of Jhenaidah during the Liberation War. He was in charge of presenting the guard of honour to the acting president of the government-in-exile, Syed Nazrul Islam, at the oath-taking ceremony on April 17, 1971.