Women's leadership in a Covid world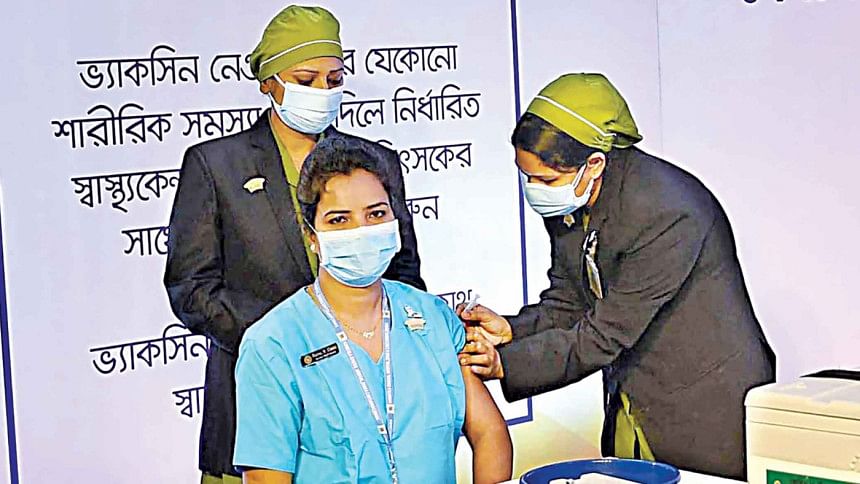 This year, the theme of International Women's Day is "Women in Leadership: Achieving an Equal Future for Covid-19 World". When the United Nations chose this theme, the idea was to celebrate and recognise women's leadership in confronting and tackling the challenges of Covid-19, both inside and outside the household. There is no doubt that such a theme befits the celebration of International Women's Day in the present world.
Women's role in the present day Covid-19 world has proven again that there is no alternative to women's leadership, their capabilities are beyond question, and at various levels, their work and vision have created new frontiers of progress. If we start from the national-level, even though women leaders run governments in only about 20 countries of the world, a number of female heads of governments like the prime ministers of Bangladesh, Denmark, Ethiopia, Finland, Germany, Iceland, New Zealand and Slovakia have provided effective leadership in addressing Covid-19 and rolling-out successful vaccination programmes in their own countries. Their leadership should also be appreciated for their meaningful, compassionate, fact-based public communication. In some of these countries, strong national leadership has also been translated at the local level. In fact, male leadership in many countries couldn't match their female counterparts in other countries.
Secondly, in every country, it is women who constitute many of the frontline workers—hospital administrators, doctors, nurses, health technicians, health workers, cleaners, community workers, etc. Women therefore play a significant leadership role in providing various kinds of services to Covid-infected people and the environment. Women community workers and volunteers also carried food, medicines and other necessities to people and households who by themselves couldn't do those tasks because of old age, fragile health, disabilities and other reasons. This is a service that those groups of people will never forget.
Women's leading contributions were not only limited to providing essential services, but they also extended to some unusual humane acts. For example, in hospitals, when people were leaving this world without having their near and dear ones around them, the nurses who held their hands, listened to their last words, comforted them with parting words, were women. It was women who shed the last tears for those who departed.
Thirdly, during the lockdowns, when we were all confined within the four walls of our homes, it was the women who had sustained the families in every sense of the word. They made sure that food was on the table for the family members, that children did their studies, that all household chores were completed, that the old and sick were cared for. Women also ensured that friction and tension within the households were managed, mental health of family members were intact and Covid-19 protocols were maintained. In a nutshell, women took the leading role in sustaining the family and their wellbeing during Covid-19.
Fourthly, in a number of countries, civil society organisations and NGOs, headed by women, played a critical role in highlighting the wellbeing of women during Covid-19. For example, Manusher Jonno Foundation (MJF) last year carried out a survey in 27 out of 64 districts of Bangladesh and reported that 4,249 women and had been subjected to domestic violence in April 2020. Of these, 1,672 women and 424 children were facing domestic violence for the first time in their lives and the violence was blamed on lockdown. Such important research helped create awareness about this issue and for stressing policy advocacy.
Finally, in recent times, a widespread Covid-19 vaccination programme is being rolled-out throughout the world. Women researchers were a critical part of the teams of scientists that invented various vaccines. Women are also working as frontline workers who are vaccinating millions of people. Thus, the leading role of women in vaccine invention and vaccine roll-out must be heralded.
In conclusion, let me make two points. First, yes, we shall recognise leading roles of women in addressing and tackling Covid-19, but we should not forget that women also suffer more in a Covid-19 world. The impact of the pandemic has been asymmetrical between men and women. Women were the first to lose jobs, they bear multiple burdens of work inside and outside of home, they became the victims of increased domestic violence because of the pandemic. If some within the household were infected with Covid-19, women became the natural caregiver. But when they themselves became the infected party, they had to look around for care.
Second, achieving an equal future for Covid-19 world seems more like rhetoric. The world has already been unequal for men and women. And Covid-19 has exacerbated those inequalities. Reversing that trend would be a herculean task, but it is not impossible. With commitment, conviction and bold strategies at the national and global level, things can be changed. And if we can do that, only then, the theme of 2021 International Women's Day would be a meaningful reality.
Selim Jahan is former Director, Human Development Report Office and the Lead Author, Human Development Report, United Nations Development Programme, New York.