Women's empowerment is meaningless without safety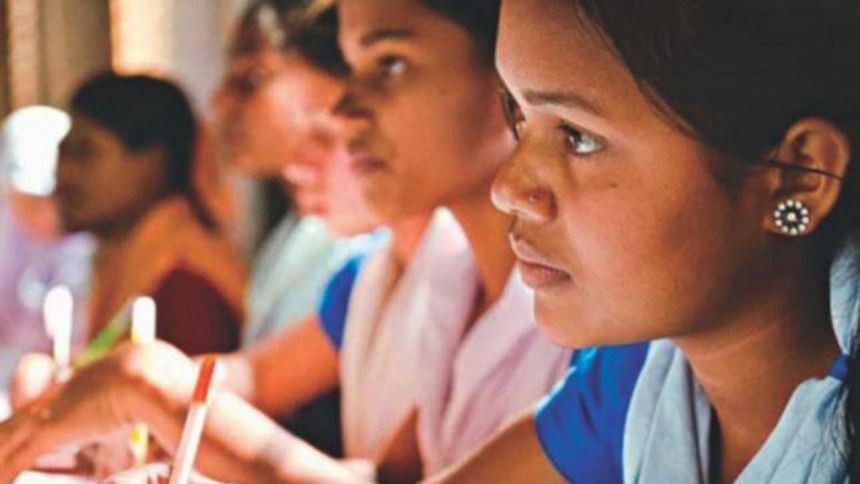 Not too long ago, it was hardly believable that the women of Bangladesh would take part in the economic development of the country. Today, women are working hand in hand with men in all spheres of work. They have made their mark in multiple fields, from the farms to the peak of the Himalayas, from the sports arena to high-tech jobs, from the handicrafts industry to the Gono Bhaban. According to the World Economic Forum (WEF) report "Global Gender Gap Report 2020", Bangladesh has been ranked at the top among all South Asian countries for its achievements in gender parity. It has a score of 0.726, with the score of 1.00 signifying perfect gender parity.   
In recent times, Bangladeshi women have made significant progress in terms of participation in the labour force, education, economic activity, and political empowerment. From just four percent in 1974, female participation in the labour force has increased to 36.3 percent in 2017.According to the Labour Force Survey (2016-17) of Bangladesh Bureau of Statistics (BBS), around 20 million women were involved in the labour force who contributed actively to different socio-economic sectors that have changed the face of the economy. We all know that women in the readymade garment (RMG) sector contribute immensely to the economy and are the backbone of the apparel industry's workforce. Today, approximately 80 percent of garment workers are women.
Women with little or no education make up a larger part of the informal labour force. Some work as domestic help or as day labourers in the construction of roads, bridges, buildings, etc. They also work in husking mills, weaving factories and in different government and non-government offices and business organisations. Those who are more educated work as teachers in different educational institutions. Others serve in government offices, healthcare sector, etc. Many women are occupying high-ranking positions in banking. The industry currently employs over 25,771 women, around 18 percent of its total human resources, according to the Bangladesh Bank (BB) January-June 2019 report. The number of women physicians, engineers, pilots and lawyers is also on the rise and, lately, more and more women have begun to be recruited in military service and in UN peacekeeping operations. They are excelling in government administration and the judiciary as well.
Rural women are key agents of development. They played a crucial role in cultivation and post-harvest operations, managing livestock, horticulture, fisheries, etc., thus improving the economic stability of their households. Women constitute over 50 percent of the farm labour force in Bangladesh, a much higher participation compared to the 30 percent in India and Pakistan. Women are also involved in many fisheries and aquaculture activities. But unfortunately, in our society, the economic value of much of women's work and their overall contribution go mostly unrecognised, and this work remains unpaid. According to a study by the Centre for Policy Dialogue (CPD), women who do household chores contribute 76.8 percent to the gross domestic product (GDP), but the cost of their labour is not calculated in the national economy.
Globally, women face myriad challenges in politics. Interestingly, in terms of political empowerment of women, Bangladesh is one of the few countries with women as prime minister, parliament speaker, opposition leader and cabinet ministers. In the current parliament, there are a total of 72 women lawmakers, 50 appointed through the reserved seats and 22 directly elected.
Bangladesh has also topped the Gender Gap Index in terms of closing the gap in the primary and secondary education category. In primary and secondary schools, 51 and 53 percent of students respectively are female. According to the Multiple Indicator Cluster Survey (MICS) 2019, literacy rate among women aged 15-24 years, who attended secondary or higher education, rose to 88.7 percent in 2019 from 82 percent in 2013. In 2017, the ratio of females to males in tertiary education was approximately 0.7 females for every one male enrolled. This was an increase from 2005, in which there were approximately 0.52 females for every one male enrolled in tertiary education in Bangladesh. Although the current ratio of women in higher education is 33 percent, female students in top government medical colleges have outnumbered the boys in the past few years.
Despite these achievements, there are paradoxes that are difficult to accept. On the one hand, Bangladesh has produced these impressive results that show significant improvement in women's empowerment, gender parity in primary and secondary school enrolment, and political empowerment. On the other hand, these statistics do not reflect the pitiable condition of the women in Bangladesh, e.g., nearly two out of every three women in the country are victims of some form of violence. Every day, we read reports of violence committed against women which include rape, sexual harassment, stalking, acid attacks, dowry killings, physical and mental abuse and sex trafficking. According to Bangladesh Mahila Parishad, the total number of cases of violence against women were 3,918 in 2018, but in the first six months of the year 2019, it alarmingly came to 2,083. According to police statistics, 20,835 cases have been filed on charge of rape since 2014. Of the rape cases, 1,538 were filed between January 1 and April 30 in 2019, taking to 12.81 the average number of rape incidents reported every day.
Early marriage is another factor that does not allow girls to continue with their studies and enter the workforce. According to UNICEF, 59 percent of girls in Bangladesh are married off before they reach the age of 18 and 22 percent are married off before they are 15. This has placed us fourth in child marriages in the world behind only Niger, Chad and Mali. Different studies show that the economic cost of child marriage is high and clearly contributes to poverty, and also has a large negative effect on economic growth since it affects girls' health, nutrition, labour force participation, and their children and communities as well.
At a time when the movement for women's empowerment has gained momentum, this growing menace is giving way to doubts about our achievements in this regard. Therefore, while we celebrate the social, economic, cultural and political achievements of women, at the same time we must draw attention to the inequalities that still exist between genders, because no socio-economic, political and cultural development is possible without the empowerment of women simply because half of our population is women. Statistics show that inducting more women into the workforce is imperative to achieve sustainable development, because when women earn an income, they reinvest 90 percent of it in looking after their families and spending on food, housing and education. All these are vital components for reducing poverty and promoting sustainable development.
Abu Afsarul Haider is an entrepreneur. He studied economics and business administration at the Illinois State University, USA. Email: [email protected]