Will nature conservation remain a priority in post-corona Bangladesh?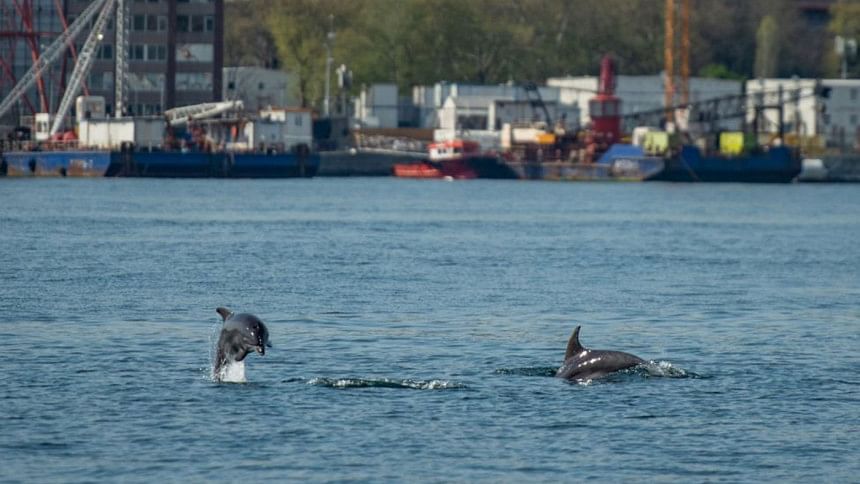 The coronavirus pandemic has revealed three alarming connections between us and nature. First, viruses like the one causing Covid-19 often jump into people from wild animals. Ebola, Nipah, SARS, Yellow Fever, and Zika are the same, to name but a few. So, hunting, selling or eating wildlife or destroying their habitats must be stopped, if we do not want to see such pandemics again.
Second, while we enjoy the pleasant photographs of wildlife roaming around human settlements under lockdown, the pandemic could not stop us from destroying nature. According to the National Space Research Institute of Brazil, more than 1,200 square kilometre of the Amazon rainforest—an area 10 times larger than Dhaka city—was destroyed in January to April this year during the pandemic. This deforestation is 55 percent more than that in the same period of 2019. A recent Greenpeace report has already warned that the Amazon may become the source of the next zoonotic pandemic.
Third, nature-based industries have been hit hard due to the pandemic. In Africa, wildlife tourism is a USD 30 billion-industry employing about four million people. As safari tourism is now closed due to Covid-19, unemployment and food insecurity are on the rise in many African countries, leading to a significant increase in wildlife poaching as a source of income and food.
However, before the "corona crisis", we were alerted about the unprecedented global "biodiversity crisis". Last May, the United Nations reported that one in every eight plant and animal species of the world would be extinct in the next few decades unless we take drastic actions. Subsequently, 2020 was named a "super year for biodiversity and nature", which called for desperate measures to halt catastrophic biodiversity loss. As a part of that, the UN Convention on Biological Diversity (CBD) has already drafted a "Global Biodiversity Framework" with ambitious goals and targets to be met by the countries by 2050. The framework was supposed to be approved by all countries in a conference in October 2020, in Kunming, China, but has now been postponed.
As the governments press the restart button and the paused global economy starts gaining its momentum, will nature conservation remain a priority in the post-coronavirus era?
We are already seeing billions of dollars of stimuli being sanctioned by governments to stabilise their economies. We may therefore see significant budget cuts in global development assistance in many sectors, including nature conservation. We saw similar reductions a few years ago when the refugee influx hit Europe. We may see major budget revisions in ongoing conservation projects and programmes to meet increasing livelihood demands from local people. This may allow less resources for restoring degraded habitats, protecting important ecosystems, and conserving threatened plants and animals.
The pandemic may further highlight the relationship between poverty and over-dependency on nature. Through a country-wide survey, BRAC has recently shown that extreme poverty increased in Bangladesh by 60 percent, accompanied by increased food insecurity. These are disappointing numbers for a country which reduced its poverty from 56.7 percent in 1991 to 20.5 percent in 2019. Nevertheless, a loss of livelihoods and food insecurity would push old and newly poor people to depend more on harvesting natural resources, leading to over-exploitation of biodiversity and further degradation of ecosystems.
When it comes to nature conservation, Bangladesh took some amazing actions over the last 50 years. The country, for example, passed the Bangladesh Wild Life (Preservation) Act, 1974 soon after its independence, which was later updated in 2012. In 2011, the constitution was amended to make biodiversity conservation a responsibility of the state. And last November, the Bangladesh Parliament unanimously adopted a resolution on "Planetary Emergency" considering the dire climate crisis and biodiversity loss.
So, as the Government of Bangladesh allocates resources to tackle the pandemic and its aftermath, and continues reviving its economy, we expect its visionary leadership also in protecting biodiversity. Bangladesh can do so by taking immediate major actions to plan, manage and fund nature conservation.
First, a quick analysis of relevant strategic and planning documents of Bangladesh show that we have widely embraced nature-based activities to ensure people's well-being and resilience to climate change—be it the Bangladesh Climate Change Strategy and Action Plan (2009), the Bangladesh Delta Plan 2100, or the Seventh Five-Year Plan (2015−2020). We plan to harness benefits from nature in numerous ways—sustainably managed forests and wetlands give us food, water, fuel, medicines, and a liveable environment, while coastal plantation protects us from cyclones and storm surges. In the post-corona era, we must continue putting nature at the centre of our development, as we prepare the Eighth Five-Year Plan (2020−2025) or an immediate coronavirus recovery plan, for example.
Second, as soon as the pandemic is over, we must revitalise our nature conservation governance systems already in place. We have more than 20 years of learning and experience in community-based natural resource management and participatory protected area management. The Bangladesh Biodiversity Act, 2017, the Ecologically Critical Area Management Rules, 2016, and the Protected Area Management Rules, 2017 give our nature governance a strong legal basis. Bangladesh Forest Department and the Department of Environment should capitalise on those pre-coronavirus developments and stop any unsustainable management of our ecosystems in the post-coronavirus era.
Finally, it has been more than three years since the Bangladesh Parliament passed the Biodiversity Act. Among many provisions, this law expects to establish a Biodiversity Conservation Fund to protect the country's biodiversity. As the government prioritises sectors and allocates resources, it is the high time to establish this Fund to complement the Planetary Emergency resolution endorsed by our parliament. Ten years of experience of the Ministry of Environment, Forest and Climate Change in managing the Bangladesh Climate Change Trust Fund can be of immense value in this regard.
Nature conservation per se cannot protect us from the ongoing Covid-19 pandemic. Only large-scale testing, medical facilities, social distancing, and maintaining hygiene can flatten the "coronavirus curve". However, we need to protect our nature and biodiversity more than ever before to avoid similar pandemics in the future.
Dr Haseeb Md Irfanullah is an independent consultant working on environment, climate change, and research systems. His Twitter handle is @hmirfanullah.