What Bangladesh can do to fight the coronavirus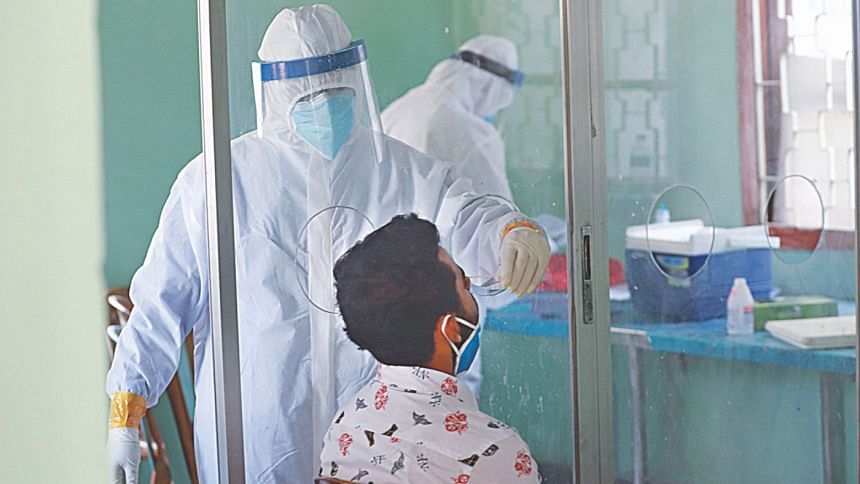 We did not even know this invisible enemy few months ago. Yet, it has travelled over 180 countries; met over 2.25 millions of us and killed over 154,000 of us globally. Current number of Covid-19 cases (most likely underestimated) in Bangladesh is around 1,800 on 18 April. Even if we take these numbers to be true; there are probably at least five times more untested cases. This puts the current infections to be around 9,000. It sounds like a small number.
But, this enemy is not an equal opportunity killer. Think of Italy. Think of New York. On the other hand, China and South Korea have done well. It does not prefer survival of the fittest or the wealthiest. Only the most adaptive will survive (recall, dinosaurs did not survive; humans did).
How can Bangladesh be adaptive? With a doubling time of three days, Bangladesh may have 18,000 cases on April 21 and within a month Bangladesh may have over 4 million infections. Is it possible for Bangladesh to minimise the impact? 
Yes, it is still possible. But time is running out.
This is not the time to argue what could have been done or who did not do what or who should be blamed. Everyone needs to work together: Governmental, Non-Governmental and Private institutions and Citizens. This is the time to learn from other places. But make this learning adaptive with what Bangladesh has as resources: physical, economic and cultural.
Working with an interdisciplinary group with multiple expertise: Leaders will have to make decisions with incomplete and uncertain information. They must plan to work with a diverse group of scientists, engineers, business leaders, opinion makers, citizens, and decision makers. They must listen carefully to multiple perspectives and decide based on situation specific information. There is no single solution. We must be adaptive as new information comes in.
Dividing the population into risk groups for treatment and survival support: This virus does not care about socio-economic conditions, religion or prejudices. Older people with pre-existing medical conditions are more vulnerable. Daily workers with "hand to mouth provision" are at high risk of starvation and malnutrition. It is important to create risk groups – for treatment and survival support – and make actionable plans with advice from experts.
Diagnostic tests must be made simpler and accessible. Assuming that everyone is a carrier is the best protection as seen in Japan. So we must act accordingly to minimize exposure and spread. Testing can be reserved for the more vulnerable people. It is unlikely that Bangladesh will have thousands of test kits available anytime soon. Thus using simpler screening through temperature and oxygen saturation level measurement will be more practical. People with high temperature and low oxygen level can be isolated and then treated.
Supporting health care professionals: We must prepare for a possible surge in severely ill patients. So we must  collect as much Personal Protective Equipment possible for health care professionals and first responders. Deploy resources to manufacture ventilators and create more intensive care units. Repurpose some of the schools, university halls, hostels and other spaces as quarantine and make-shift hospitals for less severe patients.
Engaging the NGOs: Use their network, infrastructure and experience to execute situation specific responses. NGOs can come up with COVID-19 survival manuals and protocols of what to do or not do. They can do rapid survey to find out what interventions are working (or not working) and adapt quickly.
Deploy Army, BDR and Police Judiciously: From India to Rwanda to South Africa, countries have deployed security forces to enforce quarantine and lockdown. Bangladesh has also deployed the army to carry out these operations and take part in relief efforts. Military forced lockdown is not without problems as observed in South Africa, Kenya or Uganda. Yet, at times like these deployment troops when done carefully and compassionately can build confidence. The security forces can be repurposed by integrating with a public health approach that puts community engagement at the center. Army with their excellent organizational and logistical skills can work with the youth volunteers to execute many essential services for citizens with different risks. 
Inspire the public, engage the youth and create a volunteer force: Do you know who suggested good hygiene and quarantining during a pandemic? Prophet of Islam 1400 years ago. This is the time for the public – particularly youth - to actively engage with their energy and creativity. Students and young professional can organize online hackathon and crowdsourcing to learn tips and tricks from other countries that are actionable (for example, make ventilators and masks with local resources) in Bangladesh.
Organizational and logistical experience of armed forces can help mobilize youth to execute many labor intensive activities including driving recovered patients, checking with elderly neighbors, delivering food to vulnerable groups, etc. as appropriate. This will help build trust between enforcers and citizens. This will also lessen the burden from health care workers. 
Be a model COVID-19 fighter. Show not tell. Do the Five. Create "Community Self-Policing" units to encourage and enforce preventive measures. Encourage local leaders, village elders, imams and priests to be the early adopters of wearing masks, washing hands and isolating oneself when needed. Like the virus, modeling virus fighting behavior can also be contagious. It has started happening in Boston to Nairobi to Tehran. In Tehran, it is considered cool and responsible to wear a mask while in Boston people considers wearing a mask is heroic!
We need to minimize impacts of secondary effects like hunger, isolation and mental depression. We must mobilize resources from governmental, non-governmental, private and donor agencies to create safety-net for the most vulnerable communities facing shortage of survival essentials including nutrition, daily medicine needs and other supplies.
Aggressive and Personalized Social Messaging: Assume what you hear (rumours and misinformation without verification) may be more viral and deadly in killing trust and confidence. Do not spread unverified information. This is not the time to criticise. Be critical of action not of individuals or institutions. And continuously look for what works (and why) and how to be adaptive to changing situations.
Emphasize personalized and context specific messages. For example, convince Imams to tell people that they don't need to come to the mosque; they can stay home and pray. Use Saudi Arabia's action to close the mosques as examples. Avoid mass funeral rituals, encourage alternative and safe forms of grieving and burial. 
Avoid fake COVID-19 news and misinformation.  This is what Facebook is doing to battle misinformation. Seek reliable sources for information: here, here and here. Create trusted information networks to make actionable information, empathy and resilience go viral.
Reasons for Optimism and Decisive Action: COVID-19 is affecting population over 65 disproportionately (over 80% fatality is over 65 years with other health conditions); youth (less than 30) shows mild symptoms with very low fatality. But youth still need to be careful because they may infect other people. Over 94% of Bangladeshi are less than 65 years old and this may make the country less vulnerable. But, this is not the time to celebrate this optimistic (yet highly uncertain) future. If we do not act quickly and decisively it may become a nightmare.
Despite many dysfunctional institutions, level of poverty, and widespread corruption, Bangladesh has achieved remarkable progress in many development indicators. Now is the time to promote and accelerate this Bangladeshi Brand of Ingenuity. If Bangladesh takes a concerted and determined approach of adaptive learning, it can minimize the impact of this emerging disaster. Bangladesh can forge an actionable and adaptive plan to defeat this virus quickly and decisively and show the world: It is a model of adaptive survival, resilience and ingenuity.
Professor Shafiqul Islam is Director, Water Diplomacy Program, Civil and Environmental Engineering, Fletcher School of Law and Diplomacy at Tufts University, USA.