The Horrors of the Marital License to Rape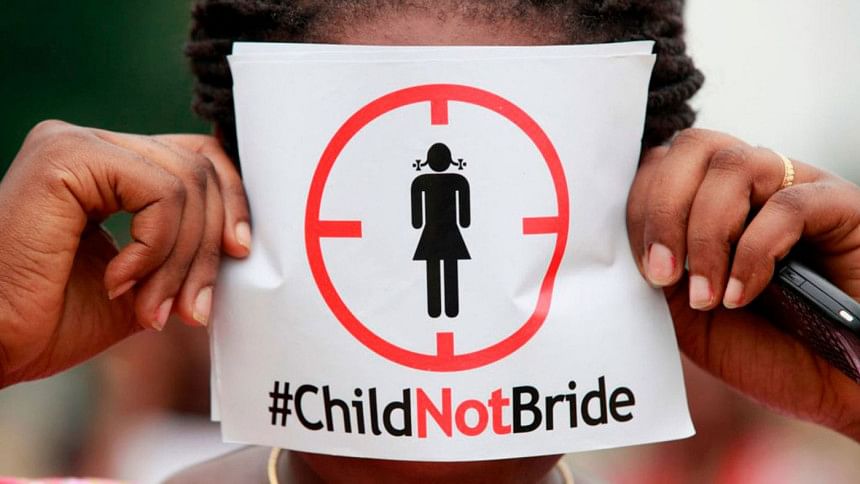 A 14-year-old child bride in Tangail's Basail upazila has died just at the "right time". I say right time because her death, coming as it did against the backdrop of the call for reforms in rape laws, shows exactly how dreadful our laws currently are—how dreadfully outdated, discriminatory, and futile. In the coming days, unless we have something even more horrific, I assume she will be the subject of multiple op-eds like mine. That is "lucky" considering how most rape victims barely get assigned a number in the news cycle.
Her 34-year-old husband, to whom she was married off about a month ago, had been having sexual intercourse with her since the first night of their marriage. Since that very night, she had been bleeding from her genitals. She informed her in-laws and they took her to a kabiraj. In the meantime, the man continued having intercourse with her completely disregarding her condition. Her excessive bleeding eventually led to her death.
There is a lot to unpack here. Bear with me.
First, the laws of Bangladesh do not construe the cause of her death as rape. Section 375 of the Penal Code 1860 absolves this perpetrator of the crime as the victim was "married" to him and was not under 13 years of age. If I think too optimistically, the state may prosecute him under section 299 (culpable homicide—for causing death by an act with the intention of causing such injury that is likely to cause death or with the knowledge that such an act may cause death). If I am being incredibly ambitious, I can perhaps visualise a charge under section 300 (murder—committing the act knowing that it is so imminently dangerous that it must, in all probability, cause death, or such bodily injury that is likely to cause death, and still committing such act without any excuse for incurring the risk of causing death or such injury). However, realistically speaking, the state is unlikely to do either.
Now imagine for a moment that our child bride is alive. After a month of constant, brutal torture, she somehow miraculously survives it. In that case, we have no criminal charge against the perpetrator. Neither for rape, nor for homicide. Pedant lawyers may argue that there are provisions to address hurt, grievous hurt and so on. But what kind of a wife goes around reporting her husband for causing hurt? Definitely not the kind who studies till 8th grade and is married off to a man 20 years older than her. Despite making multiple laws to address women's rights, the parliament has ignored the urgency of protecting young girls that are doomed to suffer at the hands of their husbands, who are legally permitted to rape 13-year-olds every night of their lives, until of course they die.
Second, the state of disorganisation among our sexual offences provisions is helping these perpetrators thrive. While the government earned some brownie points by adding the death penalty to section 9(1) of the Women and Children Repression Prevention Act 2000 (as the maximum punishment for single perpetrator rape), it did not address its blatant discrepancy of age with that of Penal Code 1860. While section 9(1) construes sexual intercourse by a man with a girl under 16 with or without consent (unless she is married to him) as rape, Penal Code 1860 weakens this position by exempting husbands who "rape" wives over or of 13 years of age.
Under neither Acts does our child bride have any legal recourse. Even the 2000 Act (as amended), of which the parliament is immensely proud, does not criminalise marital rape. Our law treats marriage as a license to rape children and makes obtaining it even easier than getting a driving license.
Third, the Child Marriage Restraint Act 2017 was another eyewash to demonstrate that the parliament was in effect updating the 1929 Act. It did not. It allows for child marriages under special circumstances via section 19. This provision does not prescribe a minimum age for such marriages. Therefore, no 13-year-old being raped by their husbands can get any legal relief. Marriages in Bangladesh are usually agreements between two families, in which case the parties need not seek the court's approval for a section 19 marriage. Under the guise of special circumstances, girls' families marry them off and the men get the permission to rape these children with zero legal repercussions. 
The need for the 10-point demand put forth by the Feminists Across Generations alliance in the ongoing movement against rape and rape culture is now exemplified by the death of this unfortunate 14-year-old schoolgirl. Our definition of rape is appallingly inadequate which leaves out both male and transgender victims of rape. Consent has not been defined. Marital rape has not been made illegal. To legally handle one rape case on points of substantive law, procedures, and evidence, one has to look into at least three or more different Acts. Britain—the country that left us with most of these laws—now has one single codified law called Sexual Offences Act 2003, which addresses everything from the definition of rape to rules of evidence.   
Now, the question remains: what exactly is stopping the Bangladesh parliament from approving this much-needed reform? Let there be no confusion that even the current law on violence against women and children, in a lot of circumstances, would offer viable remedy to the victims if the law enforcement agencies and justice-sector actors simply implemented it, if our system as a whole was less hostile to the victims and held men accountable instead of letting the perpetrators off the hook. What we clearly need is a systemic reform, not an easy way out by adding a clause for death penalty. The lawmakers have turned a deaf ear to experts who reasonably pointed out, among others, that incorporating the death penalty would lead to even lower conviction rates than what is already abysmal, would discourage victims being raped by family members to report, and would lead more rapists to kill their victims. Not only will the addition of death penalty fail to make the situation better, it will effectively make it much worse.
Then again, it is one thing to have a law that is not being implemented. That is frustrating enough, undoubtedly. But imagine you are a 14-year-old girl and the man your parents have sent you to live your whole life with rapes you every single night, to the point that you are about to die.
And the law does not even recognise your unthinkable sufferings as an offence.
Anupoma Joyeeta Joyee is a Barrister-at-Law.
Email: [email protected]