Rohingya Refugees: Contentious case of relocation to Bhashan Char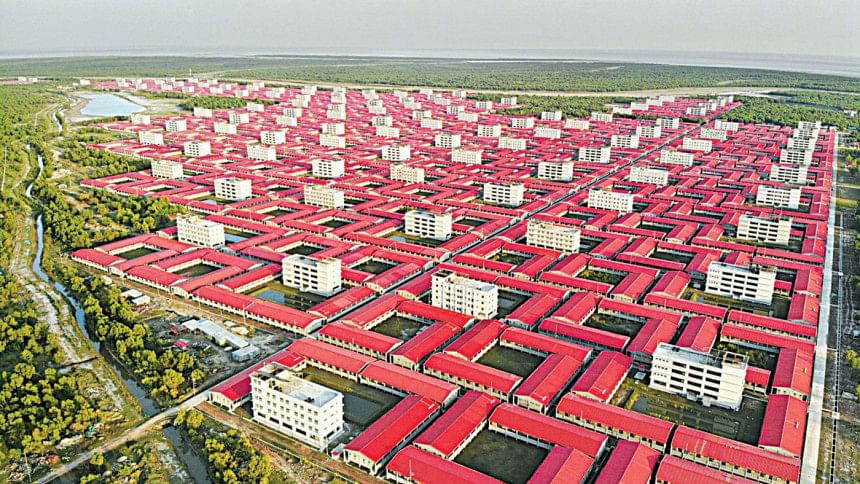 After years of uncertainty the much contested relocation of Rohingya refugees to Bhashan Char has become a reality. On December 3, 1,642 inmates of the existing camps were brought to the Char via Chittagong by seven vessels of the Bangladesh Navy with much fanfare. Initially 2,500 are expected to be brought to the silty islet.  
Official sources inform that USD 350 million was spent to develop the facility. It has provisions for yearlong supply of fresh water, uninterrupted power supply, agricultural plots, 120 cyclone shelters, 2 hospitals, 4 community clinics, mosques, telecom services, teaching centres, playgrounds and a police station.
The deteriorating security situation (drug smuggling, human trafficking and conflicts between refugee groups) in Teknaf and Ukhiya upazilas of Cox's Bazar district has been identified as one of the major reasons that prompted the government to plan and execute this project since 2015.
Blaming refugees, migrants and other socially and economically disadvantaged groups for deterioration of law and order situation is a universal phenomenon. There is little doubt that powerful vested quarters of mainstream community, buoyed by their financial and political clouts and linkage with the civil and law enforcement authorities, are generally the masterminds and principal beneficiaries of such illicit activities. The involvement of refugees and others as drug mules and low level operatives are only tangential and tenuous.
Likewise, outbreak of violence and conflicts between groups of individuals, another key justification for relocation, is not necessarily unique to the community. One has to bear in mind such conflicts take place in every community, including the mainstream community. It is only natural being survivors of genocide, expelled from their homeland, bereft of fundamental rights and entitlements and faced with total uncertainly that Rohingyas are a traumatised group, and may thus be sensitive and touchy in social interactions. Thus tempers may flare up from to time. What they need is counselling, care, and empathy. Therefore, instead of treating them with dignity and understanding, blaming Rohingyas for violence may not necessarily be a fair and just approach.
It has been widely reported that law enforcement mechanisms become lax after 5pm and existing camps become a free ground for operations of perceived wrongdoers of various hues. If that is the case then surely the onus should not be placed on refugees if crimes are committed after hours due to the absence of effective enforcement apparatus.
The government rightly insists that the mega camp is overcrowded and relocation is required to avoid accidents and fatalities due to landslides in the hilly terrains where the many refugees are currently located. In 2018 the United Nations estimated that 215,000 people are at risk of landslides and flooding, and about 44,000 are at very high risk. Camps are supposed to have a density of about 45 square feet per person. The mega camp has an average of only 11.
While the authorities are justified in mulling relocation to protect the vulnerable members of the community from landside prone zones, presenting Bhashan Char as the only feasible site appears to be problematic. Experts and rights activists have argued that Bhashan Char does not have to be the sole option. There are at least six feasible relocation sites in Ukhiya sub-district totalling more than 1,300 acres that could accommodate 263,000 people.
There are some distinct advantages of those sites over Bhashan Char. The sites are located mostly in flat land in an eight kilometre stretch of west of Kutupalong-Balukhai Expansion Camp between the mega camp and the coast. Those fall within the containment area that the government has designated to limit free movement of Rohingyas. Another advantage is that residents there would enjoy close geographical proximity of the mega camp where other refugees are based. The sites would also be relatively close to the border with Burma and will keep the refugees' hope alive to return there. Needless to say, so far the authorities have not provided any explanation as to why they were unwilling to consider this much less expensive option for relocation, stubbornly insisting on the Bhashan Char option that is fraught with controversy and uncertainty.
Concerns have been expressed about the suitability of Bhashan Char for a host of reasons. The only two-decade old silt islet has been deemed as unsustainable for human habitation and could be seriously affected by rising sea levels and storm surges that may accompany super-cyclones, a phenomenon that is likely to increase in future. The remoteness of the site will not only throw severe challenge in supplying provisions to this massive number of refugees, particularly during the monsoon when seas become rough, it will limit education and health services to the inmates and also of opportunities for livelihood and self-sufficiency.
The dim prospect of repatriation to Burma in the near future and the gradual onset of donor fatigue for this potentially protracted refugee situation and the dwindling contribution of international community may necessitate policymakers to think of devising strategies for engaging refugees for income generating activities and self-sufficiency. It will also give refugees a purpose of life and make them productive members of the community. The isolation of the Char and the increase in distance from the Burmese border may weaken their bond with their motherland and take psychological toll on the residents of Bhashan Char. The feelings of segregation and loneliness are likely to be exacerbated as so far Bangladesh government has made no commitment to allow refugees freedom of movement in and from the silt islet. 
Bhashan Char has been presented as a site in which refugees will live comfortably with adequate space. However, the impressive drone footages that are currently in circulation belie the fact that the area within the barrier is about 7.75 square km. The re-graded area where housing has been built is just 1.5 square km. With more than 100,000 Rohingyas living there and several thousand more attending to their needs in the cleared area would mean 66,670 people will be living per square km. The corresponding figure for Dhaka city is 44,500. Thus in all likelihood the much touted open area for refugees may prove to be a chimera.
A major limitation of the project has been the lack of participation of key stakeholders in identifying and planning the facility. In all likelihood the project planners were guided by state security considerations rather than human security concerns of the inmates. Anyone would find the concrete structures with rooms and shared kitchen and toilet arrangements, lighting and running water facilities as way better than those that the refugees have to put with at their present sites in the mega camp. The important element missing in this approach is just like the rest of us, refugees are also social beings. Like us they fear isolation and loneliness and long for freedom of movement.
The failure of the authorities to deliver on their commitments to conduct technical and protection assessments to review the "safety, feasibility and sustainability" before putting the facility into operation to the satisfaction of key stakeholders has further accentuated the concerns. UN's first technical assessment mission was scheduled from November 17 to 19, 2019, but was shelved subsequently. No fresh date was announced. The authorities' reneging on their pledge that relocations would be voluntary and based on explicit consent has further compromised the current effort. The UN claimed it had "limited information" on the relocation efforts and was not involved in the process. Concerns have also been expressed that no effective protection mechanism has been put in place at the Bhashan Char.
Not allowing the sponsored visitors and UNHCR access to more than 300 refugees who are living in the facility for months have further heightened the concerns. The failure to effectively communicate if the authorities had indeed acted on the allegations of torture, rape and extortion made by credible international human rights organisations have not helped the cause either. The footages of wailing female and child inmates and two desperate women wanting to go back to the mainland that went viral months ago further hurt the efficacy of the relocation effort. The reluctance of the visiting 40 "majhis" to endorse the facility also did little to help.
Perhaps most harm was done when a good number of those shipped to the islet claimed that they were forcibly drafted or were fed with wrong information. Many claimed that they never volunteered and had learnt their names on the list from the Camp-in-Charge (CIC). A section of them fled the dwellings. A few stated they were told that being on the list would mean getting priority to repatriate to Burma. Others thought the listing was for food rations. Some refugees admitted that they voluntarily enlisted as they were informed by majhis and CIC volunteers they would be able to choose livelihood opportunities in the Char, such as fishing or farming and would have better access to health facilities and their children would get education. A Human Rights Watch report cites that some "had come under pressure from government officials who used threats and offers of cash and enticements..."
There is little doubt about the authenticity of the newspaper images and reports of relocated children frolicking around and some adults expressing satisfaction about the facility. However all these do not negate that core concerns of "safety, feasibility and sustainability" of the project that should be validated through appropriate protection and technical review.  
The decision of the authorities to execute the project without delivering on the pledges made earlier has triggered controversy and confusion. It has also brought needless focus on Bangladesh's treatment of the Rohingyas while the real perpetrator appears to remain scot free. The frustration of Bangladeshi policymakers at the hypocrisy of the global actors in addressing the Rohingya problem is understandable. However, that should not be the premise to make hasty decisions, inflicting harm on the genocide survivors compromising Bangladesh's hard earned accolade as the champion of the refugee cause.
C R Abrar is an academic with an interest in migration and rights issues.