Rape, scopophilia and our collective rage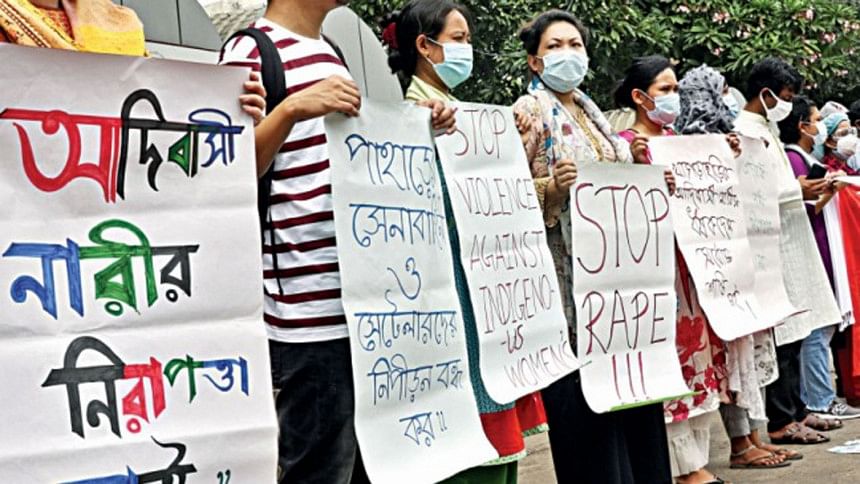 Monday morning, October 5—I woke up and made the mistake of checking my Facebook newsfeed. The very first post to greet me was one of my friends sharing a gruesome video of a rape. The horrifying still of the helpless, bare body jolted me wide awake, but I could not bring myself to watch the clip. The third post was of a development specialist sharing the screenshot of an Ain O Salish Kendra report on recent cases of rape and gender violence, questioning the "silence" of civil society on such issues. The irony, of course, was that she was reading a report by a leading civil society organisation. Within minutes, my Facebook feed was flooded with netizen's posts/comments on the video, and soon a mass protest was called by several groups at 11am at Shahbagh. The reaction was perplexing to me; why now, when all the Bangladesh Mahila Parishad, Ain O Salish Kendra and Naripokhkho reports published in the major dailies had gone unnoticed?
As an activist and anthropologist, I feel obliged to keep track of how movements are formed. I had responded to the post made questioning civil society, and also put up a status to simply ask my feminist allies why we needed such a video to be outraged, but the post was misunderstood and I did not have the energy to engage any further. I got a call to expand on my comments, and so I sat down to think through the events and traced the recurring patterns of reaction: blaming "civil society", blaming the "patriarchal structure", "patriotic guilt" that places the nation's "ijjot" (honour) in women's vaginas, pleading with and admonishing "jatir bibek" (nation's conscience), some nuanced discourses on rape, calls for capital punishment, and only a few instances of questioning the state and law enforcement agencies. It was fascinating to watch how the onus always falls back on the women's movement organisations and civil society, and less on the ruling party or the state (in a manner strikingly similar to how responsibility continues to be laid at the feet of the victim more often than the perpetrator(s)). We forget that it is a triad—civil society standing between the citizen and the state.
We have seen and learned from enough waves of feminism to know that ideological battles against heteropatriarchy and transversal movements on specific issues are both equally important. I love and admire our keyboard warriors who conjure up movements at moments like this, creative activists who pour their heart out for these movements for as long as they last. My problem lies elsewhere, with our increasing inability to wake up without being slammed by images of extreme, graphic violence. Are we not unknowingly becoming conscripts of this viral fever, callously consuming this media porn, submitting to the scopophilia (voyeurism) in which rape culture thrives? I have no doubt that the friend who shared the video intended to sensitise us to fight for the cause, just like the war photos of Birangonas. Yet why do we always need representations such as this to titillate our conscience? Are we not becoming tools of the same oppressors and violators, spreading these videos to slander the survivor once more? The past month alone has seen several instances of gang rape—from that of an indigenous woman in the Hill Tracts, to MC college in Sylhet, and finally to Noakhali—where an overwhelming majority of the perpetrators have all been men somehow connected to the ruling party. Instead of finding fault with women's movements and cursing civil society, why are we not directing our rage to the perpetrators and the party that has patronised them? Why on earth is all our rage directed at only one node of the triad, while not holding the state responsible?
The deradicalisation of civil society and the women's movement in Bangladesh is too long a history to be recounted here, but it is also far from a linear tale of selling their souls to the devil. Women's organisations in Bangladesh have been fighting long and hard to retain their critical edge under successive neoliberal regimes. The price of survival has often been their radical potential, and some do appear to have acquiesced to the state. Having worked for a women's organisation for over two decades now, however, has made me realise how difficult it is to maintain an ambivalent position, to both working against the heteropatriarchal state, while at the same time, working closely with institutions to push for reforms. It is time we open our eyes and see that we have never achieved any right or freedom without a fight. The right to formal education, the right to inherit property, the dowry prohibition acts, a family court, reproductive rights, provisions for maternity and paternity leaves, security and welfare for acid attack survivors, the road to a uniform family code, the writ against the 8th amendment, the end of the "two-finger test", "Naree Niti", and even toppling autocratic regimes—none of these would have been possible without the battles collectively waged by Bangladesh Mahila Parishad, Naripokhkho, Ain O Salish Kendra, BLAST, UBINIG, Women for Women, Nijera Kori and countless others. Turning a blind eye to all of these achievements does nothing but make women feel even more helpless and alone, while demoralising activists who are still engaged in collective struggles, something worth remembering before we point our fingers.
Since the outbreak of this pandemic, Bangladesh Mahila Parishad (BMP) has been distributing relief as well as documenting cases of violence against women and children, publishing reports on the latter across national dailies and TV channels. At least 788 women and (female) children have been victims of such violence between March and June of this year; among them, 307 were raped. Decades of experience led them to anticipate a spike in cases of violence and launch a hotline to report such incidents. Both the central committee and local branches across the country have been providing legal aid to survivors, sending some of them to one-stop crisis centres, victim support centres or to shelters, monitoring incidents of violence in coordination with police stations and local administration. They have also taken initiatives to resist attempts to use the lockdown to enforce early marriages. I have no doubt that all the other organisations have also been doing their part. This is tedious work when you are doing it for five decades, and none of us are waiting for a pat on the back; but activists' fatigue is all too real.
Let us accept the fact that after 50 glorious years of independence and despite the efforts of generations of activists, even as privileged a woman as I am can find myself shackled, unable to lose my chains and run free without "inviting" assault; I shudder to think about the fate of women in the Hill Tracts, or of a wage labourer or a trans-person. I could not protect my beloved friend from being violated by her partner, despite mobilising OCC and VSC, because she feared the consequences of taking action. I continue to witness numerous cases of my students enduring domestic violence, unable to leave because their education was at stake. I do not need more violent footage to remind me that we are at war, an invisible war that every woman and child is fighting 24/7. It is time to take account of how the state has systematically neutered any dissident voice or radical political possibility that has emerged over the years. It is time to hold the authorities responsible for rearing rapists, providing them with shelter and evading the consequences. It is time that we find our allies, organise, and claim our state for ourselves. It is a long, hard battle, and we have nothing to lose, not even our honour.
Seuty Sabur is an activist and academic, teaching at Brac University.