Impact of COVID-19 on waste and sanitation workers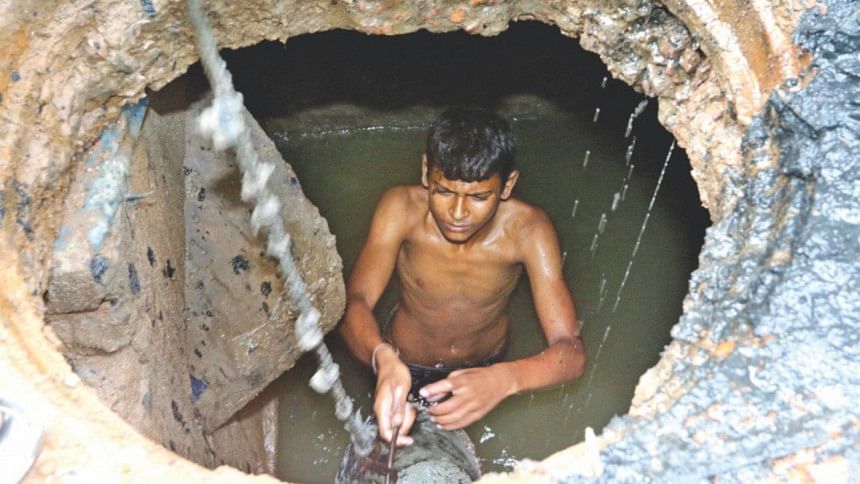 The greatest dilemma that Rajib Chandra Das, a waste and sanitation worker form Laksam, Cumilla experienced over the last couple of months was whether to serve or starve. Sadly, he has to choose the first. "Serving amidst a pandemic without proper safety gear is a threat to life, but I can't tolerate my family starving. Of course I do fear death, but I hate hunger the most." 
Rajib works for Laksam Municipality's conservancy section as a garbage cleaner. He gets paid on a work basis. On average, he earns Tk 3,000 per month. After completing his duty on the first half of the day, he works for a private hospital as a cleaner and earns around Tk 5,000 per month. Additionally, he empties septic tanks through personal contact once or twice a month. Being the only bread winner, this is how he manages to support his five-membered family. Following his forefathers, like all the families from his community has done for hundreds of years, he used to live in the Railway Medical colony, a demesne of Bangladesh Railway Authority. The authority has evicted the slum very recently, and Rajib had to move to another slum. He rented a room there where everyone shares a toilet, kitchen and drinking water. This home rent was an addition to his living cost. Moreover, the outbreak of COVID-19 pandemic has affected his livelihood gravely and his struggle for survival has become even more difficult.
Like other sweepers, he has to work extra hours with no additional payment as the municipal authority wants to clean up the waste around the municipality quicker than before to tackle COVID-19. This has shortened his opportunities to work for others and earn money. On the other hand, payment of their regular work is being delayed due to very short working hours of the municipal officials and banks.
Municipal authorities provided him a package of relief consisting of 10 kilograms of rice, five kilograms of potato, one-kilogram lentil and one-litre cooking oil which is insufficient for him and his family's needs.
Rajib's tale represents almost all the waste and sanitation workers in Bangladesh. Characters, plots or emotions might be different but the tragedy remains the same. Despite the Labour Law and the Labour Rules 2015 in place, the rights of informal waste and sanitation workers are yet to be realised and functionalised. They are paid sub-standard wages considering their long working hours and the intensive labour they endure. Female waste collectors and sweepers earn Tk 130-150 per day while the male workers earn Tk 250-300 per day. Waste pickers, commonly known as tokai, earn around Tk 80-200 per day. Pit-emptiers, commonly known as mathor, never get paid enough to meet anything beyond their core needs. Their work schedules are very uncertain, as is their income. Inorganic waste recycling, particularly plastic, is rapidly growing. A huge number of workers, hawkers, pickers, and a significant number of small and medium entrepreneurs, popularly known as bhangariwala, are involved in collection, gradation, compaction, storage, transport, cleaning, processing and supplying to large industries. Besides, roughly 30-40 percent of the total waste workers are employed by the city corporations and municipalities, and 20-30 percent works for several private organisations like industries, banks, corporate offices, hospitals, etc. However, almost all of them work on an individual contract basis to earn their living which has shrunk drastically for the last couple of months.
With the outbreak of coronavirus, all the sources of their income have dried up because of the country-wide shut down. Now, they can hardly earn their daily wage and whatever savings they had, are all gone.
In addition to the financial crisis, waste and sanitation workers are facing a huge health security concern. Due to the nature of their occupation, they are highly exposed to coronavirus. Unfortunately, almost all of them are not provided with appropriate safety equipment except few face masks and gloves. Personal Protective Equipment (PPE) is still a far cry to them.
As COVID-19 continues to spread across the country, experts are recommending that people avoid large crowds, practice hygiene, and stay home from work and contact the government helpline or a doctor if they feel ill. We are getting information from every possible corner on good hand and respiratory hygiene practices for public spaces and elsewhere. But there's a major problem with that advice—waste and sanitation workers can't afford to follow it while living in cheek-by-jowl urban slums in one of the most densely populated countries in the world. A septic tank emptier, who cleans the manhole, can hardly afford to maintain hygiene, and using sanitising products is an absolute extravagance to them.
Take, for example, healthcare professionals' key piece of advice: to avoid contracting virus, avoid crowded areas, and more specifically, from coming within six feet of others. Many low-income families, who are more likely to live in urban slums and share toilets and kitchens with 20-30 people, simply can't self-quarantine as effectively as, say, a couple living in a two-bedroom, two-bath home. And, if these waste management aides and other sanitation workers do get sick, a lot of them won't be able afford to stay home from work.
This ill paid job of dealing with filth can't be done remotely, and the recruiting agencies—government (municipalities, city corporations, hospitals), semi-government and private agencies—don't offer paid sick days. Though the pattern of the job makes the workers highly vulnerable to several health hazards, they are disproportionately uninsured or underinsured for medical care, and for many, even stocking up the pantry can be an impossible financial hurdle.
Good news is, the government has started realising this pressing need for urban cleaning workers and acting accordingly to fight any public health crisis like Covid-19. Stressing on the safety of frontline workers during this pandemic, Local Government Ministry has been providing PPEs for the protection of cleaning workers. Additional support from UNDP and the Australian Government will further intensify our efforts. The government, with support from UNDP and Australia has provided 5,000 PPE for urban waste cleaning workers of Dhaka North and South City, Chattogram and Narayangaj City Corporations (The Daily Star, April 29, 2020). However, this is very insufficient considering the total number of workers countrywide, both formal and informal.
As the government, with the diehard support from the law enforcing agencies scramble to address the COVID-19 outbreak in the country, they have shut down schools along with creating containment zones, and enforcing quarantine. These measures, again, often have outsized, though unintended, downstream effects on poorer people.
Historically, the children of waste and sanitation workers are deprived of education as the mainstream society considers them outcast and has left them to live in exile. Children of these communities largely rely on government primary schools and child centres run by several NGOs for free schooling. Moreover, their low-income parents can't always afford minimum care when their school age kids are suddenly home all day. As schools across the nation float virtual learning in lieu of traditional classroom instruction, the thousands of households that lack access to internet might be out of luck. This may affect the future of these unprivileged kids in the long run.
"I am very worried for my 10-year-old grandchild who studies in grade five in a government primary school nearby. I don't want him coming into this profession and going through the same sufferings I experienced. Normally, children from our community are deprived of education. Though a very few continue, but dropout rate is very high and willingness for higher studies is very rare here as getting other jobs is very difficult because of our inherited occupational identity, whether we want to stick to our traditional occupation or not. This deep-rooted reluctance to education has become a vicious cycle for us. I suspect, if this situation continues for a longer period, the same thing can happen to my grandchild as well. He will drop out from school," said  Rafiq Sheikh, a 60-year-old veteran pit emptier from Faridpur.
The same thing was echoed in Sanjay's voice dejectedly, a 45-year-old sanitation worker from the same district. "Neither me or my wife can teach our children as we are uneducated nor can we afford private tuitions. If it continues like this, surely, they will fail in exams and lose the keenness to go to school. This will be a disaster for me."
Plaban Ganguly is an anthropologist and development communication expert. He is currently coordinating the marketing and communications unit for Practical Action, an international charity.
Email: [email protected]