Can tourism in Cox's Bazar survive the Covid-19 effect?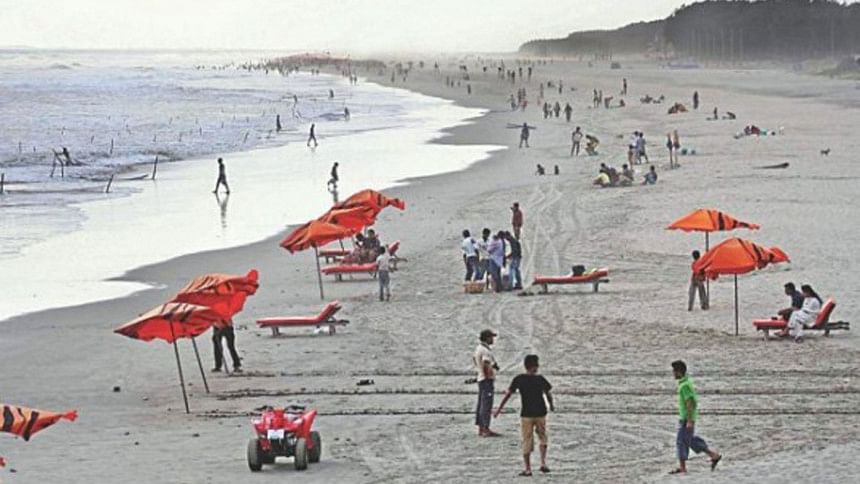 Cox's Bazar, the longest sea beach in the world, lies terribly still and vacant. At Laboni Beach, the most popular tourist attraction, in the absence of the crowds, you can hear the wild waves crashing against the shore for a change, and the magnificent sunsets are perfectly visible to the eye. But the seaside restaurants are no longer serving and hotels guests are no longer building sandcastles, paragliding, surfing or playing volleyball. Local fishermen who go out to sea with their wooden fishing boats are nowhere to be seen.
With the onslaught of Covid-19 weighing on its economy, tourism in Cox's Bazar has witnessed a headlong decline in both domestic and foreign tourist visits after being categorised as a red zone by the government.
According to Pacific Asia Travel Association's (PATA) Bangladesh chapter, till June 2020, the world will face a loss of USD 97.05 billion in the tourism sector alone. The Tour Operator Association of Bangladesh (TOAB), a platform of 678 tour operators, analysed their losses from January to March and estimated that the tourism industry alone may lose up to Tk 6,000 crore this year—from January to December—if the situation does not improve. And this is a relatively optimistic scenario—PATA Bangladesh has predicted that overall, the Bangladesh tourism sector will incur a loss of approximately Tk 9,705 crore till June 2020 due to the pandemic. So what does this mean for all the entities connected to the tourism industry—the transportation systems, airlines, hospitality workers, bus companies, cruise ships and accommodation facilities like hotels, motels and home stays, as well as other tourism service providers like travel agencies or tour operators?
With Cox's Bazar's number of domestic tourists steadily increasing, newer tourist spots being discovered and overseas tourists trickling in to go to our largely overlooked country, the tourism and hotel industry has thrived for more than half a century. For example, according to Census and Economic Information Center (CEIC) data, Bangladesh's tourism revenue reached USD 357 million in December 2018, compared with USD 348 million in the previous year. According to news reports, with the government's announcement of Cox's Bazar as a Covid-19 red zone, daily transactions of Tk 25 to 30 crore are no longer taking place. But the hotels still have to pay staff salaries and maintenance costs.
The cancellation of domestic and foreign flights has contributed to this crisis. At the same time, travel visas for tourists from all countries have been suspended for the time being. According to a report in this daily, Mohibul Haque, senior secretary of the civil aviation and tourism ministry, said the number of domestic tourists have fallen by 70 percent. On March 13, the World Travel and Tourism Council said that up to 50 million jobs in the travel and tourism sector are at risk due to the global health crisis. Cox's Bazar was probably the first case that demonstrated the impact of the disease on tourism, as this district's economy is largely dependant on its tourism sector. Against this backdrop, tour operators have invariably come to the conclusion that the sudden outbreak of Covid-19 has plunged the tourism sector of Bangladesh into its worst-ever evolving challenge, and the sector requires an immediate recovery incentive package.
Tourism has a multiplier effect on society, even though the result isn't necessarily measurable. Its extensive contributions must be justified by successful developments in communities. This includes increased skilled and unskilled employment in the community, such as food vendors, souvenir sellers and retailers. Tourism also leads to an increased standard of living because tourists spend in the host community and of course, the money made in tourism is injected into the host community's economy. However, as this contribution is not yet perceived by Bangladeshi policymakers, the budgetary allocation is not being made in the manner expected.
"We have requested the government and the Bangladesh Bank to support us while we attempt to contain the coronavirus impact, especially during peak season, but so far, no concrete actions have been taken. Without government support, it is impossible to survive," said NM Karim, chairman of Ocean Paradise Hotel and Resort in Cox's Bazar, when asked about the government's recovery incentive package. In addition to this, hotel staff from the Sayeman Hotel in Cox's Bazar have mentioned that their (hotels) only source of income at the moment is from development and aid workers who are working with Rohingya refugees and staying at their hotel, but even the number of the development workers from abroad have reduced due to the rapid transmission of Covid-19 in the region.
Those within the industry are therefore profoundly skeptical about how much money will trickle down for the survival of the tourism industry, despite the government's declaration of a bailout programme of about Tk 73,000 crore in five separate loan-scheme incentive packages to various sectors.
Given such uncertainty, it seems that any type of policy development and execution is highly unpredictable. Futile attempts at reopening the tourism industry are already taking place. For instance, the Bangladesh Tourism Corporation (BPC) has decided to offer non-seasonal discounts in hotels and motels located in Cox's Bazar and Kuakata that are under its control. What seems to be lost in Bangladesh's business-as-usual approach to the pandemic is that our best chance to fight the virus is still a properly enforced lockdown, zonal or national. Domestic tourists in Cox's Bazar amount to 70 to 80 percent of its overall tourism and considering the rapid increase in local Covid-19 cases, they are still not going to be lured there by the 50 percent discounts (well, at least I hope not). Hence, proper planning and policy guidelines are needed from the government.
Most tourism industry insiders in Cox's Bazar, including NM Karim, expressed the need for tax waivers for at least two to three years for the industry to bounce back. This includes tax rebates for resort owners and hoteliers; exemptions of double taxation on food and beverage industries and exemptions of ferry and bridge tolls for tourist-carrying vehicles. Interest free deferred bank loans for investment in tourism parks, resorts, picnic spots, etc may also be offered. In the longer term, more focus should be given to domestic tourism as part of the development phase. NM Karim further added, "considering the longevity of this health crisis, Standard Operating Procedures (SOPs) in line with the Ministry of Health guidelines, such as the one published by Ocean Paradise, can be useful for the hospitality sector. Once local tourists see that safety precautions are being maintained, they may be encouraged to visit Cox's Bazar again."
It is indeed unfortunate that such an unforeseen adversity has befallen the tourism sector of Bangladesh, especially since in recent years, it has come to be regarded as a, although marginal, driver for national economic development. However, all hope should not be lost, since the industry itself is a resilient one. However, the Cox's Bazar tourism sector needs an extra dose of resilience through effective budgetary allocations. As expected, almost all business sectors are facing an array of complexities created by the coronavirus crisis. To overcome this situation, the entire tourism industry and the policymakers should go through a proper planning process to restart their activities.
Zaha Chowdhury is a graduate of the University of Manchester, UK.