Can climate action become the new normal?
Bangladesh can lead the way in the post-pandemic world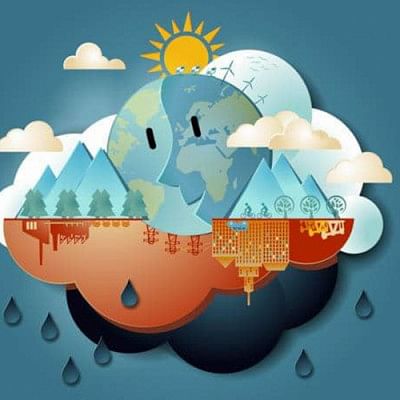 Due to the pandemic, we are doing a lot of otherwise-unusual things—be it maintaining physical distance in public places, schooling through TV or on web platforms, or if lucky enough, working from home. We are calling this lifestyle the "new normal".
But typically, how long does it take something to become a new normal? A couple of years, a few months? Or may be just a few weeks—at least, that is what is happening with the ongoing coronavirus crisis. Some things, however, do not become normal to us, even in decades. Let's take climate change as an example.
Since the 1980s, scientists have shown that climate is really changing and it is us, the humans, who are responsible for it. Since 2010, global temperatures have reached an all-time high; extreme weather events like torrential rainfall and hazards like forest fires have become more common; and catastrophes like cyclones and hurricanes started hitting our coasts more frequently, with greater strength. Climate experts repeatedly warned us—all of these are becoming a "new normal" due to climate change, and we must rapidly cut down our greenhouse gas emissions to avoid the worst. Regardless, all countries are still not acting against this "new normal" called climate change.
As we draw pictures of a post-pandemic world, leaders of thought, scientists and activists around the world are urging for a world quite different from the pre-pandemic one. They are advocating for a world that takes drastic actions against climate change by investing more in a low carbon-emitting economy. They are hoping that such a shift will become the "new normal" in the post-pandemic world.
Will this pandemic really bring us any new realisations? Will it rejuvenate our climate movement? What if this pandemic is just a temporary distraction from our normal, business-as-usual way of seeing climate change? What if it fails to push a "new normal" into our climate action?
As factories are closed, roads are empty and airplanes rest on the tarmac —this pandemic has so far managed to reduce global annual carbon emissions by an unprecedented eight percent, the Bloomberg reports. Interestingly, last November the UN Environment Programme (UNEP) suggested that we need to reduce a similar percentage (7.6) of global carbon emissions every year, if we want to keep the global temperature rise below 1.5 degrees Celsius by 2030—a target outlined in the Paris Agreement back in 2015.
But, alarmingly, recent calculations have led scientists from the University of East Anglia, UK to expect a sharp rise of carbon emissions—returning to pre-pandemic emission levels in a matter of months—once countries open up after the pandemic. Moreover, as governments are allocating billions of dollars to save pandemic-stricken economies, already troubled oil and coal-based companies are in the queue to receive bailouts, while renewable energy industries face financial constraints. We see no new normal here.
Despite being one of the most climate vulnerable countries, Bangladesh has developed and implemented excellent climate change strategies and action plans, has innovated national climate funding mechanisms, and has incorporated climate action into national development. Bangladesh, therefore, should not fall for any "pandemic distractions". The country should harness its pre-pandemic climate achievements and have a climate-resilient post-pandemic development journey.
After a 66-day-long general shutdown, as Bangladesh opens up on a limited scale, it needs to do three things immediately, in the next few weeks, to be specific.
Eleven years ago, the then-newly elected government updated the Bangladesh Climate Change Strategy and Action Plan (BCCSAP, 2009). The beauty of BCCSAP is that it is not only a Bangladesh-driven document to fight climate change, but is also being implemented with our own money—a Tk 3,500 crore pot called the Bangladesh Climate Change Trust Fund (BCCTF).
Being a ten year plan, the BCCSAP was supposed to be reviewed and updated by 2018. Although the BCCTF has funded almost 700 projects, for some reasons, it was the German development partner GIZ that funded BCCSAP's revision under its Climate Finance Governance project. That GIZ project ended in 2018, but the revised BCCSAP, our key climate change document, is yet to be finalised. So the first urgent thing the Ministry of Environment, Forest and Climate Change should do is get the updated BCCSAP approved, make it public, and start using it to guide our climate action. To uphold Bangladesh's commitments and leadership in climate action, the importance of doing this immediately cannot be emphasised enough.
Second, since the 2015−2016 fiscal year, the government has been calculating how much money Bangladesh spends to tackle climate change. In the current year (2019−2020), our climate-relevant budget is 4.54 percent of our national budget or 0.8 percent of our GDP. This has more or less been the trend for the last four years.
It is now crucial that, in the 2020−2021 budget, Bangladesh maintains the five percent allocation to climate action despite the demands to tackle the ongoing coronavirus crisis and recovery. To have proper climate action, we gradually need to increase this allocation. But for 2020−2021, maintaining the previous funding is a realistic step forward.
Last week, the much-anticipated 26th Conference of Parties (COP26) to the UN climate change convention was rescheduled for November 1−12, 2021 in Glasgow, UK. This crucial annual event cannot be held this November due to the pandemic. It is now a serious challenge to keep the climate conversation going in the two years since the last COP25 was held in Madrid in December 2019. A good thing for Bangladesh is that it is now the chair of the important Climate Vulnerable Forum (CVF)—an assembly of the 48 most climate vulnerable countries—for 2020−2021. It puts Bangladesh in a position to actively facilitate and stir climate discussions over the next year and a half.
So, as the third immediate action, the government needs to bring together climate experts of the country and define our strategy towards COP26. How do we capitalise on our climate achievements to date? How do we effectively facilitate the CVF now and in the post-pandemic period? How do we work with the COP26 host, the UK, and its partner Italy? How do we showcase nature-based solutions—a key theme of the COP26—by gathering evidence from our rich investments in nature conservation over the past decades?
Bangladesh should make a mark and lead towards the COP26 of November 2021. Rejuvenating climate action in the Global South in the post-corona era—that is a legacy Bangladesh can be very proud of.
Dr Haseeb Md Irfanullah is an independent consultant working on environment, climate change, and research systems.
His Twitter handle is @hmirfanullah.