Beyond the question of choice, motherhood, and burqa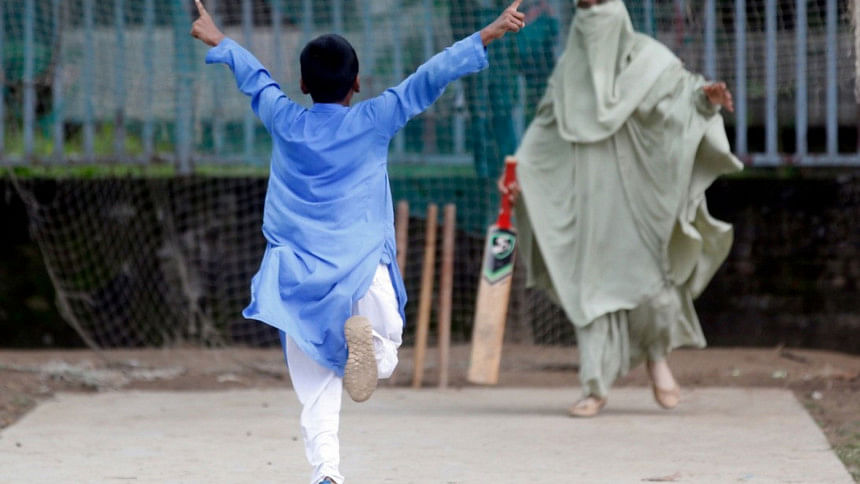 Jharna Akter overheard journalists talking about how the photo of a burqa-clad mother playing cricket with her son will shake the world. It did indeed. We see hundreds of news reports and op-eds, thousands of social media posts, and perhaps millions of comments on these posts. What seems interesting in the whole discourse is our conservative, secular-liberal, as well as progressive fascination about a piece of cloth and our tendency to focus overwhelmingly on the question of choice and motherhood. Some of the secular-liberal-nationalist critiques we are noticing argue that the photo misrepresents the "true" Bangladeshi/Bengali cultural and nationalist values, mimics religious fundamentalist trends in Afghanistan or Pakistan, and signifies Muslim women's loss of voice to patriarchal conservative practices. Some are emphasising that participation in sports does not necessarily mean that Muslim women have to give up purdah, and some are seeing this photo as a disrespectful gesture towards the institution of purdah. Some are highlighting the value of motherly love and the importance of women's choice to wear or not to wear burqa. Feminist scholars have explained how this photo challenges our perceived construction of gendered performances of Bangladeshi Muslim women, how burqa became (or did not become) a part of the Bengali culture, and how religion alone cannot explain this historical transformation (BBC Bangla, September 13, 2020).
I think what the whole discussion would benefit from is to move away from the tendency to singularly focus on the question of women's choice or motherhood or a piece of cloth, to think holistically, and to examine this photo's concurrent relationship with various intersecting systems and institutions such as patriarchy, capitalism, religion, media, and so on. The photo is an embodiment of contradictions that do not conform to our commonsensical expectations from Bangladeshi Muslim women. Therefore, we need to go beyond a singular analytical focus on "choice" or "motherhood" or a binary "oppression vs. empowerment" framing, and examine the complex and contradicting roles of Muslim women in our society as symbolised by this photo.
One of the things this photo brings forward is the gendered politics of space—how space shapes gendered performances—and the response of a sexist society towards these performances. In an interview, Jharna Akter mentioned that she often plays cricket and other games with her son, nephews, and nieces in front of her Shewrapara home. The very act she performs on a day-to-day basis in a private/semi-private sphere was read as a spectacular performance when she decided to repeat it in the public space of Paltan Maidan. Even her fourth-grade student son knew that repeating these day-to-day interactions in a public space would mean something different in a society shaped by sexist norms and practices. Yamin Ahmed Sinan asked his mother to play with him because no one was around in the field at that time. He asked, "You play so nicely with me in our courtyard, but why are you saying you won't bat now?" Why and how does our society teach a male child that his mother can play with him only when no one is around? What does it mean when a madrasa student questions the spatial divide and gendered norms?
Also, what does it mean when Akter and Sinan started playing with the assumption that no one was watching them only to realise that they got surrounded by a crowd and that journalists were capturing their photos without asking for their consent (BD Syl TV, September 12, 2020)? Akter first requested them not to take pictures, but then she rethought her stance and gave permission because she was wearing a burqa and following the purdah norms (GangChil, September 13, 2020). Wearing a burqa made her comfortable enough to consent to be photographed and to give interviews to journalists from print and electronic media, thereby offering a tremendous amount of exposure and circulation of her story. This complicates the secular-liberal assumption that burqa's sole role is hiding women and obstructing their mobility.
We noticed a strong call to move away from the burqa debate and focus on the innocence and purity of the mother-son relationship in both liberal and progressive circles, which—I would argue—risks depoliticising the representation of motherhood in this photo. Akter got married after finishing HSC and gave up her dream of being a recognised athlete. Still, she chose to send her elder daughter to an engineering school, thereby challenging conventional norms and career paths for women. She sends her son to a madrasa, which shouldn't make us automatically presume her complicity to conservative values as we don't precisely know the historical-political-cultural context of this decision. She dreams of sending her son to BKSP and training him as a cricketer so he can come out of the madrasa life (GangChil, September 13, 2020). She lives in Shewrapara and her son goes to a madrasa in Arambagh in the morning. Then she takes her son to the Kobi Nazrul Cricket Academy for practicing cricket in the afternoon (Bangla Tribune, September 12, 2020). An interpretation of the photo as a pure, innocent depiction of a depoliticised "motherly love" subsumes the way this photo also depicts Akter's disproportionate amount of unpaid care work for her son and perhaps for other family members. The image is an emblem of Bengali Muslim women's compliance with as well as subversion of gendered, classed, and religious expectations in creative and complicated ways.
Also, let's not ignore that it's the participation of a mother-son duo in the multibillion-dollar masculinist-capitalist-corporatised industry of cricket that makes the photo even more palatable to our nationalist liberal self. The aspiration of a mother and her son to climb up the social ladder by playing cricket and becoming a superstar like Shakib Al Hasan makes us "forgive" her presumed submissiveness to conservative values and celebrate her image as a hallmark of pure motherly love. Akter herself was an athlete in the 1980s and 1990s; she used to compete in shot put, long jump, javelin throw, 200- and 400-meter races, and other track and field events. Her aspiration shifted from being a national-level athlete to be the mother of an internationally recognised cricketer, signifying how the neoliberal globalisation has created a powerful cricket-industrial complex, taking attention, aspirations and resources away from traditional sports that do not generate financial capital. Our geographical and cultural proximity to India—a global cricket superpower which constitutes 90 percent of the one billion cricket fans around the world (The Economic Times, June 27, 2018), where the Indian Premier League is a USD 5.3 billion industry (CNBC, August 1, 2018), and where cricket accounts for almost 85 percent of the Indian sports economy (exchange4media.com, May 21, 2020)—along with our historical cricketing connections with other South Asian countries, add a twisted flavour in the photo. Would this photo have gained the same level of attention if Akter was playing badminton or kanamachhi with her son?
It's the dissident feminist act of a conservative-looking mother who defies gendered norms and claims her authority over a public space through her participation in a capitalist dream, which makes this photo unique and subject to incredible public scrutiny.
Nafisa Tanjeem is an Assistant Professor of Gender, Race, and Sexuality Studies and Global Studies at Lesley University in the United States. Email: [email protected]