A better way of testing for COVID-19?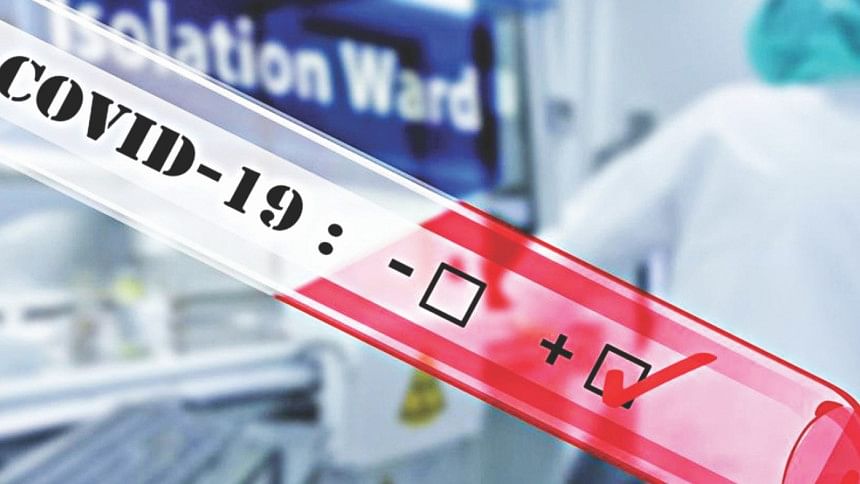 Since the COVID-19 pandemic began, detection of individuals infected with COVID-19 has been a high priority for every country. Everybody came to a consensus that diagnosis, followed by contact tracing and quarantine are the critical steps to follow in order to slow the spread of the disease. However, the unprecedented need for testing resulted in a severe shortage of all reagents and supplies including collection swabs, transport media, extraction kits, and RT-PCR enzyme mixtures. Therefore, a number of studies are underway to determine which specimens (nasopharyngeal, nasal, oropharyngeal, or saliva) are acceptable for testing. 
The key element of PCR testing is the viral load in the samples collected as nasopharyngeal, nasal, oropharyngeal swabs. This unique sampling procedure especially in a setting of high density population and with few healthcare professionals (important in the context of Bangladesh) is very challenging and oftentimes gives poor quality samples. Thus, PCR test could easily give negative result even when a person has the disease and the individual could return to the community and keep spreading the virus. 
COVID-19 virus binds with ACE2 (Angiotensin-converting enzyme 2) expressed in host cell surface. Since lungs, salivary glands and tongue are possibly the best places for the virus to initially bind, close contact or short-range transmission of infectious saliva droplets is a primary mode for 2019-nCoV to disseminate as claimed by WHO. Human saliva is mostly watery, containing gastric acid from reflux and food debris. But in case of ongoing disease pathology like respiratory infection, it is expected that saliva might contain crevicular fluid, desquamated oral epithelial cells, and microorganisms. Because of this, testing human saliva for diagnosis is a great choice, which is easy to collect, non-invasive and does not require healthcare professionals. In contrast, collection of standard nasal swab or throat swab often induces coughing and increases the risk of transmitting the virus to healthcare workers. Saliva is a good source of virus when collected in the morning. In COVID-19 infection, saliva samples are rich with viral loads only during the first week after the virus is contracted.  
Rutgers University thought why not to try human saliva instead of nasal swabs to detect virus by PCR. The new saliva collection method, which RUCDR developed in partnership with Spectrum Solutions and Accurate Diagnostic Labs (ADL), will allow for broader population screening than the current method of nose and throat swabs.
Sampling instruction
Self-collection of saliva is more quick and scalable than swab collections and does not need to put healthcare professionals at risk of infection by performing nasopharyngeal or oropharyngeal collections. A pre-marked tube with preservative is given to the patient to spit into the tube until the tube is filled up to the mark. Upon waking in the morning, patients are asked to avoid food, water and brushing of teeth until the samples are collected. Patients are asked to repeatedly spit into a sterile urine cup until roughly a third of it is full of liquid (excluding bubbles), before securely closing it. All samples can be stored at room temperature and transported to the research lab within 5 hours of sample collection for processing. Samples can also be stored at 4 degrees Celsius in case of delay. This is an extraordinary development in changing the sampling protocol but without compromising testing sensitivity and specificity. This modification of the protocol has already gone to a smaller scale trial and testing reports were compared side-by-side with the existing standard protocol. US-FDA is currently evaluating the data in order to approve its use throughout country. Rutgers University President Robert Barchi called the new saliva test a "herculean effort that is great for the country and the world and by reflection great for our university."
A valuable resource for Bangladesh
Bangladesh has already announced the partial lifting of lockdown especially in the garments sector. Though Bangladesh is far behind with the number of testing that is actually needed to identify the infected person for contact-tracing, existing standard PCR is not covering all the patients waiting in line to be tested. Now with the ease of restriction, number of testing urgently needs to be increased because people will be coming close to each other and are likely to spread the infection. If enough testing and isolation is not done, more epicentres of the virus may form. Incorporation of this saliva based assay will be safe and speedy and could cover both symptomatic and asymptomatic individuals. 
Most importantly, there is no change in the current PCR-based protocol except using the saliva samples instead of swabs. The saliva will be taken to the lab for viral RNA extraction and DNA conversion to run through PCR for the detection of the virus. 
What do we need?
Simply, we need scientists who can adopt this test in their laboratory and run a small trial by taking saliva and nasal swabs from the same individuals and comparing PCR results side-by-side before formally submitting an application to the drug administration for approval. This whole modification of the test is already under trial in New Jersey, USA. It has proven to be safer and more efficient with the same sensitivity and specificity. 
Dr Jubayer Rahman is a Researcher of Molecular Immunology at the National Institute of Health, USA.