Bangladesh RMG: Time to look beyond the comparative advantage of cheap labour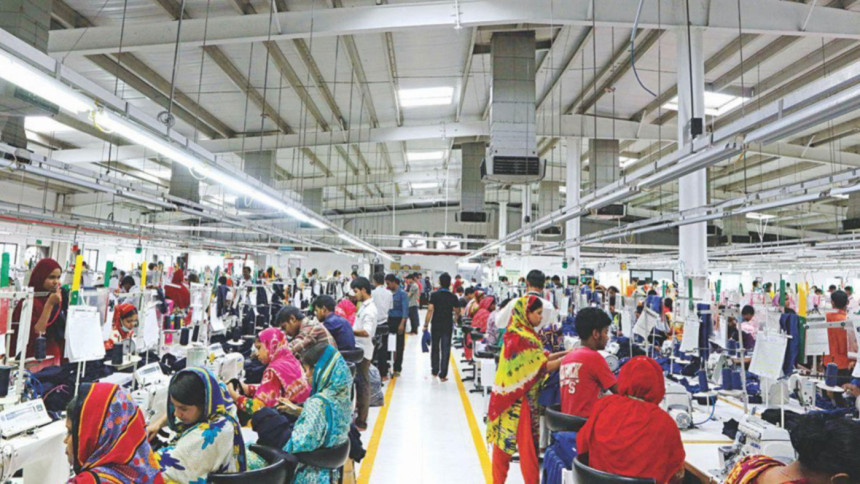 The world has been hit by a "black swan" event, a term used to describe an unpredictable incident that has large-scale economic and social implications. Time and again, economists have reiterated the suggestion: Don't put all your eggs in one basket. The increasing volatility of markets around the world necessitates diversification strategies that help reduce risks and improve the capacity needed to cope with such black swan events.
One of the key drivers of Bangladesh's economic growth, the RMG industry, suffers from a lack of diversification: 70 percent of RMG exports consist of only five products which are primarily cotton-based, and around 83 percent of these exports are shipped to the European and North American markets. In a recent webinar jointly conducted by Serai and HSBC, the president of BGMEA, Dr Rubana Huq, identified several products including non-cotton knitted t-shirts, MMF woven anoraks and wind-cheaters, MMF woven blouses and shirts for which Bangladesh's export share is a trifling 5.3 percent. She further stressed that Bangladesh has not been able to fully utilise its potential in terms of expanding production to goods such as PPE, plush toys, hair accessories, automotive upholstery, travel and campaign products.
Over the last four years, Bangladeshi apparel has suffered a 1.6 percent drop in prices globally, indicating increasingly intense global competition. In the first five months of the current fiscal year, Bangladesh lost its position as the world's second-largest apparel exporter to Vietnam, a country with an RMG industry five years younger than that of Bangladesh. Experts delineated several possible factors behind Vietnam's success: the country's aggressive response to the pandemic, a better-skilled workforce, diversified and higher value-added products, Foreign Direct Investment, and multiple trade agreements with regional and international markets.
However, the increasing competition from Vietnam was not a direct consequence of the Covid-19 pandemic. In fact, before the pandemic, Vietnam's exports to the US rose by 34.8 percent in the first nine months of 2019. The ongoing US-China trade war and rising wages in China escalated the need for many global businesses to diversify outsourcing outside China, popularly known as the "China Plus One" strategy. The economically and politically stable environment in Vietnam and pro-foreign investment government policies made it a lucrative destination for foreign investors and businesses that were looking to relocate their factories. According to the World Investment Report, the ratio of inward FDI stock to GDP was 52 percent higher in Vietnam compared to Bangladesh in 2017.
Another major reason behind the success of the Vietnamese garments industry has been its highly educated and skilled workforce which offers excellent workmanship, high-quality and value-added products. This has been made possible by Vietnam's long-term commitment towards investing in human resource development: compared to Bangladesh's mere 2 percent, Vietnam's public expenditure on education is around 5.5 percent of its GDP. 
To retain its dominance in the global market, it is essential for the RMG industry in Bangladesh to look beyond its comparative advantage in providing low-cost labour. Instead, it is time to focus on diversification and the production of higher value-added products that have stronger and more stable demand worldwide. An essential prerequisite for this is the introduction of new technologies that can improve efficiency. Many Bangladeshi factories are starting to adopt high-end technologies; for instance, Dekko Group, Epyllion Group and a few other manufacturers reportedly optimised fabric usage and lowered wastage by implementing ThreadSol's AI-based fabric planning system called "IntelloCut". Although long-term returns from technological advancement are high, low initial profits and high costs deter companies from investing in research and development. Pioneering firms that invest in new technology generate social benefits such as transmission of knowledge which positively impacts all other firms in the industry. However, most of these pioneering companies are not adequately compensated for the initial costs they incur and their contributions to the entire industry, which ultimately deters such investment.
The fashion industry, in particular, has always been turbulent and rapidly evolving. The nature of the industry demands that its players always remain vigilant and continually embrace shifting business models and innovation. The recent pandemic has amplified the turbulence further by bringing about huge changes in consumer preferences and behaviour, creating new challenges for both retailers and manufacturers. Mass production and mass solutions are now being supplanted by personalised products with greater value and sustainability. There is a need to cater to smaller and highly specialised orders by engaging with smaller buyers. A phenomenon called "slow fashion" is rapidly transforming standards in the world of "fast fashion". This phenomenon prioritises brands with higher product quality, thoughtful design and positive social and environmental impacts. This has created the need for manufacturers and retailers to use artificial intelligence and data science to serve the dual purposes of predicting future demands and trends as well as developing efficient and environment-friendly production processes. At present, Bangladesh has the highest number of LEED-certified green garment factories in the world, which can be used as an advantage in creating a distinctive brand image globally.
As opposed to Vietnam, Bangladesh has not been very fortunate in attracting foreign investors. Instead, the success in the Bangladeshi RMG industry has been historically driven by local entrepreneurs, and the key to achieving greater dominance lies in designing policies that encourage participation and investment by local enterprises. Nonetheless, there is also an urgent need to recognise the importance of regional trade agreements and foreign investment that will not only facilitate knowledge spillovers, but also allow the industry to embrace more advanced technology, product development and diversification. 
Sifat Islam Ishty is a Senior Lecturer at the Department of Economics and Social Science, BRAC University. Syeda Tasfia Tasneem, BSc in Economics, BRAC University.