Are we forgetting the ideals of our Bengali cultural identity?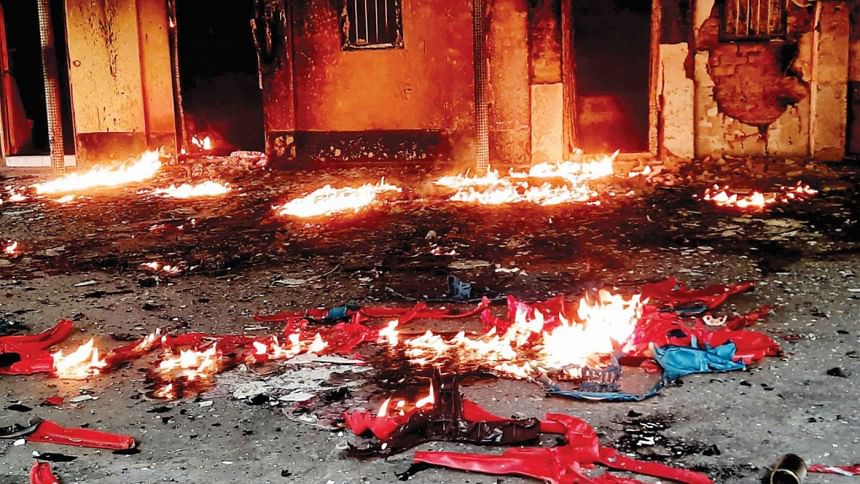 For two successive years now, thousands of inhabitants of Dhaka dressed in traditional Bengali outfits were not seen swarming joyfully in Ramna Park and Dhaka University areas from the early morning on Pahela Baishakh. The cultural institution Chhayanaut could not organise their traditional programme of welcoming the New Year in Ramna Batamul for the second consecutive year. The vibrant mass procession known as "Mongol Shobhajatra" conducted to hope for the peace and well-being of the people did not make the city roads festive. Vacant Ramna Batamul premises and deserted roads conveyed a sense of gloom on Pahela Baishakh for two consecutive years, and people could only cherish the fond memories of gleeful celebrations they used to have on this day before the sudden occurrence of the deadly pandemic.
But Pahela Baishakh does not only imply merrymaking. The day also conveys a sense of secular spirit and a pride in Bengali cultural identity. The day is a celebration of cultural traditions and sensibilities that form the core of the concept of "Bengalines". One of the prime attributes of Bengalines is the strong desire to uphold religious harmony. People of this land practice different religions yet they speak the same language, have similar food habits, and enjoy common cultural activities. A sequence of Tareque Masud's maiden feature Matir Moina (2002) shows colourful village carnivals and exciting boat races that are considered an important part of our rural heritage. On the soundtrack we hear the rhythmic beats produced by local percussion instruments such as Dhol and Dhak. Villagers, Hindus and Muslims alike, are seen revelling in these rural celebrations and dancing delightedly to the drumbeats.
In a sequence of Ritwik Ghatak's 1974-film Jukti Takko aar Gappo, a Bengali folk singer generally known as Baul or Boyati is seen performing a song on a road in Kolkata. The song is composed by Durbin Shah, an eminent writer of Baul songs. The lyrics of the song Namaaz aamar hoilo na aadai (I could not perform my prayers) refers to the prayers performed by Muslims five times every day. A young woman named Bangabala sits beside the road where the Baul is singing the song. She is a refugee in Kolkata from Bangladesh. As soon as she hears the song her face is lit up with a smile. Though she is a Hindu, she feels happy having heard the song replete with references to Muslim religious rituals and it evokes memories of her homeland. In his important film Komol Gandhar (1961), Ghatak used the expression "Dohai Ali" in different scenes. Although Ali is an Islamic name, Bengali boatmen and fishermen irrespective of religion used to chant "Dohai Ali" when they had sailed their boats out into the mighty rivers. Through such depictions, both Ghatak and Masud indicate the fact that a common cultural heritage binds the Bengalis following different religious beliefs together.
During the Pakistani rule, the rulers based in West Pakistan did not like the deep attachment of the Bengalis to their native culture. Ignoring the fact that instead of a religious heritage, indigenous customs and culture contributed crucially to the formation of Bengalines, the West Pakistani rulers emphasised the notion of religious identity. As Bengali Muslims did not adhere to the Pakistani set of ideas marked by religious orthodoxy and intolerance, the Pakistani ruling elite considered the Bengalis lesser Muslims. In an attempt to Islamise our language, the Pakistani authorities even suggested that Bangla should be written by using the Arabic script. The communal attitude of the Pakistani authorities became evident when they had imposed a ban on performing and transmitting the songs of Rabindranath Tagore because he was not a Muslim. In protest at this government decision, from 1967 Chhayanaut started welcoming the Bangla New Year in Ramna Batamul by singing Esho He Baishakh, a song written by Rabindranath Tagore.
So, the celebrations of Pahela Baishakh also symbolise a stand against oppression, bigotry, and intolerance. Mongol Shobhajatra began from 1989 and in the procession that year a protest was registered over the despotic rule the country was undergoing. Since then, every year thousands of people join Mongol Shobhajatra and many of them carry various replicas and masks prepared by Fine Arts students of Dhaka University. All of these artworks displayed in the procession are strongly reminiscent of our local culture. Apart from expressing joy the procession also includes specific artistic components to symbolically denunciate social and political problems plaguing our society. Because of its secular nature and its attempt to uphold and glorify Bengali culture and heritage, the celebrations of Pahela Baishakh have been subjected to extreme contempt of the orthodox Islamists. In 2001, a vicious bomb attack on people enjoying the cultural programme of Chhayanaut in Ramna Batamul on Pahela Baishakh claimed 10 lives and left many injured. Police investigation found the involvement of an Islamist extremist outfit in the attack.
Twenty years have gone by since that brutal bomb attack on innocent people. But our society is still afflicted by religious fanaticism and zealotry. In this year of celebrating the golden jubilee of our independence, savage communal attack took place in a Hindu-majority village in Shalla upazila of Sunamganj. A few weeks ago, the activists of the Qawmi madrasa-based organisation Hefajat-e-Islam wreaked havoc in different districts. In Brahmanbaria, they set several public offices on fire and vandalised various establishments and houses. The intense hatred of the zealots towards local culture was manifested once again as they torched the music academy named after the legendary classical musician Ustad Alauddin Khan. Everything inside the academy including the musical instruments were completely destroyed by this heinous arson attack.
Showing a total disregard for the values of our Liberation War, intolerant and religious dogmatic forces have been making sustained assaults on the practices espousing secularism, progressiveness, and Bengali cultural roots in our country for many years now. Religion-based parties and groups gained greater footing only because our major political parties had often attempted to appease them in order to reap political benefits. Making concessions to Islamist parties and groups may be regarded as a practical approach by some politicians. But it is not difficult to understand that such conciliatory policy would not in any way prove beneficial to the efforts to strengthen the ideals of our Liberation War in contemporary society. During the recent mayhem created by the Islamists, a mural of Bangabandhu Sheikh Mujibur Rahman was also vandalised by the supporters of the group. Although it was not possible to have festivities on Pahela Baishakh this year, given the situation we should be more committed now to upholding the spirit embodied by the long-established celebrations held on this day. Have we tried enough lately to make the citizens, especially the young people, aware of the fact that secularist principles and Bengali identity are recognised as important pillars of our Liberation War ideals? Pro-liberation politicians and citizens should come to terms with this question at the moment through self-analysis and introspection.
Dr Naadir Junaid is Professor, Department of Mass Communication and Journalism, University of Dhaka.