16 days of activism and our obsession with 'commonsense' violence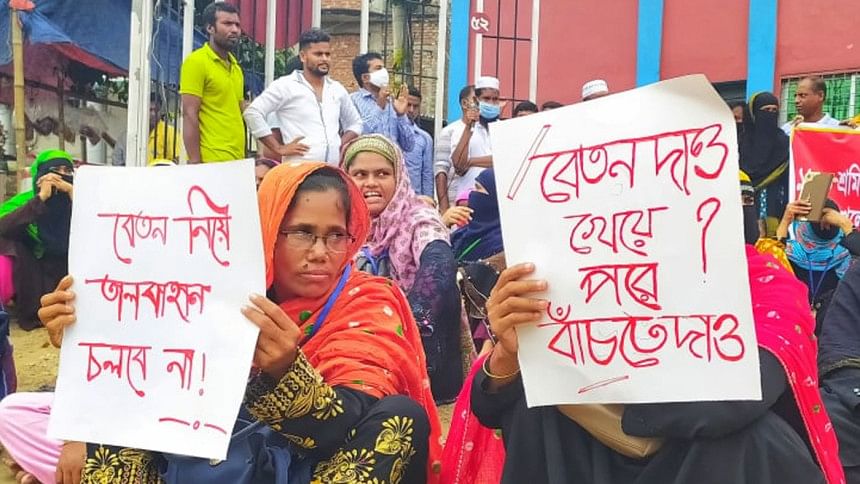 Along with many other countries in the world, Bangladesh is currently observing the UN system's 16 days of activism against gender-based violence—an annual international campaign calling individuals and organisations to prevent and eliminate violence against women and girls. While the campaign plays a vital role in mobilising our communities against violence against women and girls, it is also essential to think about gendered violence that does not fall under the purview of the hegemonic way of framing "violence against women and girls" as an interpersonal act stemming from patriarchal cultural norms.  
Feminist scholar Elora Chowdhury, who has conducted extensive research on women's organising against gendered violence in Bangladesh, points out the importance of understanding women's oppression beyond the lens of "male violence" and investigating how gendered violence is a product of structural violence. Her book "Transnationalism Reversed: Women Organizing against Gendered Violence in Bangladesh" demonstrates how men throwing acid against women and girls is not just an "aberrant cultural practice" and how it stemmed from a long history of social-economic-political-cultural transition in Bangladesh. The decline in the agriculture-based economy, growth of landlessness and unemployment, migration to urban areas, economic liberalisation programmes with the support of World Bank and IMF, the rising demand for cheap, feminised labour in the manufacturing industry, women's increasing participation in the labour market, changing norms around gender roles and relations, and the rise of under-regulated mechanic, leather, and garment industries making sulfuric and nitric acid readily available—all created an abundant ground for acid violence against women and girls (Chowdhury 2011). Without analysing and addressing the subtext, interventions that solely rely on a "commonsense" understanding of violence—a phrase borrowed from another prominent transnational feminist scholar Dina Siddiqi (2015)—can only go a limited extent to challenge root causes of gendered violence. It may be harder to pinpoint structural violence at a glance, and instances of structural violence may apparently seem isolated from one other. However, a careful investigation can unravel how capitalism, neoliberalism, heterosexism, militarism, imperialism, and other systemic forces continue to promote gendered violence.
This year's United Nations Secretary-General's Campaign UNiTE's main theme is: "Orange the World: Fund, Respect, Prevent, and Collect!" The colour orange symbolises a brighter future free of violence and signifies global solidarity for eliminating all forms of violence. The UN concept note for engagement published in the UN Women website notes that violence against women and girls, and particularly domestic violence, has escalated around the world due to the global Covid-19 pandemic. The UN proposes an umbrella political engagement strategy to unite activists around the world. The advocacy focus for the next year will be: Fund, Prevent, Respond, and Collect.
According to the UN Women website, advocacy on "funding" would prioritise things like providing funding for a minimum package of essential services that include gender-based violence prevention in Covid-19 stimulus packages and making flexible funding available for women's rights organisations working at the nexus of Covid-19 and gender-based violence. "Preventing" would promote the declaration of a national zero-tolerance policy and action addressing gender-based violence. It would support launching a Covid-19 behaviour change social mobilisation programme addressing shifts in social norms, positive masculinities, gender-based violence, and intersecting inequalities. "Responding" would ensure essential support services for survivors of gender-based violence during Covid-19 lockdowns and adequate criminal justice responses. Lastly, "collecting" would include collecting data for improving gender-based violence services and programmes while ensuring the data is ethically collected with informed consent, and the conditions under which the survivors agreed to provide information are carefully considered.
The Covid-19 emergency focus of the UNiTE campaign did a good job of promoting a survivor-centric narrative, prioritising a "do no harm" approach that respects a contextual understanding of informed consent, acknowledging the role of women's movements, inviting multiple sectors to engage in transformative changes, and elevating voices of young feminists. Nevertheless, it is still important to ask what a "Fund, Respect, Prevent, Collect" model can do to address violence against women and girls that is not done in the name of culture or tradition or religion, that is not done by individual patriarchal men, and that is done in the name of economic empowerment and economic development within a neoliberal framework and perpetuated by multi-layered actors and institutions in transnational circuits of commodities and labour.
For example, how would the UN political engagement strategy help more than 2.3 million Bangladeshi garment workers, most of whom are women and have been affected by more than USD 3.18 billion worth of suspension or cancellation of orders by global retailers due to the global Covid-19 crisis? Will the sufferings of these women garment workers, who work in an industry that capitalises on the extreme exploitation of their cheapened feminised labour, be framed as "gender-based violence" under the proposed conceptual framework of UN Women? Will these workers be able to secure any funding support as part of this year's UN global political engagement strategy? Will women's rights organisations in Bangladesh run campaigns as part of their 16 days of activism against gender-based violence against the way North American and European buyers arbitrarily sought resort to the force majeure clause and cancelled or suspended orders creating an unprecedented crisis during the Covid-19 pandemic or the way powerful factory owners presented the impossible choice of "dying of hunger versus dying of the virus" (Siddiqi 2020) to women garment workers?
During my Ph.D. fieldwork on transnational labour activism in the Bangladeshi garment industry after the Rana Plaza collapse, one of the prominent Bangladeshi garment labour organisers expressed her frustration saying, "Mainstream women's movement does not talk about our (garment workers') issues. There are divisions between the women's movement and the women workers' movement. Women's rights activists in Bangladesh talk about dowry, domestic violence, or CEDAW ratification. Have you heard them talking about women garment workers' rights?" To be fair, there are a number of Bangladeshi NGOs that conducted much-needed research on women garment workers' experiences or focused on skill development or provided services to women garment workers. Nevertheless, very few moved beyond the charity-based model of providing service and meaningfully engaged in grassroots labour rights movement with women garment workers. How will the simplistic call for lighting and decorating buildings and landmarks in orange by the UN as a key tool for "unifying all activities" as described in the UN concept note for engagement be able to merge the gap between feminist movements and labour rights movements? How will it challenge the way powerful transnational corporations, governments, local suppliers, and oppressive local and global trade and labour laws continue to oppress women workers and perpetuate systemic violence?
Or, will the hyper-focus on local and individual forms of violence of the 16 days of activism against gender-based violence do any good to female migrant workers whose own country failed to offer them livelihood security and "exported" them to the Middle East in exchange for foreign exchange? Will these workers—who were forced to accept withholding or reduction of wages or unjustly deported from their host countries due to the pandemic—get any funding support under "gender-based violence prevention" initiatives? What kind of preventive measures or support services can be expected by women who experienced violence not just by individual men but by their own state, by their employers, by the dysfunctional labour and immigration laws and policies of their host states, by their non-responsive embassy, by dalals and recruitment agencies and other transnational syndicates?
It is time to move beyond the individualistic framing of violence against women and girls. It is time to think creatively how we can address everyday gendered precarity that is created and sustained not just by sexist men and oppressive cultural norms but also by the imperialist, capitalist, neoliberal, heteropatriarchal world order and its intersecting violent systems of oppression.
Nafisa Tanjeem is an Assistant Professor of Gender, Race, and Sexuality Studies and Global Studies at Lesley University in the United States. Email:[email protected]; and her website is https://ntanjeem.org/