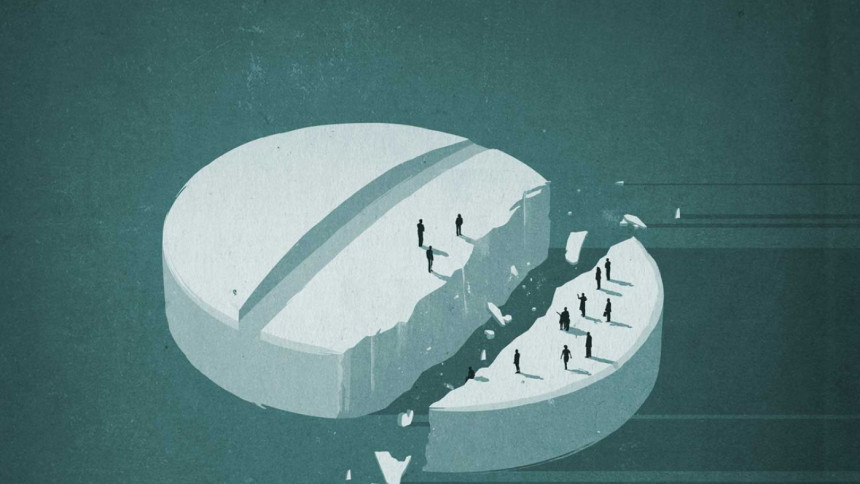 September last year, a ranking of countries prepared by Wealth X, a global financial intelligence company, calculating the rise of ultra-rich individuals in their respective populations put Bangladesh on top. A more recent report by Wealth X estimates that Bangladesh will witness, in the next five years, a growth in its "high-net-worth" population, which is the third highest in the world, at an 11.4 percent compound annual rate. In other words, if the number of Bangladesh's high net worth individuals is 100 today, say, it would be about 171-172 five years later in 2023.
Around the same time, a World Bank blog-post based on its "Poverty and Shared Prosperity-2018" report reminded us of the fact that Bangladesh was hosting the fifth largest poor population in the world. According to the World Bank standard, 24.1 million people in Bangladesh earn less than USD 1.90 (in terms of purchasing power parity) a day, thus, live in extreme poverty.
The irony of this scenario is overwhelming. Here is a country, often referred to as the next Asian Tiger, hosting one of the world's largest poor populations—that too, when the country's wealthy are experiencing a bonanza.
The widening disparity in Bangladesh was first notably illustrated by a government agency. In its Household Income Survey 2016, Bangladesh Bureau of Statistics found that the income share of the richest five percent of the country rose by 57 percent in 10 years, while the poorest five percent had their income reduced by 59 percent in the same period.
While it makes sense that Bangladesh's solid economic growth is giving rise to the number of rich and ultra-rich individuals, what the growth doesn't explain is why our wealth and income inequality is increasing.
In fact, the growth doesn't explain a lot about other phenomena such as joblessness. All available data suggests the number of people entering the workforce every year outpaces the number of jobs being created in the country. According to the "Asia-Pacific Employment and Social Outlook 2018" released by International Labour Organisation (ILO), Bangladesh is experiencing "the most severe worsening of the youth unemployment situation" in the entire Asia-Pacific region. And, in terms of employment of youth with tertiary education, Bangladesh is second to only Pakistan.
There's another recent global report that must have disturbed many. The Global Financial Integrity (GFI) has recently listed Bangladesh among the top 30 developing countries in terms of illicit financial outflow. In 2015 alone, nearly USD 6 billion went out of the country, mainly through misinvoicing—an illicit practice adopted by some Bangladeshi exporters (colluding with foreign importers) to not bring their money home. To put it in context, according to economist Debapriya Bhattacharya, Bangladeshis laundered money three times the amount of foreign aid it received in 2015. And from 2005 to 2014, illicit flow from Bangladesh stood at USD 61.63 billion, which was more than Bangladesh's 2018 budget, the largest in its history. The media interviewed unnamed businessmen saying many didn't feel it safe to keep their money in the country due to the turbulent nature of politics.
Does not all this imply that the benefit of the growth is reaped by a handful of "high-net-worth" or "ultra high-net-worth" individuals who are reluctant to reinvest their wealth in the country, thus, contributing to an abysmal job creation rate?
And, what has our government done to discourage the trend and create a stable environment conducive to private investment? Until the election, the government resorted to heavy-handed tactics to deal with political opponents although it risked plunging the country into chaos. However, the fact that the governing party now exudes enormous confidence will certainly be assuring to investors at home and abroad.
What's more, unlike many other global rankings that put Bangladesh in a bad light, "the ease of doing business" index seems to have been taken seriously by the government. It has decided to launch "one-stop service" and combine several investment-related state bodies so that potential investors can avoid the lingering bureaucratic hassle.
It's also a welcome sign that the anti-corruption commission (ACC) is prosecuting the Crescent Group for siphoning off foreign currency equivalent to Tk 919.56 crore abroad, involving fake export bills. But such prosecution is very rare. Even as the ACC has recently launched an anti-corruption crusade, it has largely shied away from hunting the big fish, at which even the High Court expressed dismay. We can also recall how the government bailed out banks plagued by loan scams and severe mismanagement, instead of prosecuting those involved.
Also, the fact that the government bowed down to pressure of the influential industrialists and provided them with meaningless tax-breaks in the name of "incentive" is discouraging. On February 20, the government decided to give a leading industrial company a massive tax waiver of more than Tk 3,000 crore. The tax reform that the authorities have initiated only targeted low or middle-income individuals or enterprises, not rich individuals or large companies. In particular, an argument put forward by a noted industrialist in favour of the tax breaks to large industries was that it would create a ripple effect that would somehow benefit the lower income groups. This same tiring argument is often put forth by western conservatives and has been repeatedly debunked. Instead of creating more jobs, repeated researches show, tax breaks only allow the rich to accumulate more wealth.
As Rutger Bregman, the Dutch historian who famously confronted billionaires at this year's Davos summit, put it, the solution to our inequality problem is "taxes, taxes, taxes." We need to tax the growing number of rich population, close the loopholes, take stringent measures against tax avoidance tactics like misinvoicing, create a strong taxation regime that wouldn't hesitate to take on the powerful and invest the tax money on health, education and the improvement of living standard. Bregman sums it up quite simply: "All the rest is bulls*it in my opinion."
Nazmul Ahasan is a member of the editorial team at The Daily Star.
His Twitter handle is: @nazmul_ahasan_.