No, we were already pathetic before Sunny Leone came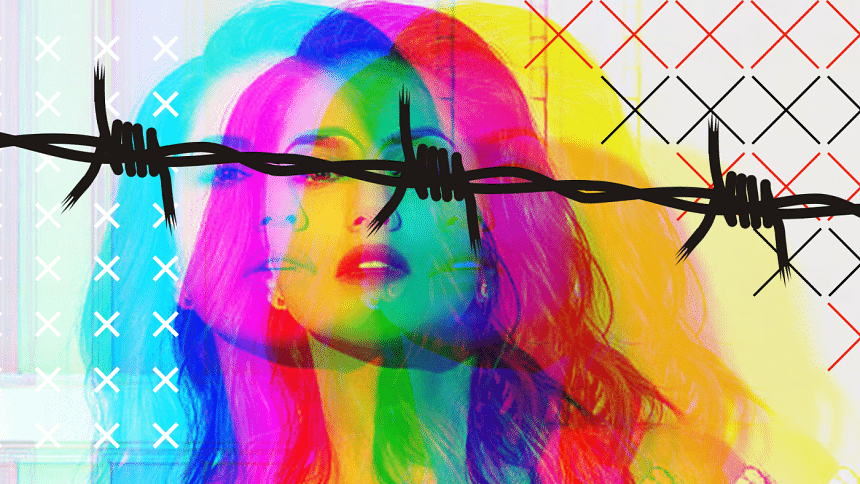 If Facebook is any measure of public opinion, Sunny Leone, after her adrenaline-inducing visit to Dhaka, can rightly stake her claim to "veni, vidi, vici"—a Greek phrase famously attributed to Julius Caesar. You may be more familiar with its English translation: "I came, I saw, I conquered." What's Greek for "I went viral?" If it were up to Sunny Leone, she'd probably add that too. And she wouldn't be wrong.
For the 15 hours she had been in Bangladesh, Leone was, as they say, the "toast" of not just the wedding event she headlined but also of the entire town. In photos and video clips that later went viral, she appeared in a deshi girl avatar, wearing a blue lehenga teamed with a pink organza dupatta, her looks accentuated by a pearl choker and matching earrings, and her hair parted in the middle. Accompanied by other Indian and local celebrities, she danced to Bangla and Hindi songs. She clapped. She cheered. The crowd couldn't love her more.
But in case you're wondering, this is not a commentary on Sunny Leone. It's a commentary on the commentaries on Sunny Leone. We got a real taste of that as soon as those photos and video clips landed on the internet and the social media opinion mill got activated.
Netizens, from my vantage point, were divided into four groups: one visibly smitten with a porn-star-turned Bollywood actress, one unsure of how to come to terms with their own guilty pleasures from a past they'd like to forget, and one righteously indignant at her perceived assault on local sensibilities, which allegedly led to her being denied a work permit in Bangladesh in the first place. In their minds, her pornographic history is a continuous presence, despite her latter-day transformation.
It is the fourth group who had perhaps the most interesting ideas. To them, the obsession with Sunny Leone is symptomatic of a bigger issue: lack of active citizenship. It reflects, they said, in how some people throw themselves at issues and developments that least concern them, while ignoring or refusing to stick with issues of public interest, such as governance, politics, crimes and corruption. It reflects, for example, in their enthusiasm for US elections when our own electoral system is crumbling, or their interest in human rights violations in other countries when our own records are crying for attention. A classic example of the proverbial ostrich syndrome.
But to me, only speaking of this syndrome and bringing the Sunny Leone example to prove it is a flawed intellectual exercise. It brings too much focus on the example, and too little on the underlying reasons behind the syndrome. It's also unfair to the person involved, as this syndrome far predated her arrival in Dhaka.
It is equally unfair to leave unquestioned the role of our moral guards and self-righteous zealots who would loudly reject a foreign actress because of her past, but are conveniently silent on almost all critical issues that matter in our lives. This contrast is also evident in how many among us don't publicly approve of porn, but secretly do. They don't publicly criticise the government, but privately do. They see no evil and hear no evil as long as it's being committed by someone powerful. Their moral compass only points to the weaker targets, the weaker groups. Those taking the moral high ground now are also guilty of this dualism and hypocrisy. They too, as the saying goes, like to "play it safe."
Around the same time Sunny Leone left Dhaka, news came out that a bus transport company made it mandatory for its 600-strong staff to observe daily prayers, their religious freedom be damned. It wasn't long ago that the head of a government institution did something similar. Elsewhere, in a union under Lakshmipur district, zealots reportedly issued a diktat banning music in weddings and the local bazar. They also made it mandatory for schoolgirls to wear burqas. Bigotry is like a shapeshifting mutant. If you leave it unchecked, it may keep coming back in new forms and places.
This is why we should be less hasty to judge others, and more willing to recognise our own failings.
But how worried should one be about this ostrich syndrome or lack of active citizenship? Does burying our heads in the sand really save us from the unpleasantness of life? To me, this is the most disturbing outcome of the absence of politics and meaningful political engagement in our country, caused by the gradual erosion of democracy over the years.
In a climate where diversity is routinely ridiculed, intolerance is nearly institutionalised, freedom of speech is punished by law, and any legitimate demand for change is seen as a threat to the ruling status quo, the populace becomes so cowed—to quote John Banville—that it eventually does the state's work for it voluntarily. It starts to self-censor. It starts to disengage. It starts to show disinterest in the affairs of the state. And eventually it turns into a group of "passive subjects" rather than "active citizens," too passive to think of their own collective benefits. Today's netizens, with the exception of a few activists and rights campaigners, are mostly headed in that direction.
So if you think the social media tendency to obsess over trivial or irrelevant matters is problematic, be sure to highlight what's causing it, as well as its far-reaching consequences. Be sure to recognise that we were already pathetic before Sunny Leone came, and we may continue to be so long after she is gone, if we don't challenge this state of affairs.
Badiuzzaman Bay is an assistant editor at The Daily Star.