'I have no one else': How an eight-year-old girl lost her entire family at once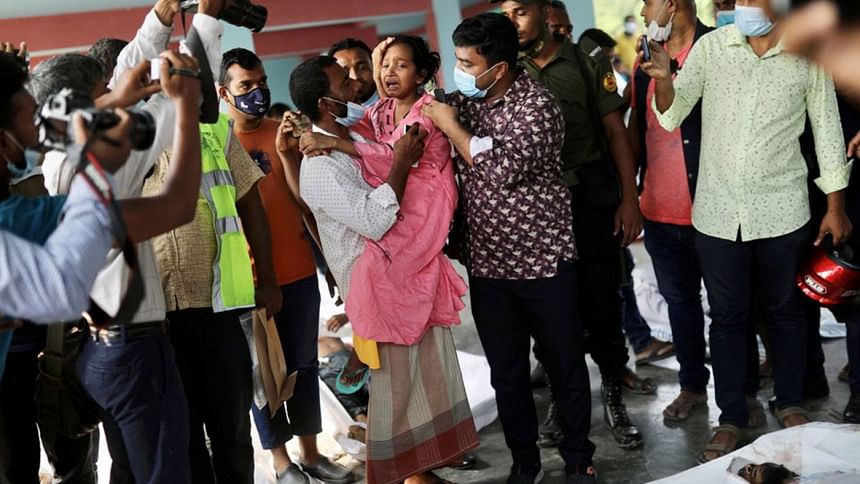 In the early hours of Monday morning, when most of us were tucked comfortably in our beds, eight-year-old Meem lost her entire family after the speedboat she was on crashed and overturned in the middle of the Padma river, drowning and killing 26 passengers.
Meem was travelling with her father, mother and two sisters to her village after receiving news that her Dadu had suddenly died. Speaking to a journalist from Desh Rupantor, Meem disclosed that her hometown is in Terkhada village of Khulna and their family had been renting a house in Mirpur for the past five months. They had boarded the speedboat from Shimulia Ghat. Little did Meem's family know that attempting to visit a dead family member would cause their own deaths.
Meem was asleep when the speedboat crashed. She was holding a bag full of clothes on her lap. It is this bag that would save her life. As the boat overturned and passengers began drowning, Meem found herself floating on the water by holding on to the bag. That is when the rescuers noticed a floating child clutching onto a bag and rescued her from the water.
 As soon as Meem was able to overcome her shock, she asked for her family. She was told that her parents and sisters were now stored in body-bags in a nearby primary school, along with other dead bodies. She was then taken in front of the line of corpses, and asked to identify her family members one by one.
Meem was then rushed to the nearby Panchar Royal Hospital as she had sustained minor injuries to her hands and eyes. Unlike most other passengers, no relatives had come for her or her family. Reporters found Meem in a state of disarray and constant tears. She murmured: "I have no one else."
The crash occurred when the speedboat hit a sand-laden bulkhead anchored in Padma, near the Banglabazar Ferry Ghat area in Madaripur's Shibchar upazila. Abdur Razzak, in-charge of the local naval police outpost, told press that the speedboat was coming to Banglabazar Ferry Ghat, taking passengers from Shimuliaghat of Munshiganj. Meem was one of five people rescued alive. Survivors blamed the speedboat driver for causing the crash, saying he was speeding "recklessly" right from the start of their trip.
Madaripur Deputy Commissioner Rahima Khatun told press that the accident occurred as "there was not sufficient light in the morning and also the driver was not skilled enough" (The Daily Star).  She further noted that the speedboat was carrying passengers, violating the restrictions imposed by the government amid the ongoing pandemic. Ghat authorities told press that the owner of the speedboat, Chandu Mia, does not have registration, while the driver employed by him to operate the boat, Md Shah Alam, has no license. When local authorities were asked how an unlicensed driver was still allowed to run an unregistered speedboat in the middle of a "lockdown", there were no clear answers.
Rahima Khatun told The Daily Star that the District Administration has formed a six-member committee to "investigate the accident". The committee, which includes magistrates, naval police and fire service personnel, has been asked to submit a probe report within three working days. But when was the last time any such probe committee formed after large-scale preventable "accidents" actually did anything to prevent the next one from happening?
 Just last month in April, more than 30 people were killed when a large cargo vessel crashed into a ferry carrying 50 passengers rushing home from Narayanganj before the national lockdown. Last June, at least 32 people were killed when a ferry crashed into another ferry from the back in Dhaka, killing at least 32 people. In February 2015, at least 78 people died when an overcrowded ship collided with a cargo ship. How many committees were formed then and what action was taken based on their findings?
I am sorry Meem. I wish I had the words to console you, but the truth is, I have no idea what it feels like to lose my entire family in the blink of an eye. I am sorry you are now motherless, fatherless and sister-less, all because you had the misfortune of being born in a place where we have the luxury to hurt as many people as possible by being as negligent as possible; a place where basic safety standards do not matter because human lives do not matter.
 What does the future hold for Meem and who will take care of her? Will she be an "economic burden" on a relative who will wait for the moment she reaches puberty to marry her off? Worse yet, will she end up as a victim of trafficking, as many young girls without a guardian are in this country?
I cannot stop wondering: what will happen to Meem?
Taqbir Huda coordinates Justice for All Now (JANO), Bangladesh. Email: [email protected]