Corporate negligence killed a mother and son. Do we even care?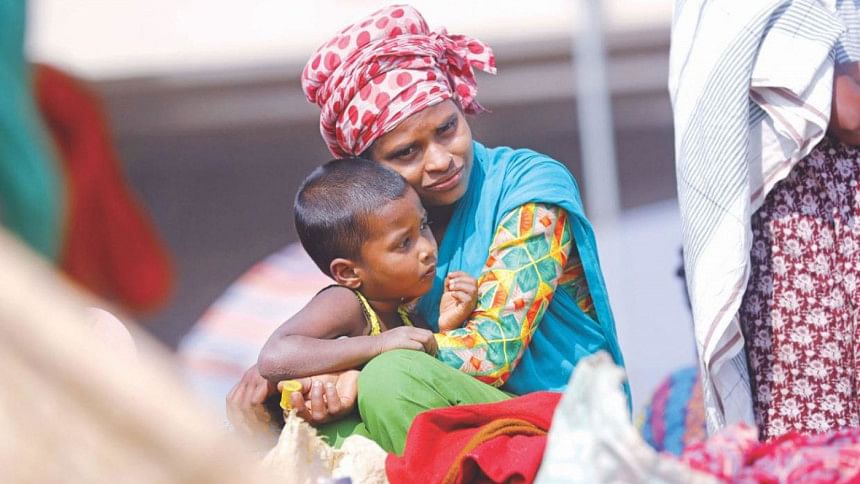 On the afternoon of March 3, 2021, three-year-old Ruhit was playing in front of his residential building located inside the Provita Fish Feed hatchery, when he fell into a large septic tank that had been left uncovered. As soon as his mother, Ruli, witnessed this horrific incident unfold from the second floor, she ran and leapt into the septic tank herself in an effort to save her beloved child. However, she too got stuck.
When Hridoy, the 22-year-old security guard of the premises noticed that both the mother and child were struggling for their lives, he too leapt in, in an attempt to save them, but also got stuck. Locals then alerted the fire service, and after a two and a half hour rescue operation, the three lifeless bodies were retrieved, at around 8pm.
A source inside the hatchery told Bangladesh Pratidin that the lid of the septic tank was broken, and therefore a jute sack was used to cover it up—and the child fell in when he stepped onto the hollow portion clumsily covered by the sack. The fire service told Jugantor that the sheer size of the septic tank and the unbearable smell emanating from the production waste (such as spoilt eggs and eggshells) steeped inside the tank made the rescue operation all the more difficult. They also strongly suspected that Ruhit, Ruli and Hridoy all died due to prolonged exposure to poisonous gases inside the tank.
Ruhit's father, Sajal, is an engineer at the hatchery, and lived in the residential quarters with his family. Little did he know that within the blink of an eye in what must have felt like any other working day, his beloved son and wife would fall into a death trap in front of their own home—because his factory could not bother keeping something as dangerous as a septic tank covered, as it should be, and instead allowed for it to be used as a convenient dumping spot.
The factory administrator told Bangladesh Pratidin this was an "unfortunate incident" and that they will "stand beside the helpless family"—staying true to the corporate tendency of reducing wholly preventable deaths as random and unforeseeable accidents to gloss over their own negligence and legal liability to compensate for the harm caused .
As we celebrate our country's graduation from the "Least Developed Countries" category, let us wake up to how big of a threat corporate negligence remains to the very workers and their families whose blood, sweat and tears made this "steady economic growth" even possible.
I spent hours trying to find photos of these three victims of corporate negligence, but could not find it anywhere. Their faces are not worth humanising, not worth mourning. Keeping them faceless makes it easier to ignore the human cost of unregulated human greed.
Did the mother die from poisonous gas or the pain of having to see her beloved child die in her arms, and not being able to do anything to save him?
Under Chapter XII of the Bangladesh Labour Act 2006 (BLA), an employer would be liable to pay compensation if a worker is killed or injured in an "industrial accident". While this may mean the employer could be liable to pay compensation to Hridoy's dependents, no compensation would be payable under BLA for the deaths of Ruhit or Ruli, as they would not fall under the definition of worker—even though their deaths arose from the same act of corporate negligence.
The employer may be sued under the Fatal Accidents Act 1855 to pay compensation for the deaths of Ruhit and Ruli, but unlike compensation claims under the BLA, those under other laws, such as the 1855 Act, would be subject to "ad valorem court fee". Meaning, if Sajal sued his employer for the death of his wife and son, he would deposit a portion of the amount being claimed as compensation, to the court, as court fees, which may be up to Tk 50,000.
Unfortunately for Hridoy's dependents, however, compensation under the BLA for death of a worker is limited to Tk 200,000, a shamefully minimal amount. There, if Hridoy's dependents wish to bypass this limit they would, like Sajal, have to sue under the 1855 Act, and be met with the same challenges.
The litigation period in compensation cases against corporations, be it under the 1855 Act or otherwise, is notoriously long and drawn out due to the underdevelopment of tort law in our country. Tort law is that branch of law that allows victims affected by the wrongdoing of another (even if the resulting harm is not intended, such as negligence) to account. For example, Rowshan Akhter, the wife of Mozammel Hossain Mintu, who was killed in a road crash caused by the delivery van of Bangladesh Beverage Industries Ltd in 1989, is yet to receive compensation. This is despite Rowshan Akhter having filed the case 31 years ago, and winning three decisions in her favour, first in the District Court in 2003, then in the High Court Division in 2010 and in the Appellate Division in 2016.
For Ruhit and Ruli's deaths, the theory of occupier's liability in tort law would have specific relevance. This theory holds that "occupiers", meaning the premises owner (or someone exerting a sufficient degree of control over premises) must take reasonable care to ensure the safety of its visitors (which would include residents, such as Ruhit and Ruli). The standard of care is higher for children, as they cannot be expected to foresee risk or recognise potential hazards in the same way adults can.
While monetary compensation, no matter how high, can never subdue the debilitating pain of losing a loved one, imposing liability on corporations (and other premises owners) will set a much needed legal precedent, which will force them to ensure basic safety measures are in place so that tragic deaths and injuries that are wholly preventable are in fact prevented.
Taqbir Huda is a Research Specialist at Bangladesh Legal and Services Trust and coordinates the Tort Law Project Bangladesh.
Email: [email protected]