"Food relief should be distributed at the doorsteps"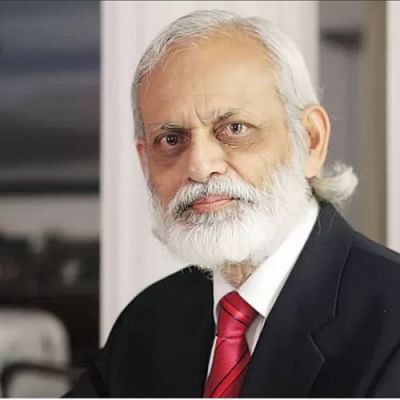 Rizwanul Islam, an economist, is a former Special Adviser, Employment Sector, International Labour Organization (ILO). The following is a slightly modified translation of an interview originally published in Prothom Alo before the Prime Minister's announcement of a stimulus package on April 5.
In order to prevent coronavirus from spreading further, a nationwide shutdown has been declared and people have been asked to stay indoors. Daily life as we know it has come to a halt. Large numbers of impoverished people have no income. During such a crisis, what is the state's responsibility?
The health crisis created by coronavirus has turned into an economic crisis now. It is not clear to me why the "stay at home" order has been called "holiday". These days, a lot of work can be done from home. Of course, there are those who earn from physical labour or from economic activities that cannot be done from home. The latter include those who drive rickshaws, vans and other transports, run small stores, or sell small items from the pavements. On such work depend the lives and livelihoods of crores of people of Bangladesh.
How many people belong to that category?
According to the Bangladesh Bureau of Statistics (BBS), approximately two and a half crore people are dependent on wages and salaries. Among them, more than one crore labourers are employed on a daily basis. Furthermore, in the RMG sector, there are around 40 lakh workers who might not work on a daily basis, but are employed under similar conditions. In addition, there are another 50 lakh workers in other industries who are not doing much better when compared to the daily wage earners. There are also the self-employed people, many of whose situation is similar to those dependent on daily wages. Even if we exclude agricultural labourers, livelihoods of more than two crore people have become uncertain in the present situation.
What can the government do in this situation?
With the economic system that is currently prevalent across the globe, individuals have to manage their own livelihoods. Despite that, responsibilities of the government cannot be denied altogether. Even in countries known as the bastions of capitalism, the respective governments are coming forward to help the citizens and businesses. Although we should have taken some immediate steps earlier, despite being late, the government has made some announcements.
In the face of the crisis surrounding livelihoods, what should be the priorities of the government?
First and foremost, the government must ensure that the poor do not suffer from starvation. We must identify their households and ensure that the food relief is distributed at their doorsteps. Asking them to come out of their homes and queue for food will make it difficult to maintain social distancing. Slum areas of various cities should be targeted first for such work. The poverty mapping that has been done will further help us identify the areas where aid is crucial.
Next, there are certain people who may not need relief in the form of food. These individuals are slightly above the poverty line and are used to earning their own means of living. What they require now is monetary assistance to tide over the difficult period, for example, to pay their rents.
Last but not least, there are the owners of small and medium-sized enterprises (SME) whose businesses are bearing the brunt of the shutdown. We can assist them by providing loans with flexible repayment options. Also, the SMEs should be given an opportunity to refinance their loans. Moratorium on loan repayments for six months may prove beneficial as well.
Even though our agricultural sector has not taken any major blows yet, we cannot overlook the matter as the markets for crops, vegetables, fruits, eggs, milk, etc. have been affected.
Shouldn't the government have made preparations prior to announcing the nationwide shutdown? Does it not seem that the steps were taken in a rather abrupt and unplanned planner?
As the virus began to spread in China from late December onwards, the government did indeed have the opportunity to make timely preparations. But the manner in which Covid-19 was spreading, I think the government had no other alternative but to react the way it did. This crisis has created a kind of dilemma for poor countries, including Bangladesh. The poor are saying: in order to save ourselves from corona, we are going to die of starvation.
How long might this situation last? Are there any chances that we may face famine to any extent?
I do not know if anyone can answer that with absolute certainty. It is difficult to say for how long we can continue under this situation. Even in the developed nations, uncertainty looms. It actually depends on the nature of the virus—its ability to multiply and transmit. In some countries, they are using various models to estimate the duration. I am not aware whether our government is taking a similar approach or making decisions simply based on assumptions. However, some research has shown the possibility of resuming livelihoods on a limited basis.  But that alternative depends critically on tests. Tests not only of those affected but also on those not affected can be done to identify who are free from the virus and could be released for carrying out normal activities. Such an approach is not yet feasible for us.
Is there any fear of severe destitution or famine?
In order to answer this question, I would go back to Amartya Sen's remarks.
Firstly, even when there is an abundance of food, famine can take place if those in need have no access to (entitlement, in Sen's words) food; and entitlement only comes when they have the means to purchase. Luckily, we do not have any shortage of food, but if work is not available for a long time, the poor may soon lose their ability to purchase. Amartya Sen further opined that in a democratic system, the fear of famine is comparatively lower because the government cannot conceal information and is also under pressure to take appropriate measures.
In Bangladesh, the topic is under such scrutiny that the authorities simply cannot ignore it. The honourable Prime Minister recently announced that people will not be left to starve. The current ruling party prides itself as a people's party. I want to believe that this will be reflected in the work of the government.
In the current situation, don't you think that there is a serious problem in our economic system, that our social security system should have been larger and stronger? Shouldn't the concept of the welfare state have been emphasised more?
This is a very significant question and I totally agree with you. To measure economic growth, our main focus is on the growth of GDP. But renowned economists like Amartya Sen and Joseph Stiglitz have opined that GDP is a tool for "mis-measuring lives". Even though we rank amongst the lower-middle income countries, when it comes to social security, we have not progressed much. Whenever we talk about social protection, we refer to the Vulnerable Group Development (VGD) and Vulnerable Group Feeding (VGF) programmes. Although there are more than 100 social safety net schemes, we lack unemployment allowance. Not only that, instead of regarding it as an integral part of development, we look at unemployment allowance as a charitable act. You might ask, even if such an allowance is there, how do you cover those who are self-employed? Well, some countries in Europe have shown that it is possible. It is not necessary that only the government will be responsible for the allowance; employees, owners and the government can all collectively bear the cost instead. Even our neighbour India, has passed a law in parliament regarding social protection for the informal sector. But we are yet to go in that direction. We need to make a start by acknowledging that social protection for both the formal and informal sector is an integral part of development.
Do you think it was right to leave a large part of the medical sector in our country in the hands of the commercial sector, whose goal is to turn healthcare into a profitable business?
What happens when healthcare becomes overly dependent on the private sector becomes clear when one compares UK and the USA. Many hospitals in our country are not even admitting patients who are infected with coronavirus. Besides, how many have the ability to afford the expenses in a private hospital? Though some public hospitals have been directed to treat patients during the pandemic, many are not yet fully prepared. The main reason for this situation is the weakness of the public sector health service.
Should the allocation for the healthcare sector's expenditure be increased for human resource development? In terms of the number of doctors per capita, Bangladesh ranks lowest amongst the South Asian countries. What are your thoughts on that?
A large proportion of our population do not have access to proper health services. Inadequacy of doctors and nurses is one of the major weaknesses of our healthcare system. For every 1,000 citizen in this country, there are only 0.5 doctors. The corresponding figures for other countries of South Asia are: Nepal 0.7, India 0.8, Pakistan 1.0 and Sri Lanka 1.0.
If we talk about the budgetary allocation for our healthcare sector, we can observe that in the last five years, the share of healthcare has not increased in the annual development programme (ADP) budget. In fact, there has been a slight decline in the share in the last few years. In Financial Year (FY) 2014-15, it was 6.72 percent, while in FY 2018-19, it was 6.52 percent. However, there were increases in the areas of transport, electricity and physical infrastructure. It is evident that we prioritise physical infrastructure over social sectors. Yes, infrastructure is crucial for economic development, but public health is equally important, if not more. With fragile health, progress remains vulnerable. We cannot afford to compromise the significance of healthcare. It reminds me of the saying, as you sow so shall you reap. The current state of our healthcare system is a reflection of that.