The glorious history of Goalanda
There is more fiction than historical truth about the origin of the name 'Goalanda'. According to a legend,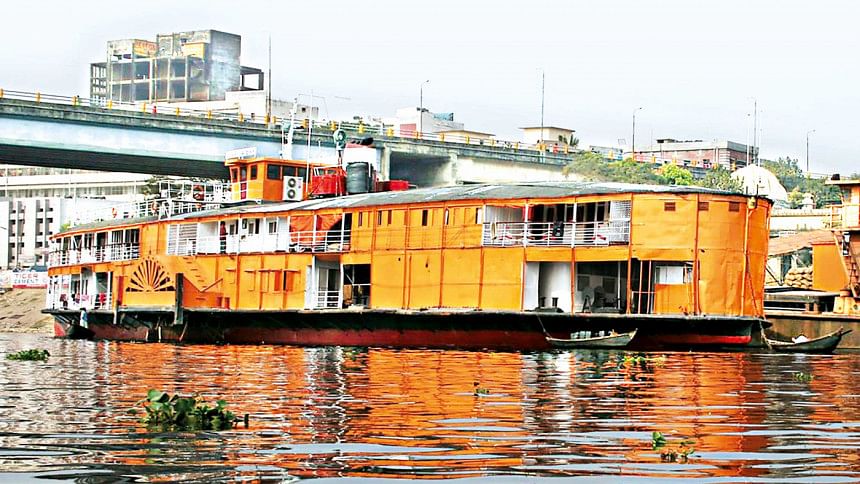 There is more fiction than historical truth about the origin of the name 'Goalanda'. According to a legend, it was named after the Portuguese pirate leader Sebastian Gonzalez. Prof Matiur Rahman, in his book History and Heritage of Rajbari District, made the most persuasive argument in this regard. He wrote that Portuguese and English merchants used to visit Rajganj, a prosperous East Bengal trade port, while travelling between Dhaka and Calcutta. On the bank of the Padma River, Rajganj was an inexpensive place to eat and stay at, which earned it the fame of 'Goulash Land', a land of delicious cuisine. Fresh hilsa, rui or katla fish cooked on low heat for a long time, bursting with flavours of coriander, onion and garlic, used to be the most famous dish at the port. The Rajganj port had to be relocated several times due to erosion by the Padma, but it retained its fame. 'Goulash land' gradually became 'Goalandu' or 'Goalanda'.
Prior to the advent of railways, inland waterways were the chief mode of transport in Bengal.  In 1829, river steamer services in the Bengal delta started on the initiative of James Johnston, a former British Navy officer. In the beginning, there were very few steamers, and they used to travel great distances. Therefore, ticket prices were very high and their availability was unpredictable. They were mainly issued for East India Company officers and transportation of goods from Kolkata to various locations in then Bengal.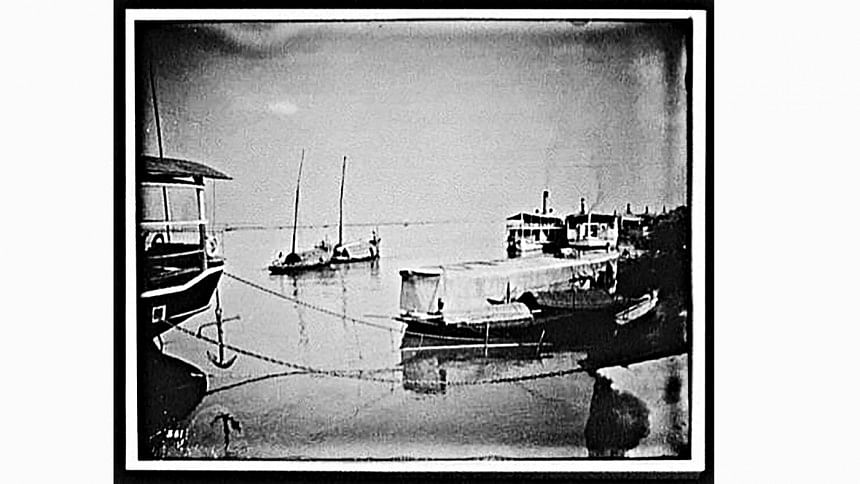 The India General Steam Navigation (IGSN), beginning its operation in 1844, popularised shipping in the Bengal Delta. They signed a contract with the government and started running two steamers between Kolkata and Assam in 1860. The steamers used to depart every six weeks. In 1862, The Rivers Steam Navigation (RSN) entered the shipping business. These two companies maintained a monopoly in the waterways of East Bengal for a considerable period of time.
The journey from Narayangang to Goalando used to take about six hours by despatch steamer and about fifteen hours by the slower boats which had stops at the following stations after leaving Narayanganj : (1) Kamala Ghat, (2) Shatnol, (3) Bahar, (4) Sureshur, (5) Tarpasa (Lohajang), (6) Mawa (7) Kadirpur (Bhagyakul), (8) Narisa, (9) Moynot, (10) Jelaldi (11) Kanehanpur, (12) Goalando. [BC Allen, East Bengal District Gazetteers: Dacca, The Pioneer Press, Allahabad, 1912, pg. 132] Navigation companies used to organise pleasure trips between Kolkata and Goalanda.
Interesting descriptions of the steamers plying the Goalanda route and the long journey can be found in the reminiscences of journalists, bureaucrats, writers and politicians. In 1884, Shambhuchandra traveled from Golando on board the large steamer Princess Alice en route from Calcutta to Dhaka. Every Friday morning this steamer used to leave Golando for Dhaka. Journalist Shambhuchandra Mukhopadhyay's travelogue 'Travels and Voyages in Bengal between Calcutta and Independent Tipperah' published in 1887 provides various details related to Goalando. Ashok Mitra in his memoir 'Towards independence, 1940 1947: Memoirs of an Indian civil servant' (1941) wrote that River Steam Navigation (RSN) company's steamers used to travel between Kolkata and Dhaka via Sundarbans, Khulna and Barisal. They used to go as far as Guwahati and even Dibrugarh. India General Navigation (IGN) used to own large steamers. This company operated paddle steamers Ostrich, Kiwi, Emu and Pelican on the Goalanda-Dhaka and Goalanda- Chandpur route. Lunch used to be served in the launches by half past twelve. The food menu consisted of chicken soup, fried bhetki, famous IGN-RSN Captain chicken curry and caramel custard.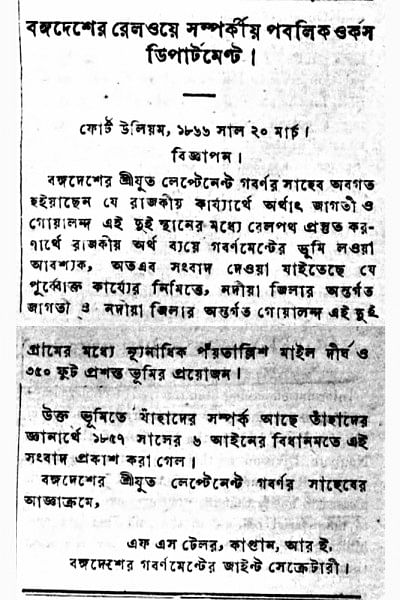 Bangabandhu Sheikh Mujibur Rahman wrote in his memoir: "Goalando then had a very comfortable steamer service to Dhaka. The government had issued an inter-class ticket for me. I said I would go only on a first-class ticket. Since the steamer would be awfully crowded I wouldn't be able to get any sleep. Why couldn't they use my money which they had in deposit to buy me a first-class ticket?" [ Sheikh Mujibur Rahman, The Unfinished Memoirs, UPL, 2012, pg. 192]
On January 1, 1871, railway communication was established from Kushtia to Goalanda. This expansion took place under the Eastern Bengal Railway (EBR). The acquisition of land for the construction of railways became necessary. On March 20, 1866, an advertisement related to land acquisition was published in the Government Gazette. This ad is unique proof that Goalanda was then a part of Nadia district. After the establishment of railway communication, Goalanda's importance increased greatly. Passenger numbers increased so much that the Eastern Bengal Railway Authority introduced return tickets on the Goalanda to Kolkata route in 1874 for third-class passengers only.
Railway service from Dhaka to Narayanganj started on January 4, 1885. Steamers of the Navigation Company and Railway Company then started ferrying passengers and goods from Goalanda to Narayanganj. Chandpur Ghat station was inaugurated on July 1, 1895 under the Assam Bengal Railway (ABR). This made it possible to move railway passengers and goods up to Chandpur Ghat. Passengers from Chittagong, Comilla, Dhaka, Sylhet and Assam started their journey to Kolkata through Goalanda Ghat. Due to the presence of large rivers, many places in East Bengal had not yet had a direct railway line. It was not feasible to build bridges at all those places in the initial stage. Because of that, the railroads on both sides of the river were connected by steamer and wagon ferries. Apart from the 1st, 2nd, 3rd and 4th class compartments, trains then had a special compartment for freight. A list of freight charges is given in S.C. Ghosh's  A Monograph on Indian Railway Rates (1918). The charges for paddy and other grains used to be fixed in terms of maunds and miles. Freight rates were determined on a seasonal basis.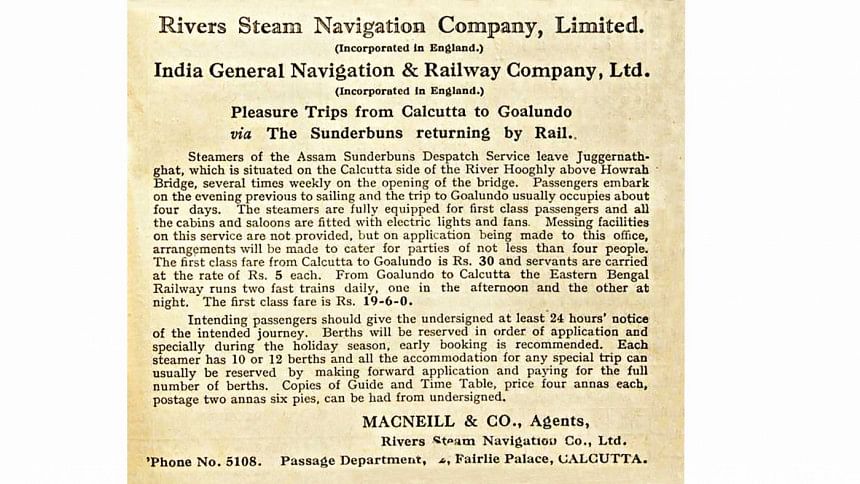 Mail from Sealdah to Chittagong used to leave in the morning. People from Comilla and Chittagong used to travel by Chittagong Mail. A description of the Dhaka Mail can be found in Comrade Muzaffar Ahmad's 'Kazi Nazrul Islam: Memoirs'. Coaches of West Bengal's Dhaka Mail were red in colour. The mail steamer from Narayanganj used to reach Goalando between six and half past six in the morning. At seven o'clock in the morning, the Dhaka Mail would leave Goalando for Sealdah with the steamer's passengers and carriage of fish. Customs checking would be done at Darshana. The train would reach Sealdah station between 1.30 and 2.00 pm. East Pakistan Railway coaches were green in colour. There were four types of compartments – first class, second class, interclass and third class. There were separate compartments for women known as Zenana compartments. Inter and third-class coaches had four rows of benches. Two rows next to the windows on both sides and two rows in the middle. Not all compartments were equal in size. This is how Jalal Miya reminisced while talking about the period after the partition of India in the article titled 'Two Decades of Goalanda'. Golanda was a first-class railway station of European standards in British India. Not a Bengali, not even an Indian was given the station master's duty.
During the British period, sub-divisions were formed with police stations, and districts were formed with sub-divisions. Goalanda was made a subdivision in 1871. In 'A Statistical Account of Bengal (Volume-5)', published by W. W. Hunter in 1877, it can be seen that Faridpur district was composed of Faridpur Sadar and Goalanda sub-divisions, and Goalanda sub-division was composed of three police stations namely Goalando, Belgachi and Pangsha. Goalanda was the terminal station of the railway line starting from Kolkata. However, it had to change location 10 times in about 30 years of its inauguration due to changes in the course of the Padma River.
According to the 1951 census of East Pakistan, Faridpur district consisted of four subdistricts, namely Sadar, Goalanda, Gopalganj, and Madaripur. Due to the shifting nature of the Goalanda ghat, the administrative work of Goalanda subdistrict and thana used to be conducted from Rajbari. On March 1, 1984, all the subdistricts were declared as districts – except Goalanda. In fact, it was made an upazila of Rajbari district! Goalanda railway station gradually lost its past glory; several railway lines leading to Goalanda were abandoned. Decaying red brick buildings now stand as testament to the past. Abandoned windows of ticket booths, money lockers, sharing a seat with other passengers on the deck of a steamer, hurrying down to the Goalanda ghat to board the train – all are now grey memories of the golden past.
Hossain Muhammed Zaki is a Researcher. He can be contacted at zakiime[email protected]