Memories of my father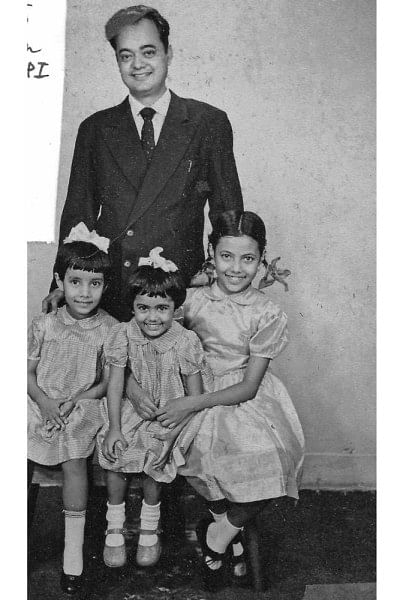 A child's memory of her parent is often difficult to narrate. There is no single narrative, no linear structure. There are so many stories, so many events that fold into each other. My father was a complex man. But of all his identities, my father's identity as a teacher was of paramount significance. He was foremost a teacher, then a husband, father, brother, friend. His interest lay in analyzing the dynamics of social change among the Muslims of Bengal and communicating to his students how to ask critical questions about social phenomena.
 Daily, dozens of his students and colleagues would come to our house in the evenings to chat with him. Between the hours of 5 pm to 9 pm, the living room was out of bounds. Our doorbell rang consistently and streams of people would come to see him. This was the daily evening ritual in our house. From our bedroom, we could hear animated discussions in the living room. These were energetic discussions over cups of tea where debate and dissent were the rule. No one was expected to accept my father's viewpoint. He encouraged people to disagree with him and develop their arguments.
 Sometimes in the evenings, my father would ask us if we wanted to go to New Market. My father loved to go to bookstores and check out the new books in stock. Our interest in going to New Market was to get new comic books and he  would always let us buy one. In those days, they cost 1 rupee each. We would take a rickshaw from our Fuller Road University Quarters (we lived in building #32, flat F) and head to New Market. As soon as we got to the market, we would hear voices call out, "Sir." And that was it. And for the next 15 to 20 minutes my father would be engrossed in talking to his students or colleagues. I remember hopping from one leg to the other, bored to tears. Finally, when we caught his attention, he would move a few steps, when another voice would call out, "Sir." I remember my father being surrounded by his students. That was what he loved the most. He loved reading, writing, and sharing his knowledge with his students.
 When we were children, my father said we must learn about all religions and respect people of all faiths. He would send us to see the pujas at Jagannath Hall. In our neighborhood, we were the only children who went to the pujas at Jagannath Hall. He took us to the Catholic Church in Kakrail. He even  wrote to a Jewish friend in the US to write about their religion so his children (we) could learn about it. As a result, any form of religious bigotry was not allowed to grow in us. We were taught to see people as people. How one prayed was not an issue for us. As I look at the world where we are constantly killing or hating each other over one's faith, I realize the importance of my father's wisdom. He gave his daughters, we are three sisters, an immeasurable gift. I am extremely fortunate to have had this profound experience in my childhood.
 Writing about my father in his memorial lecture series, Professor Rabindranath Guha of Kolkata wrote that he had met my father in 1941 when they were students of Political Science at Dhaka University. They both lived in Fazlul Huq Hall. British rule was coming to an end and Muslims and Hindus were caught up in a frenzy of communal hatred and riots. Safety for both communities was a major issue. Most of the Hindu students had left the residential hall for areas that were more secure for them. Only 5-6 Hindu students were living in the hall. Professor Guha wrote how my father worked ceaselessly to build communal harmony between the Hindu and Muslim students. My father explained to the students that they were not each other's enemies, instead, it was the British that they had to struggle against. He tried to teach people to see the forest instead of the trees.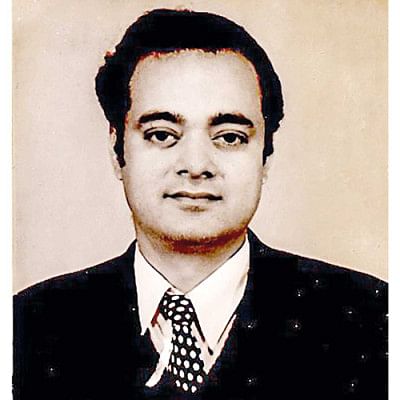 The riots that my father witnessed as a university student fundamentally transformed him. He became a humanist by witnessing the cruelty that friends and neighbors could inflict once they were taken up in the political maelstrom of the partition. In an unpublished essay that my father wrote at the end of his life in 1982, he spoke about witnessing an event that shook him at his core. The year was 1941, the air was thick with communal animosities between Muslims and Hindus all over the city. One day, he was in the hall with his classmates, when a few students came over to report that the clerk of one of the departments, Nabin Babu (a Hindu man) was attacked by some men who had cut open his abdomen. Nabin Babu was almost dead and was holding on to his intestines from coming out of his body. Some of the students went to see him. My father wrote, "Not only did I not go, but I also became very agitated and returned to my hostel room. Later at some point, I fell asleep. When I woke up, it felt like an age has passed." At the end of the essay, he wrote, "The times have changed, the questions have changed, but people have not changed. We need new answers for our new age." Many years after his death, when I read his last testament, I realized that my father's humanism came not from book learning but lived experience. And that is what made him who he was, a humanist in the true sense of the word.
Dr. Lamia Karim is the youngest daughter of Dr. Nazmul Karim. She is professor and head of the Department of Anthropology at the University of Oregon-Eugene, USA.