Tails You Lose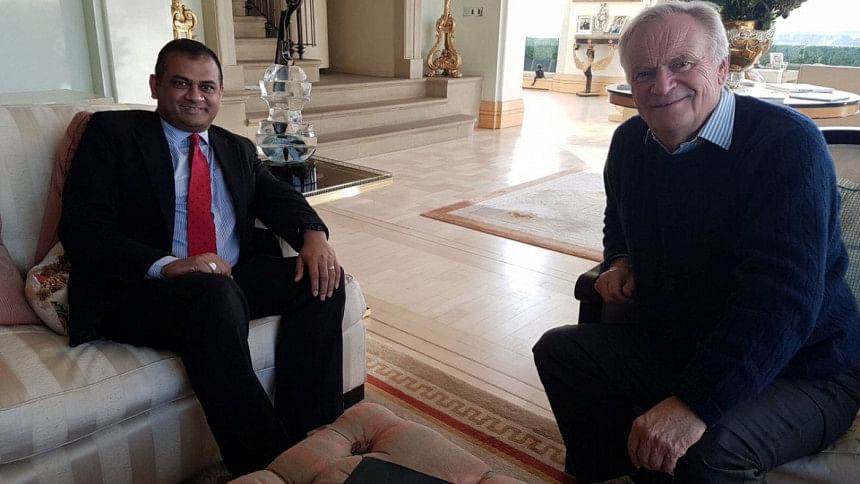 The BBC Radio anchor announces live on air: "Well, that was our guest Naveed Mahbub. After the news we have with us in the studio—Jeffrey Archer."
So, I stick around a few extra minutes in the guest waiting room so as to deliberately "bump into" Jeffrey Archer, assuming it is THAT Jeffrey Archer of Kane and Abel fame. An elderly gentleman walks in, accompanied by a serious looking young woman. I blurt out, "Why, if this isn't Jeffery Archer?"
Of course, I don't know what he looks like, or to be precise, what he looks like now. But I can shoot first and ask questions later—I can assume it is THE Jeffrey Archer and then I carry on: "May I get an autograph?"
"What? No selfie?" He booms.
But I get the autograph and then the photograph, the latter by no means a selfie, but taken by the serious young lady, his publicist.
Jeffrey goes into the studio as I leave BBC. But I hang out nearby, doing a Google Image of "Jeffrey Archer". Yes, it is the same one. I have to be sure. As I remember taking a photo of a snooty member of the Brazilian squad at the Pontiac Silverdome in Detroit during the 1994 World Cup Football games, only to later discover he was the refreshments guy.
Now that I'm sure that Bata is Bata and not Batta or Rata, I SMS the publicist with a point-blank invitation for Jeffrey Archer to be a guest on The Naveed Mahbub Show on ATN Bangla. She agrees instantly with only a strict 30 minutes with him the following day as I leave for Dhaka the day after.
So, I hire a proper, Queen's English-speaking British production crew that doesn't come cheap as I multiply the currency by 109. But this is Jeffrey Archer, and I can't be penny wise, pound foolish, literally speaking and for a literary cause.
Getting Jeffrey Archer was easy because the timing was right. Only six days before, his brand-new novel, Heads You Win, has just come out. His first stand-alone novel in a decade and slated to be the next Kane and Abel. This is the time when a best-selling novelist with a new release will come down to sea level to be on a show in a country of 160 million.
He is smart to tell his publicist to say yes. And so am I to time it right. Obama seeks out Stephen Colbert, not the other way around, during election time. That is the name of the game and that is fine.
So we show up at Jeffrey Archer's fancy penthouse on the Thames, just two buildings down from the HQ of MI6 (where I almost show up, thanks to a faulty signal on Google Maps).
"I have an appointment with Mr Jeffrey Archer."
The security guard almost faints: "You mean LORD Archer? Is his LORDSHIP expecting you?"
"Yes."
The elevator goes straight up to his mind-blowing penthouse overlooking the Thames.
"Ah Naveed! Good to see you!"
"Good to see you too Lord Archer."
"Oh, just call me Jeffrey. What would you like to have?"
"Water is fine, thank you."
What follows is not 30 minutes, but 90 minutes of intimate chatting, taping, tour of the penthouse, a signed copy of his latest novel and a final, warm: "Naveed, look me up next time you're here, understand?"
Nobody is unapproachable. Gotta time it right to make sure (s)he needs you and you won't even have to toss a coin, 'cause, heads you win, tails you lose.
Armed with a reinforcement of this notion, I come back to Dhaka, call up a local celeb with a new recent big milestone, only to get a cold shoulder.
I forget, this is Bangladesh…
Naveed Mahbub is an engineer at Ford & Qualcomm USA and CEO of IBM & Nokia Siemens Networks Bangladesh turned comedian (by choice), the host of ATN Bangla's The Naveed Mahbub Show and the founder of Naveed's Comedy Club. E-mail: [email protected]