What really happened in Bhashantek?
Rethinking resettlement of the urban poor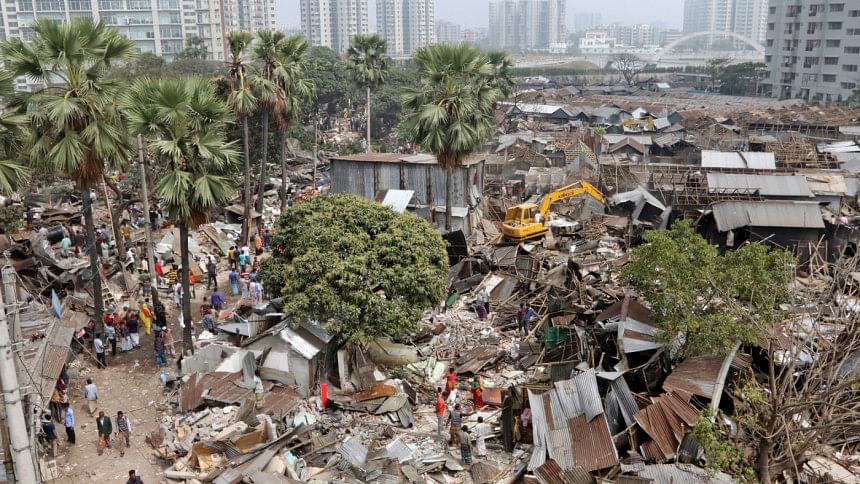 Between 1998 and 2010, the government of Bangladesh facilitated the construction of an affordable housing complex budgeted at Tk 341.65 crores for urban slum dwellers. However, today slum dwellers occupy only a minute fraction of the apartments allocated for them. What led to the failure of the government's well-intended plan to house some of Dhaka's working-poor citizens? On a related note, are high-rise apartments the solution to our city's growing informal settlements? The project in question, Bhasantek Rehabilitation Project (BRP), proves that producing housing through public-private partnership is not impossible in Dhaka. At the same time, the long-running imbroglio of BRP shows how well-intentioned policy responses end up excluding and punishing the most vulnerable in the absence of community participation, independent monitoring, and a deeper understanding of urban informality. As slum dwellers continue to be evicted without resettlement throughout Dhaka whether by unannounced demolitions or unexplained fires, the failure of BRP provides valuable lessons for seriously considering equitable and inclusive pathways for resolving the city's housing predicaments.
Through the 1990s Dhaka's market housing supply lagged behind the housing needs of Dhaka's growing population, particularly poor urban migrants. To continue living in the shadows of governmental and market neglect, the urban poor built their own housing in informal settlements more commonly stigmatised as "slums" or "bostis". Although slum and informal settlements are conflated in everyday parlance, they are actually different. Slum refers to poor housing condition and often illegal status, whereas informal settlements are seen as a mode of urbanisation based on poor people's skills, resources, and knowledge. From the latter perspective, Dhaka's poor have participated in creating the capital city through their dwelling and livelihood practices. Not recognising the collective capacity of poor urban dwellers, the government has put effort into solving poor people's housing problem through resettlement in the past decades. For instance, the government had successfully undertaken the Baunia Badh Bosti resettlement between 1990-1996 for 2,600 families. In comparison the BRP was unprecedented in its sheer scale. BRP promised to provide housing to nearly 100,000 urban poor in its over 15,000 apartment units. BRP was designed for informal settlement ("slum") dwellers and low-income people from across the city, where low-income referred to third and fourth category low-earning government officials. In its present incomplete state, BRP consists of 18 buildings out of which six are allocated for informal settlement dwellers. The type-A flats in these buildings are 215 square feet with one room, a kitchen and a toilet.
After a five-year pause from the project's first announcement, the Ministry of Land signed a contract with a private developer, North South Property Development Limited (NSPDL) in September 2003. Earlier that year, before the construction began, the Ministry of Land attempted to evict Bhasantek dwellers.
Laid out over 49.7 acres of land that the National Housing Authority acquired, BRP was set to be completed at the end of 2009. But BRP construction and implementation under NSDPL was riddled with so many violations that a formal private-public resettlement project had been transformed into a large-scale informal operation of profit-making on public land received at no cost. A 2010 parliamentary investigation found that NSDPL sold the apartments at prices higher than agreed in contracts and without consulting with the Ministry of Land. Among other irregularities, NSDPL charged extra for utilities and sold the application forms and accepted applicants' down payment in their own office as opposed to in the bank. Perhaps most importantly, NSDPL had completed only 20 percent of the entire project by the end of 2009. Two separate research studies also found that NSDPL sold the apartments at much higher prices and with a shorter instalment time to quickly make profit. Researchers claimed that the majority of these buyers were government employees and politically influential individuals related to the Ministry of Land, employees of utilities services, police officials and staff of BRP, who in turn rented out the apartments to lower-paid government employees, professionals in private sectors, and small businessmen. An article in an English daily reported that NSDPL made an additional Tk 300 million in profit from selling flats in BRP. During this time when frustrated Bhasantek dwellers organised and went to occupy the BRP compounds, the police pushed them back. With far too many of Bhashantek's informal settlement dwellers waiting for the promise of housing to materialise and government resources having flowed into private hands, the Ministry of Land finally cancelled their agreement with NSDPL in October 2010. Whether NSDPL faced any fines or consequences remain unknown. Despite this long-drawn fiasco, there is no national council working to monitor and ensure slum dweller's housing rights to this day.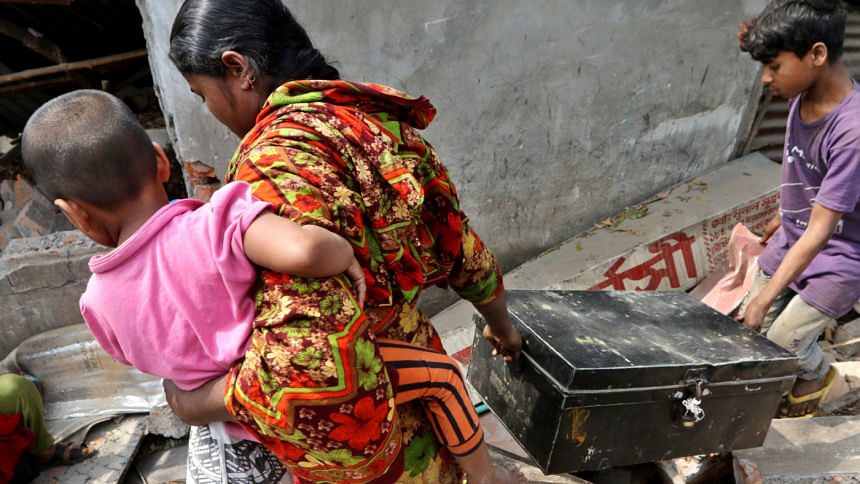 When BRP started in 2003, the Bhashantek settlement sheltered 3,260 households according to the National Housing Authority. A national organisation, the Bangladesh Legal Aid and Services Trust (BLAST), filed a writ on behalf of three of the residents here for resettlement of these households, which is now up for hearing. In the absence of any enforceable housing rights framework for the urban poor, this public interest litigation (PIL) is critical as the judgement could set precedent for similar scenarios in the future.
When the 864 type-A flats went up for allocation in 2012, the government claimed that they allotted those flats to 849 informal settlement dwellers. However, Ain O Salish Kendro's 2019-20 investigation revealed that only 218 informal settlement dwellers received apartments in 2012. Aside from excluding deserving households nearest to the project, the 2012 allocation was beset with problems of unaffordability, procedural exclusion, and spatial inadequacy.
Initially, the Ministry of Land set the type-A apartment prices at Tk 1.90 lakhs and later increased the price to Tk 5 lakhs. The majority of informal settlement dwellers could not afford these nominal prices from the start. Many of those that could afford to pay the monthly instalments (Tk 1,125) for 10 years could not make the down payment of Tk 65,000 without any external financial support. For instance, resident Makbul Hossain, who's been living in Bhasantek settlement since 1974 when Bangabandhu Sheikh Mujibur Rahman assisted poor dwellers from different areas of Dhaka to settle in the area, said, "How can I even dare to apply for these apartments? Where's the money? People who have party affiliations, power, they are the ones getting the apartments. The slum is what works for poor people like us."
Residents who are less than 35 years old are not eligible to apply for the apartments. The rule is there to make sure that the allotments only go to those with long residence. However, the age bar fails to account for people born or raised in the area who may have lost their senior family members. Mohammad Nazrul Islam, a now 40-year-old rickshaw puller, grew up in Bhasantek but could not apply for the flats in 2012.
During the application process, government officials have been rigid and insensitive to the needs of slum-dwelling applicants. Officials exaggerated minor flaws to procedurally exclude slum dwellers from BRP. For instance, 70-year-old Felu Mia, who's been living in Bhasantek for about 40 years, applied for the flats in 2012 but was denied on grounds that he had forgotten to sign the application. "If they just asked me to sign the papers, I could have signed them," he pointed out. While filled out forms were rejected due to minor omissions, there are reports that people from outside Dhaka were able to buy flats in BRP through fake residence forms.
Several slum dwellers claim they missed their chance to apply for the flats in 2012 due to lack of funds, but they can afford to make the down payments now if given the opportunity. It should be noted that the government had opened up the application process once more in 2015 but this was soon stopped without explanation.
Most importantly, the 215 square feet flats are unworkable for joint families of 5-7 members. Mohammad Saiful Islam, who lives with his wife in one of the flats, said that both his sons and their families still live in the slum. BRP is also unsuitable for economic activities through which dwellers survive. Saiful Islam used to sell vegetables but now such activities have been disallowed in the BRP compound. Having lost his source of earning, Islam is unable to pay for utilities and service charges for the flat. His gas bill has been doubled even though his household does not receive gas regularly. Ain O Salish Kendra reported that many slum dwellers who received the flats ultimately rented them out or sold the apartments and returned to other slums.
What can housing policymakers, advocates, and planners learn from Bhasantek? First, the long-running BRP design and implementation lacked community participation and independent monitoring, which translated into exclusion of deserving households from the project's start to present. Second, apartment-style resettlement plans do not by themselves work for slum dwellers. Housing is about a bundle of services (employment, healthcare, education etc.), and not merely the physical shelter itself. Within informal settlements, dwellers can add rooms to their houses as family size increases or add more space for business. Apartments do not always provide the spatial flexibility that is necessary for the urban poor's survival in an iniquitous city. In cases like Singapore, the success of apartment-based resettlement is due to tremendous state subsidies, exceptional management, and an equitable process. Apartments left entirely to the management of dwellers do not usually work in the long run.
Third, Dhaka persists in its growth as a megacity. The United Nations projections suggest that Dhaka's population will be over 27 million in 2030. At present, the private market provides housing for the middle to upper income residents, while over a million urban dwellers (in conservative estimates) are compelled to live in informal settlements that they build and maintain without any direct support from the government and under constant threat of tenure insecurity. Let's just return to the case of Bhasantek. Over the years, the informal settlement dwellers of Bhasantek have grown. According to the 2014 Bangladesh Bureau of Statistics survey of slum population, Bhasantek settlement's households increased to 5,482 (compared to 3,260 households in 2003). How many apartment complexes will the government build to house Dhaka's growing informal settlement dwellers?
Dealing with the predicament of informal settlement dwellers is nothing new around the globe. UN-Habitat has put forward ample evidence to support in-situ slum upgrading as the most viable and equitable solution for the world's urban poor. After all, it is informal settlements that are affordable, walkable, and flexible neighbourhoods for the urban poor. It is in these informal settlements that the city authorities and the poor residents can incrementally build drainage, sanitation, roads, houses, schools, clinics, gardens, shops, etc., at a pace that's technically and financially feasible for them. In such cases, the city is not burdened with having to provide urban services everywhere all at once, and hard-working people get to decide what's to be upgraded based on their local needs.
It is crucial that Dhaka's urban policymakers and housing advocates recognise the informal housing sector as the single largest supplier of inclusionary housing in the city and support informal settlements through policies, laws, infrastructure, finances, and resources. Policymakers and advocates should recognise existing informal settlement dweller groups and associations as social units that can acquire, own, and manage urban land for housing.
As "slums" are demolished or wait for demolition, from Duaripara to Korail, as "slums" burn from Kalshi to Chalantika, as the failed Bhasantek stands with good intentions, as mayors and councillors take office with promises to turn Dhaka into an "intelligent city", "a top-class metropolis", and "a tourist hub", we need an honest answer to a collective question: Are we creating a humane Dhaka? Are we creating a Dhaka that recognises the ingenuity and rights of those neglected others on whose backs the city stands?
Efadul Huq is doing his PhD on Urban and Regional Planning at University of Illinois at Urbana-Champaign and is a Visiting Researcher at International Centre for Climate Change and Development.