The discrimination we allow
The rights of Dalits and plain land indigenous people must be ensured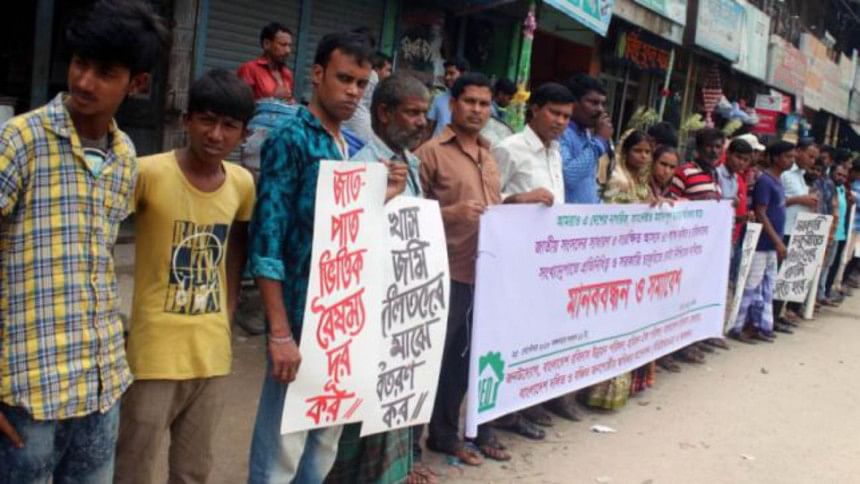 In light of the Constitution, the state has equal responsibility along with the citizens of the country to ensure the rights of the Dalits and plain land indigenous people (IP). The IP and Dalits are contributing significantly to the country in economic, social and political spheres. Despite this, they are not being able to assimilate with mainstream society. But if we are to uphold the spirit of the Constitution then we must take the initiative through a vision of inclusive development to include them in mainstream society.
On November 1, 2018 a day-long national convention was held in Dhaka to discuss the constitutional rights of Dalits and plain land indigenous people. More than 400 participants from these communities were present along with representatives of non-governmental development organisations working on rights protection issues of marginalised communities, civil society organisations, international development organisations, government officials, political leaders and youth groups from all over the country. A declaration has been formed and accepted from the resolution of the opening and closing sessions, six distinct papers of three parallel sessions, findings from the grassroots level, suggestions from marginalised groups and work experience from activists and experts. This write-up is based on that declaration.
It is surprising that the exact number of Dalits and plain land indigenous people living in Bangladesh has not been ascertained yet. There is a contradiction on the numbers that are currently available. Some say the number is between 3 million to 5.5 million. But some other sources claim the number is not more than 1.5 million. Whatever the number is, the fact remains that these people are neglected and deprived in numerous ways. There is a huge number of IP living in the plain lands of Bangladesh. Many communities live in 16 northwestern districts, nine mid-northern districts and four northeastern districts of Bangladesh including the Santal, Garo, Munda, Orao, Mahato, Turi, Paharia, Koch, Mal-paharis and others.
The huge number of Dalits and plain land IP of Bangladesh are deprived of some basic rights enjoyed by their fellow citizens in mainstream society. They are deprived of education, healthcare and employment as well as basic human rights. Year after year they face discrimination and are deprived of basic civic rights.
The negative mindset of the society at large continues to keep them disadvantaged—a reality that casts a shadow on our successes in development. While we sing the "leave no one behind" motto, we should think about the inclusion of these people into mainstream society. If we want to ensure dignified and sustainable development for all, then we must ensure the rights of these disadvantaged people. Achieving the 2030 Agenda will not be possible if we do not meet at least these 9 SDGs (1, 2, 3, 4, 5, 6, 8, 10, 16). This will not happen if we do not keep in mind the dignified development of Dalits and plain land IP. Article 23A in the Constitution states: "The State shall take steps to protect and develop the unique local culture and tradition of the tribes, minor races, ethnic sects and communities." This means, according to the commitment of the Constitution, without distinction of religion, colour, caste or creed, gender and birth place, all people are equal. Clearly, a fresh development perspective is needed and this can be introduced by taking initiatives to ensure the rights of disadvantaged groups like Dalits and IP.
Following this approach of inclusive development, we call for ensuring the constitutional rights of Dalits and plain land IP and propose some concrete demands. We hope, through this initiative, a united national call will create a collective voice in advocating for the establishment of institutional mechanisms. They are:
1.            To ensure sustainable development of Dalits and Adivasis who are lagging behind for various reasons, there is a need for institutional mechanisms. Thus, the model of Chittagong Hill Tracts can be followed where there is a separate ministry and/or human rights commission for these communities.
2.            A separate land commission for plain land Adivasis.
3.            Major political parties should include rights-based demands of plain land Adivasis and Dalits in their election manifestos.
4.            Dalits should get permanent housing facilities with legal ownership through government initiatives in places where they are currently living.
5.            The government should preserve certain quotas for Dalits and plain land Adivasis to avail government services and facilities as they lag behind the mainstream community.
6.            There should be special allocation for them in the Social Safety Net Programme (SSNP).
7.            Priority initiatives should be taken for Dalits and Adivasis so that they get affirmative benefits of education.
8.            There should be special allocation in the national budget in favour of them.
9.            Pass the anti-discriminatory law in parliament without any further delay.
10.         Conduct a rigorous national survey programme to assess the actual number of plain land Adivasis and Dalits.
11.         Develop a comprehensive plan of action to overcome negative impacts of climate change, ensure sustainable adaptation, ensure access to finance, and formulate necessary policy and institutional frameworks for Dalits and plain land Adivasis.
12.         Establish a time-bound national development plan for them.
13.         Start positive dissemination of knowledge about these people in mass media with a view to get rid of the negative attitudes towards them.
After 47 years of liberation, the state should be unbiased regarding race, caste, language, gender and sexuality. Bangladesh is a country with a rich history of diverse cultures, languages, religions and ethnicities. Our expectation is that the state authorities would encourage this diversity keeping in line with the Constitution and also recognise the equal rights of the Dalits and the indigenous people. Only then can a nation be "for all"—for the youth, for the elders and for the poor.
---
This is a joint article by Sultana Kamal, Mizanur Rahman, Meghnaguha Thakurta, Khushi Kabir, Mamunur Rashid, Sara Hossain, Mezbah Kamal, Shishir Shil, Anik Asad, Sanjeeb Drong, Shamsul Huda, Nirmal Chandra Das, Bichitra Tirki, Ainoon Naher, Rabindranath Soren and Robaet Ferdous.
---
Follow

The Daily Star Opinion

on Facebook for the latest opinions, commentaries and analyses by experts and professionals.
To contribute your article or letter to The Daily Star Opinion, see our

guidelines for submission

.
---