Free flow of information in the time of COVID-19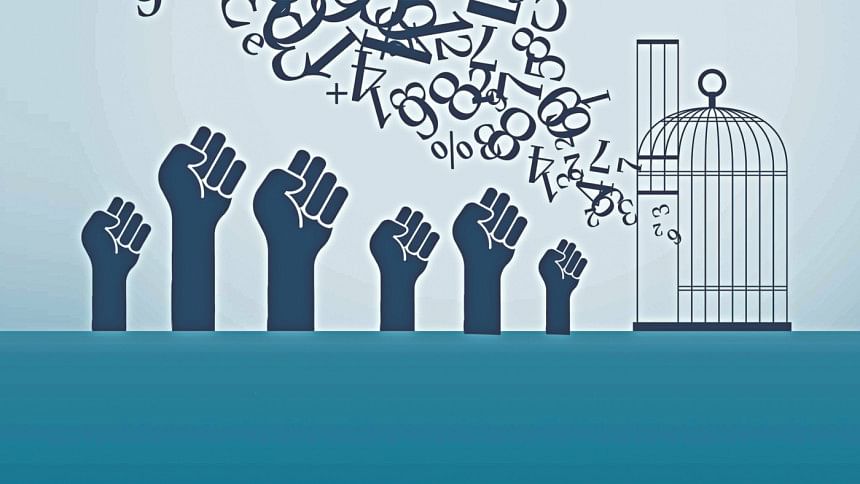 Today the whole world is struggling to manage the global crisis of COVID-19 and Bangladesh has been listed as one of the 25 high risk countries.
In light of the growing disruptions caused by the COVID-19 pandemic, the monitors for freedom of expression and freedom of the media for the United Nations, the Inter-American Commission for Human Rights, and the Representative on Freedom of the Media of the Organization for Security and Cooperation in Europe issued a joint statement.
The statement says: "Human health depends not only on readily accessible health care. It also depends on access to accurate information about the nature of the threats and the means to protect oneself, one's family, and one's community. The right to freedom of expression, which includes the right to seek, receive and impart information and ideas of all kinds, regardless of frontiers, through any media, applies to everyone, everywhere, and may only be subject to narrow restrictions."
In this connection, they pointed out that it is essential that governments provide truthful information about the nature of the threat posed by the coronavirus. Governments everywhere are obligated under human rights law to provide reliable information in accessible formats to all. The statement clarified that the right of access to information means that governments must be making exceptional efforts to protect the work of journalists.
Independent journalism, citizen reporting, open public discourse and the free flow of information are indispensable in the global effort to counter COVID-19. Governments must develop policies and responses to the outbreak that embrace freedom of expression. The media and social media companies must also contribute to the fight against misinformation related to the COVID-19 crisis. Journalists should report accurately and without bias, investigate propaganda campaigns and official discrimination, and make sure there is the right of correction and reply.
Alongside other fundamental human rights, the right to freedom of expression and information should provide the legal foundation for tackling the COVID-19 outbreak. During a public health crisis such as the COVID-19 outbreak, the free flow of information is critical. Viral epidemics and pandemics are by their nature diffuse events, impacting populations on a regional, national or global scale. State authorities cannot comprehensively monitor the spread of a virus and the emergence of new hotspots in real time. Instead, effective public health responses to epidemics and pandemics rely on monitoring and reporting by the general public. Journalists, researchers and public health professionals also play essential roles in tracing the spread of a virus. At the same time, individuals, doctors and epidemiologists cannot effectively protect themselves and others without access to accurate and up-to-date information from authorities. Official denials and withholding of information fuel viral epidemics.
Public health crises such as viral epidemics or pandemics often place a spotlight on the actions of policymakers. During the COVID-19 outbreak, public fears and frustrations have at times manifested in criticisms—both founded and unfounded—of state officials and critiques of government policies. State action to stifle criticism of public authorities is inconsistent with the right to freedom of expression.
The UN Committee on Economic, Social and Cultural Rights has emphasised that information accessibility is a key component of the right to health. When states restrict speech relating to health issues or block access to health-related information and do not publish health information proactively, populations suffer adverse health impacts and cannot fully enjoy the right to health.
The Committee on Economic, Social and Cultural Rights has specifically warned against censoring health-related information or taking other steps to prevent public participation in public health conversations and initiatives. COVID-19, stifling public reporting of an outbreak hampers monitoring and response efforts. Conversely, protecting freedom of expression ensures that vital information collected by the public, journalists and local health officials reaches policymakers and other key stakeholders. The Special Rapporteur on the right to health has also emphasised the need for transparency in public health policy and the importance of information in holding policymakers accountable and empowering individuals to protect their own health. The Committee on Economic, Social and Cultural Rights has likewise condemned the deliberate withholding or misrepresentation of information vital to health protection or treatment.
Misinformation represents a serious challenge in addressing a viral epidemic or other public health crisis. During the COVID-19 outbreak, individuals around the world have struggled to decipher fact from fiction. Some have embraced beliefs or practices that deepen, rather than mitigate, health risks. Governments are right to take the threat of misinformation seriously. They should develop policies to effectively halt the spread of myths and to counter deliberate disinformation campaigns. Misinformation not only disrupts public health efforts; it can lead to the violation of other human rights. Despite the threat posed by misinformation, any restrictions on the dissemination of supposedly false information must comply with the requirements of legality, legitimacy and necessity and proportionality.
Unfortunately, beyond merely embracing responses to misinformation that violate international human rights law, some states have also spread disinformation and propaganda themselves. During a public health crisis, government programmes and policies are closely scrutinised, and states often have an incentive to control narratives and shape perceptions of the performance of public authorities. Some states have been accused of covering up the spread of the virus or promoting falsehoods for political gain. State-sponsored misinformation is especially dangerous. It both erodes trust in state authorities and promotes misguided responses by the public and health officials. Nevertheless, government, politicians and ordinary citizens use the term to condemn opinions with which they disagree and to call for restrictions on certain types of expression.
A free and independent media is especially important during a public health crisis such as the COVID-19 outbreak. The media plays a central role in providing information to people most likely to be affected. A free and independent media can monitor national and international responses to an outbreak and promote transparency and accountability in the delivery of necessary public health measures. The media can also serve to relay back key messages from those affected to policymakers and other important stakeholders. However, journalists have also at times failed to uphold the highest professional standards, reporting inaccurately or contributing to discriminatory narratives. Governments undermine their own ability to respond to COVID-19 when they attack journalists.
Social media platforms play an increasingly dominant role in facilitating communications, disseminating information and sharing opinions. Possibilities have been evident in the use of social media during the COVID-19 outbreak. Governments, health workers, communities and individuals have regularly turned to social media platforms to get essential information concerning the virus. However, they have also been confounded by the diverse and conflicting information found online.
At this time of crisis, government should use freedom of information legislation to facilitate access to public information, including by mandating disclosure of certain types of information and establishing a system for individuals and groups to request information from public bodies.
It is important that the public authorities ensure that they do not spread misinformation, and governments should abandon intentional propaganda or disinformation campaigns.
Governments should ensure strong protections for whistleblowers. Moreover, the authorities need to protect those raising concerns about government misconduct or policy failures relating to COVID-19.
Faruq Faisel is the South Asia Regional Director of the UK based international freedom of expression organisation, Article 19.