Concern for Kajol during the pandemic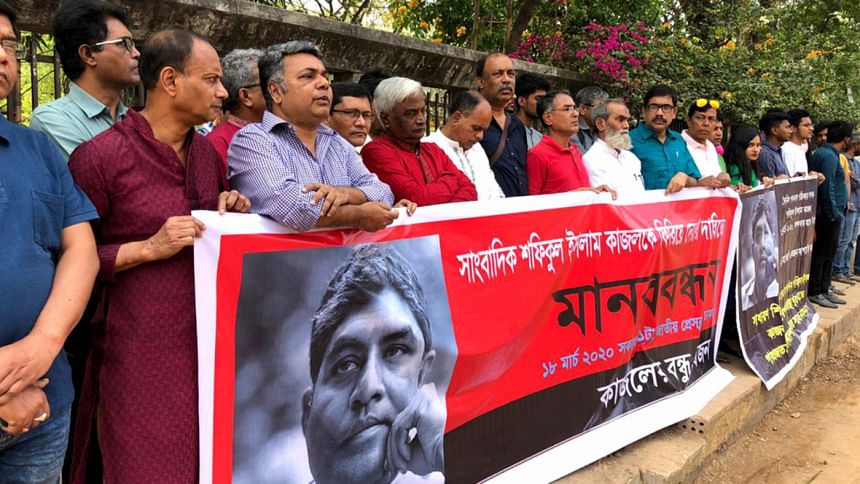 Does anyone know what had happened to Utpal Das? If you cannot remember who Utpal is, no one would blame you. Because, he is not a celebrity like all those familiar faces on our TV screens. Utpal, however, was in the news for quite some time in 2017, following his abduction and eventual return after two and a half months from confinement by his abductors. Before his abduction, Utpal was working as a journalist at a little-known online news portal called Purbapashchimbd.news. Till today, neither Utpal nor the law enforcing agencies have told us where he was for such a long period and who were behind his mysterious disappearance.
There's a popular perception in society that those involved with the media are well looked after by the media. So, it was expected that the media fraternity would investigate this case and reveal the truth. Unfortunately, it didn't happen. Utpal's silence is akin to that of all other survivors of alleged enforce disappearances in the last decade who had experienced unimaginable trauma.
Shafiqul Islam Kajol, editor of the Bangla daily Pokkhokal, who remains missing since March 10, reminds us of the ordeal endured by Utpal and many other victims of alleged enforced disappearances. In fact, Kajol's fate seems even worse as attention shifted, justifiably, to a rapidly deteriorating coronavirus situation with fears gripping all within the country and beyond. Kajol's case remains shrouded in mystery due to several suspicious events that occurred prior to and after his disappearance. It has now emerged, after 21 days of his disappearance, that a second case under the Digital Security Act was registered against him three hours after he went missing. According to the rights group Amnesty International, the second case too was filed by a leader of the women's wing of the ruling party.
Firstly, Kajol is a co-accused in a defamation case under the much-criticised Digital Security Act, filed by an influential ruling party MP on a flimsy ground. Secondly, CCTV footage released by the Amnesty International shows that he was being closely monitored and followed by a group of people, which gives us sufficient reasons to suspect foul play. Even though their faces are clearly visible in the footage, no one has yet been identified, let alone arrested. Thirdly, the refusal and reluctance of the police to registrar a case on behalf of his family gives a genuine sense that something is not right. Thanks to the resolve of his family and friends, a High Court bench of the Supreme Court intervened after 9 days of his disappearance. But since then, except for filing a case, police have not given us any update. These are factors that raise questions about the role of the state in this regard.
Government spokespersons frequently argue that some of such disappearances are voluntary for various reasons. According to them, some of them disappear to dodge business partners to avoid repaying defaulting debt, or some as a result of family quarrel. Some of the disappeared who later returned alive remained silent about their ordeals, which worked well for their abductors. But data compiled by rights groups show a disturbing trend as a majority of these abductions remain unsolved. Data compiled by the rights group Odhikar shows, in 2019, there were at least 34 incidents of alleged enforced disappearances. Eight of the disappeared were later found dead, 17 were shown arrested, while the fate and whereabouts of the remaining nine remain unknown. It is unclear whether any of these deaths and missing cases has been investigated, and if so, their outcome was not made public.
And it is quite natural that people shown arrested from different places and times than the original abductions would prefer to remain silent about their ordeal. Some of them accused in acts of terrorism, however, made such allegations during their trial. But those claims were largely ignored. Rights groups now describe this phenomenon as unacknowledged detention by the state.
In Kajol's case, the government seems unmoved despite pleas from his family and various national and international rights organisations. His family members' allegations against security forces for picking him up seem more plausible since the emergence of the CCTV footage. Kajol's son, Monorom Polok, has rightly said that tracing a person in this modern era was not difficult for the government. Human Rights Watch, Amnesty International, and the Committee to Protect Journalists have all stressed on the urgency to investigate his disappearance.
True, the coronavirus pandemic has put us all in a very difficult situation. But wherever Kajol is now and in whatever conditions, his ability to fight against the contagion is likely to have diminished to a great extent. It further adds to the family's agony. It is high time the authorities took the issue of freeing Kajol as a priority, whether he is under unacknowledged detention by any state agency or any non-state actors. Please heed to his son's plea, "All I want is to get my father back, safe, and unhurt." The harsh reality is, if we assume that he is unhurt and will be freed, he still has to fight an undue and unjust legal battle to clear his name under the draconian Digital Security Act, a most abused legal tool to suppress freedom of expression in the country. The pandemic is a cause for concern for all other alleged unacknowledged detainees too, and freeing all of them should be considered urgently.
Kamal Ahmed is a freelance journalist based in London.