human rights
Jailed and forgotten
Victims who languished in jail for years despite being acquitted, yearn for compensation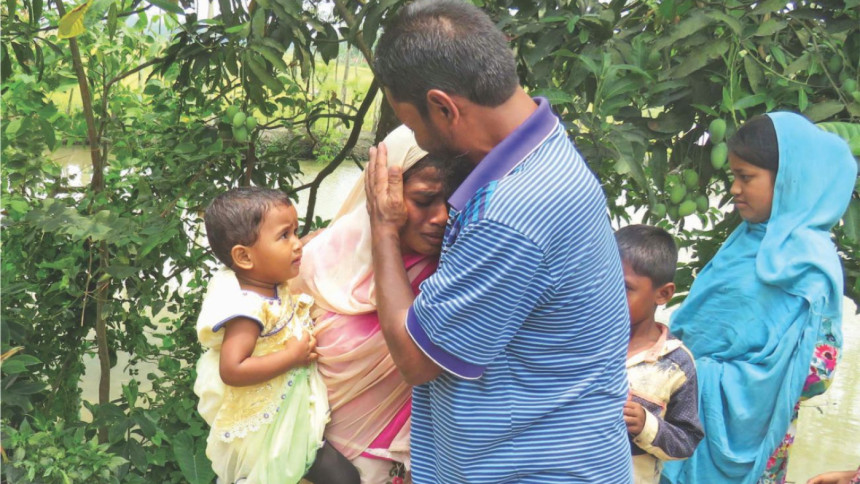 Forty-year-old Azaher Ali is in a fix and isn't sure how he should react. He has just met his daughter and his grand-daughter for the first time in years. His daughter was just 11 months old, the last time he held her. Today, she's almost 20 and has a child of her own.
"I am happy and sad at the same time. I don't really know how I should feel," says Azaher. "What can I do for them [daughter and granddaughter] now? I can't give them any money or food since I don't have any," he laments.
Azaher walked out of Dinajpur jail on May 24 after spending two decades behind bars. And while his story may resemble yet another convict's emotional family reunion, it isn't. In 2005, Azaher was sentenced to death due to a murder charge. However, seven years later, a Supreme Court order led to his acquittal –and ideally, he should have been freed from jail in 2012.
However, the 2012 order from the Supreme Court, for inexplicable reasons, was not sent to the Dinajpur jail authorities. As a result, Azaher continued to languish in jail. It was only after a Dinajpur jail official informed the Supreme Court Legal Aid Committee regarding Azaher's case on May 12 that the process of Azaher's release finally began.
Initially, Azaher was ecstatic when he heard about his exit. However, when he realised that he should have been out six years ago, he broke down. "I went through all of this pain for no reason. I still don't understand—how can a simple issue like this take so much time? If this is how the system works, then mankind will be destroyed," he says.
"If a man spends 20 years of his life in jail for a crime he did not commit, his life is going to change. You lose touch with your relatives… everybody forgets you. You have to start from zero. What do you expect me to do? I urge the government to address this issue," an agitated Azaher adds.
Surrounded by a host of relatives, including toddlers who had never seen him before, Azaher is busy animatedly narrating tales from jail. He talks about the 'big criminals' who would gift him clothes on Eid. He tells stories about how he helped the jail medic patch many wounds from 1998 to 2005. This is exactly what the 40-year-old wants to do for the entire month: sit, relax, and catch up with family members.
His 78-year-old mother, Mansoora Begum, was easily the most excited to meet him. Unable to walk anymore, Mansoora sat on a stool for an hour to ensure that she could cook a meal for her son after two decades.
"Look at him [Azaher]. Yes, he is out of jail, but he is so weak now. How can you expect him to work?" Mansoora asks. "The last two decades of my life were horrible. Had I been educated and had I known that he could have come out six years earlier, I would have fought for it. I believe that one of the reasons my legs don't work anymore is because of all the stress I took for my son," she adds. 
Currently residing at his brother's place, Azaher, knows that he needs to start working and earning soon lest he becomes a burden on his own family. The plan, as of now, is to undergo a medical check-up and find out when he will be fit enough to start working.
While he is glad be around his family again, a sense of fear still exists about his health and the fact that he doesn't have any earnings to live on. He hopes that the government can compensate him for making him stay in jail for six extra years.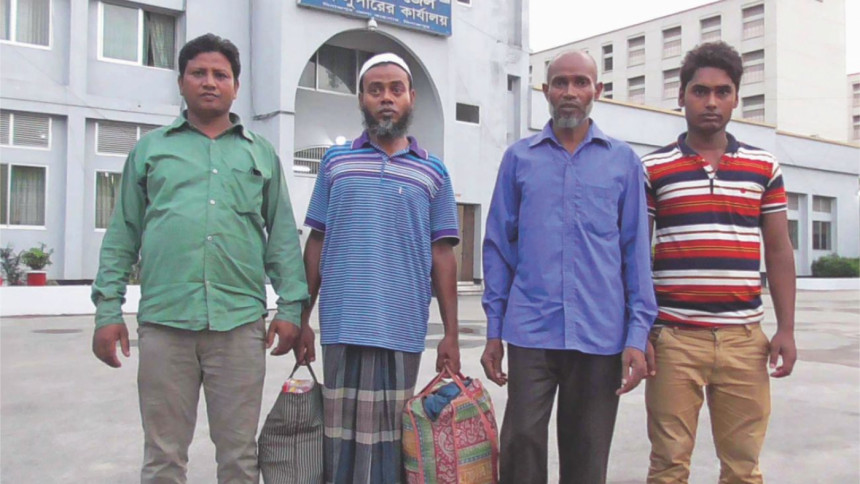 "Had I come out six years ago, I would have been in a better shape physically and I would have been able to join work sooner. Right now, I am not doing well. Whatever money I had earned is gone," he says.
Azaher's cry for compensation though is likely to fall on deaf ears, going by a similar case that had taken place in 2016 against Zobed Ali Biswas from Satkhira.
Zobed's case was a lot worse. He was jailed in 2001 for a murder case slapped against him in 1994.
However, two years later he was acquitted by the High Court. Akin to Azaher's case though, Zobed's acquittal order was never sent to the district jail. It was only thirteen years later in 2016, when public prosecutors of the Satkhira court took up Zobed's case, that he got released.
On May 24 this year the High Court had asked the government why Zobed should not be given Tk 20 lakhs as compensation. Till date, however, Zobed is yet to receive any kind of financial assistance. Currently, the 52-year-old man drives a rented van for a living.
"I have been running from one lawyer to another, from one city to another, for the last two-and-a-half years just to know whether or not I am going to be compensated. Honestly speaking, I am frustrated. I can't keep spending the little money that I earn on these kinds of things," laments Zobed.
Aside from financial issues, Zobed is also suffering from severe pain in the hip region, because of which he isn't able to go to work every day. He says that the first thing that he wants to do if he gets the money, is go to a doctor and get proper treatment.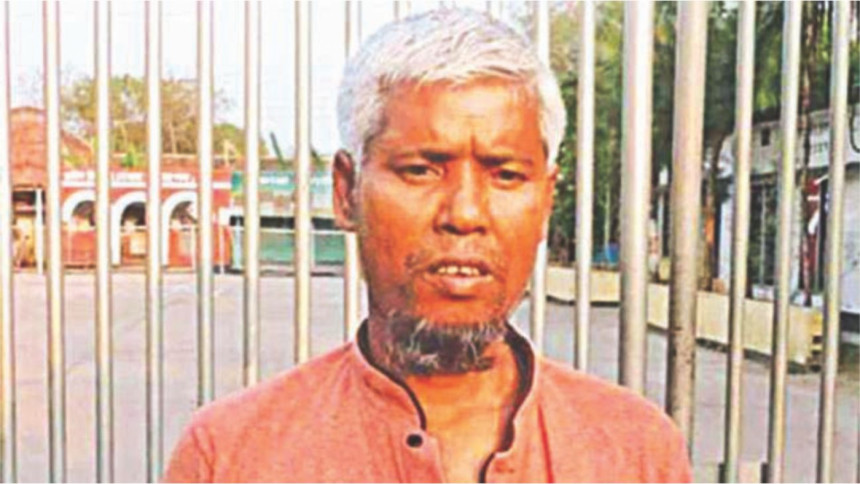 But as Barrister Md Abdul Halim, who had filed a writ petition with the High Court in 2016 with regards to Zobed's compensation, says, it will be a long wait. "Do you think it's so easy to get compensation? It will take a minimum of five to seven years," says Barrister Abdul, who also happens to be fighting for compensating Jihad's parents, the four-year-old who had lost his life in 2014 after falling into a pipe.
"The problem is that the particular bench that is dealing with this case has more than 800 cases pending. They are actually dealing with cases that were filed in 2010. Zobed's case, which was filed in 2016, will probably be discussed after five years. This is the reality," explains Abdul.
If the slow progress of Zobed's case is any indication, Azaher might have a very long, tiring road ahead. And it's not something that either Zobed or Azaher deserve, especially after being locked up in jail illegally.
The crucial question that arises here is why do incidents like these—where lives are destroyed due to the slightest of mistakes—take place at all? Advocate Jyotirmoy Barua explains that the root cause behind these incidents is an improper communication system at the courts.
"Consider this case. A poor man from the north has come to Dhaka and a case has been filed against him. Since he is so poor, his family is not able to take any legal steps. Eventually if he does get acquitted and for some reason that piece of news, either because of neglect or on purpose, is not sent to the jail, he will be stuck there. And since his family does not have any idea, the victim remains in jail," explains Barua.
The replies that you get when you enquire about these cases—as to why the orders weren't passed on to the jail in time—are anything but satisfactory. For instance, when contacted for Azaher's case, the assistant registrar of the Supreme Court had told The Daily Star that he doesn't know why the order was not sent to the jail authorities. He further said that he had joined the office in 2015 and isn't aware of the activities that took place in 2012.
On a similar note, the SC Registrar, General Md Zakir Hossain told The Daily Star that he does not communicate the Supreme Court orders and that it is the responsibility of some deputy registrars and assistant registrars. He further said that if the any officials or staff of the SC had any negligence in this regard, action would be taken.
Cases like these may be rare, but that does not mean that they should be forgotten. If anything at all, these cases must be used as examples and the victims must be compensated so that they don't occur anymore. When you talk to Azaher and Zobed, it becomes obvious that neither of them has managed to overcome and accept the fact that they actually spent more time in jail than required.
When Azaher was asked if he still trusted the courts, all he said was: "I have no words to describe my pain. I also don't have any words to describe the law."On a similarly frustrating note, Zobed asked this reporter at least five times during the interview as to whether or not he would actually get compensated for the time he lost.
Despite the adversities, both Azaher and Zobed remain strong. Both of them continue to talk about the pain that they had to go through behind bars. The problem though is that nobody's listening.