The changing dynamics of China-Bangladesh relations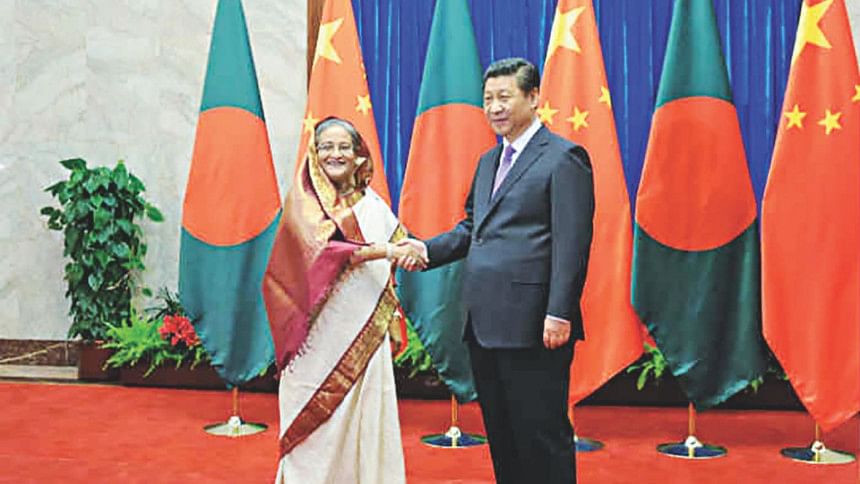 Right from the beginning of their diplomatic ties in October 1975, China and Bangladesh have been maintaining a close relationship, often entitled as "trusted friendship" or "all-weather friendship". While, for decades, their bilateral relations have primarily been focused on trade and defence cooperation, the ongoing pattern projects a gradual extension of this mutual cooperation to political, social, cultural, and maritime sectors as well. In recent years, China's assistance to Bangladesh in all these arenas has heightened significantly, whereas Chinese investments on Bangladesh's infrastructure, power, energy, and telecommunications are noteworthy.
Given these developments, Chinese President Xi Jinping's announcements about the "Belt and Road Initiative" in the late 2013 has paved a new dimension in China-Bangladesh relations, where  Bangladesh stands as an important partner in both the Silk Road Economic Belt and the 21st Century Maritime Silk Road. Bangladesh has emerged as one of the important hubs of maritime as well as overland connectivity between the Indian Ocean and the landlocked provinces of China, especially Yunnan, which turned this bilateral relationship into a larger win-win context.
If we take a brief look at the background of China-Bangladesh bilateral relations, it can be assumed that their traditional relations were based on trade and military cooperation. Since 1975, China-Bangladesh bilateral relations significantly started with developing trade and economic cooperation between the two countries. China became Bangladesh's principle trade partner in 2005 in terms of imports, most notably trade in defence sectors, including the supply of armaments, military hardware, and other special equipment. The Sino-Bangladesh closer military cooperation was finely tuned by the signing of the "Defense Cooperation Agreement" in 2002 in the area of military training and defence production, which was the first of its kind for Bangladesh. In the course of time, Bangladesh now stands as the world's second largest importer of Chinese military equipment after Pakistan.
China-Bangladesh traditional relationship reached a new height with China's President Xi Jinping's two-day landmark visit to Bangladesh in October, 2016, which was widely dubbed as a "historic state visit", beginning of a "new horizon", or "a new historical starting point" of China-Bangladesh relations. Though both countries witnessed several state-level visits by senior officials from both sides in the previous 42 years of their diplomatic relations, a Chinese president's visit to Bangladesh eventually marked a watershed in the bilateral relations of these two countries. During this visit, both the countries have agreed upon furthering their cooperation in various areas, such as, overland and maritime connectivity, infrastructure development, industrial capacity cooperation, energy and power, transportation, information and communication technology, agriculture, and so on.
Hence, notably, one of the key changing dimensions of China-Bangladesh relations in the twenty-first century is the cooperation in regional as well as sub-regional connectivity. Though the two countries' cooperation in the area of connectivity began in 1999 following the initiation of the Kunming Initiative that was later renamed the China-Bangladesh-India-Myanmar Economic Corridor (BCIM-EC), the inauguration of the "Belt and Road Initiative" (BRI) in 2013 attaches greater importance to the enhancement of China-Bangladesh bilateral relations in that regard. Bangladesh officially joined BRI during President Xi's visit in 2016. Bangladesh perceives the BRI as an enormous opportunity to attain its national development goals of becoming a middle-income country by 2021 and a developed country by 2041. Moreover, under the BRI framework, both sides have agreed to work upon realising sustainable development and common prosperity. The visit also renders the development of China-Bangladesh relations through cultural exchanges and people-to -people connectivity.
The bilateral agreements during this visit have also enhanced China-Bangladesh bilateral relations in terms of trade and investment putting their relations on a new footing. Since the visit, Dhaka and Beijing have signed eight projects worth over USD 9.45 billion funded by China. Padma Bridge rail link worth USD 3.3 billion, the power plant in Payra worth USD 1.9 billion, establishing digital connectivity worth USD 1 billion, power grid network strengthening project worth USD 1.32 billion, are the major projects that are being processed with Chinese investments. All these financial assistance through investment have surpassed the previous records of Chinese investments in Bangladesh. To summarise it, China's USD 38 billion investment in Bangladesh, in combination with USD 24.45 billion in bilateral assistance for infrastructure projects and USD 13.6 billion in joint ventures in addition to the USD 20 billion in loan agreements that were made soon after the visit of President Xi, is the largest amount of financial assistance ever pledged to Bangladesh by any one single country.
Besides, China's express of interest in participating in Bangladesh's "blue economy" during this state-visit has steered the long-standing China-Bangladesh relationship towards a promising direction. Being one of the significant littoral states of the Indian Ocean as well as its enormous geo-strategic opportunities in the Bay of Bengal, Bangladesh's interest in being connected to China's landmark 21st Century Maritime Silk Road under BRI has boosted maritime cooperation between the two countries.
Most importantly, China-Bangladesh "strategic partnership of cooperation," instead of "comprehensive partnership of cooperation," injects new impetus into the relationship. This new type of strategic partnership signifies intensive engagements and heightened cooperation on all the issues related to mutual interest and common prosperity, such as political, economic, cultural, and security issues at bilateral, regional and global levels along with other regional and international affairs.
China-Bangladesh relations are going through a change in the 21st Century with wider scope of mutual cooperation and benefits. The bilateral relation is now stronger and more proactive than before. Both countries are now expected to further enhance their ties under the umbrella of the Belt and Road Initiative.
---
Sultana Yesmin is a PhD Candidate, School of Politics and International Studies, Central China Normal University (CCNU), Wuhan, Hubei, China.

Email: [email protected]
---
Follow

The Daily Star Opinion

on Facebook for the latest opinions, commentaries and analyses by experts and professionals.
To contribute your article or letter to The Daily Star Opinion, see our

guidelines for submission

.
---