India and the Islamic World in the March of Time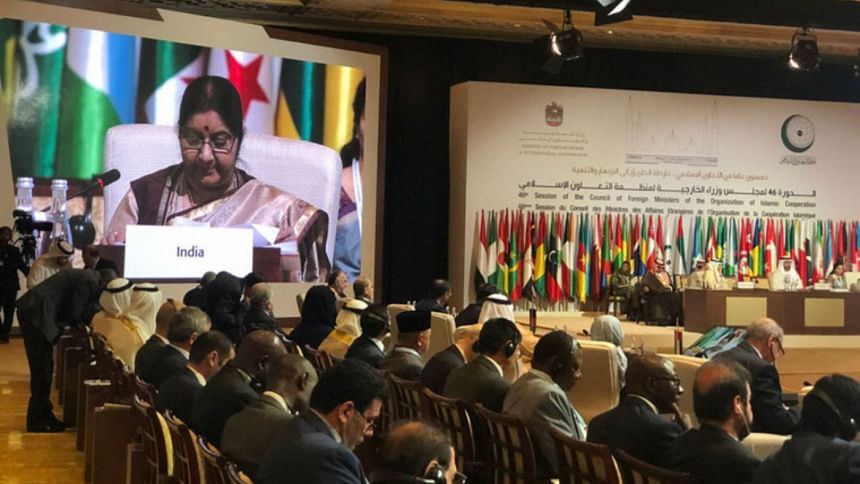 When former foreign minister of Bangladesh (under the previous Sheikh Hasina government) AH Mahmood Ali spoke at a meeting of Organisation of Islamic Cooperation Foreign Ministers in Dhaka in October last year, in favour of a bigger role for non-OIC countries like India with a large Muslim population, it was reflective of a growing line of opinion in the Islamic world. Four months down the line, that trend was strengthened further with the United Arab Emirates inviting the Indian External Affairs Minister Sushma Swaraj to speak as a "guest of honour" at the OIC Foreign Ministers' meeting in Abu Dhabi on March 1. And when she spoke there, she became the first Indian Foreign Minister to do so at an OIC meeting.
History has a strange way of repeating itself but at times differently. It is that "differently" which shows how much time has passed and has the potential to make a difference. In 1969, Pakistan had succeeded in blocking India's participation, despite an invite, in the OIC meeting in Rabat, Morocco, which led to the organisation's birth. But on March 1, 2019, Indian External Affairs Minister Sushma Swaraj spoke at the 46th session of OIC at Abu Dhabi as a "guest of honour" on an invite from the host United Arab Emirates, considered one of the closest allies of Pakistan, which chose to boycott the event in protest against India's presence. Swaraj rightly pointed out in her speech India's close engagement with the Islamic countries, including the UAE, and the keenness of Saudi Arabia, Bangladesh and other Islamic countries to listen to India's voice in the OIC.
The invite by the UAE was not just an assertion of its privilege as the host of the meeting but a recognition of what the Indian External Affairs Ministry said was a recognition of India's "growing stature and a strong Islamic component". It was the first time in more than half a century that the OIC extended this gesture to India. More importantly, it reflects the thinking among a section of the OIC that India, with a Muslim population of 180 million, the third largest in the world, should not be kept out of an organisation dealing with issues pertaining to Muslims globally. Countries like Bangladesh and Turkey have been wanting an important role for India in the OIC.
Over the decades, India has all along maintained close ties with Islamic countries, carefully navigating through the minefield of sectarian strife in West Asia and the resultant conflicts between countries of the region, an exercise that has seen New Delhi successfully insulating its ties with Tehran and its regional rivals Saudi Arabia and Qatar. India is no longer defensive about its robust relationship with Israel as well as the Islamic countries, a few of which have strong trade ties with Tel Aviv. India's traditional engagement with the Arab and the Gulf countries is underpinned by three key reasons: (i) overwhelming dependence on them for oil and gas; (ii) the presence of an estimated ten million Indians in those regions whose remittances help add to India's foreign exchange reserves; and (iii) investments from Saudi Arabia and the UAE in downstream energy and infrastructure projects. The Arab countries, particularly Iran and Egypt, have been an important market for Indian exports, including textiles, engineering goods and chemicals. Iran's Chabahar port provides India with surface connectivity to Afghanistan and Central Asia bypassing Pakistan which refuses to grant this facility. Security, defence and maritime cooperation between India, Saudi Arabia, Qatar and the UAE has also gone up in the last so many years, bringing in tangible results: a logistics base to Indian Navy in Qatar, Saudi Arabia's handing over of Abu Jundal, the handler of the deadly terror strike in Mumbai on November 26, 2008 and the UAE's deportation of fugitive economic offenders from India.
India has extended more than USD 12 billion in soft loans and nearly USD 4 billion as grant assistance to OIC member-countries under development partnership. Besides, India also offers around 4,500 Information Technology Economic Cooperation slots and 2,000 educational scholarships annually to OIC countries contributing to their capacity-building in a major way. The trade between India and OIC countries is estimated at around USD 230 billion, amounting to 30 percent of India's total foreign trade.
It is true that the OIC has for long been routinely critical of India on the issue of Kashmir for alleged human rights violations there. It is equally true that India has routinely dismissed those allegations. There is recognition in India that some of the Islamic countries have funded radicalism abroad and spread the Wahhabi brand of Islam. But India has not held this against enhancing its engagement with the Islamic countries. In 2006, Saudi King Abdullah bin Abdulaziz was the chief guest at India's Republic Day parade and in 2012 it was the Crown Prince of Abu Dhabi Sheikh Mohammed bin Zayed Al Nahyan to be given that honour. India's economic clout today has made it a country of choice which no Islamic country can ignore. India's ties with Islamic countries have gone from strength to strength. If skilled, semi-skilled and unskilled Indians have found jobs in West Asia, the latter has benefitted from cheaper cost of labour. As the Arab and the Gulf countries today seek to diversify their economies beyond energy and look to the east, they find India as a key country in terms of investment in the downstream oil and gas infrastructure sector like setting up refineries and big underground storage oil facilities.
A section of the Indian media has described the UAE's invite to Swaraj to the OIC Foreign Ministers' meeting as a big diplomatic gain in the immediate context of the tensions with Pakistan in the aftermath of the Pulwama terror attack. True, in Abu Dhabi, the Indian External Affairs Minister will get an opportunity to flag India's concerns over cross-border terrorism sponsored by Pakistan, an OIC member-country. But only that much and nothing more. An over-the-board optimistic reading of the invite should be adequately tempered with the reality that no radical departure is to be expected in OIC's known stand on Kashmir at the behest of Pakistan. The same story may be repeated in Abu Dhabi this time around with India rejecting the OIC's likely statement on the subject. All the same, some OIC countries like Indonesia, with the largest Muslim population, and Algeria and Syria, where secular ethos have been strong, have been resisting a hard stance by the OIC on the Kashmir issue at its annual summit-level meetings.
However, some change seems to be noticeable already. The Kashmir issue did not figure in the communiqué of the last two Gulf Cooperation Council summits and the joint-statement issued after Saudi Crown Prince Mohammed bin Salman's recent visit to India talks about the need for dialogue between India and Pakistan in an atmosphere free from terror. Implicit in it is that the Kashmir issue is bilateral between India and Pakistan as against Islamabad's bid to internationalise the matter.
---
Pallab Bhattacharya is a special correspondent for The Daily Star.
---
Follow

The Daily Star Opinion

on Facebook for the latest opinions, commentaries and analyses by experts and professionals.
To contribute your article or letter to The Daily Star Opinion, see our

guidelines for submission

.
---