How did Europe dominate the world?
A tongue-in-cheek spicy history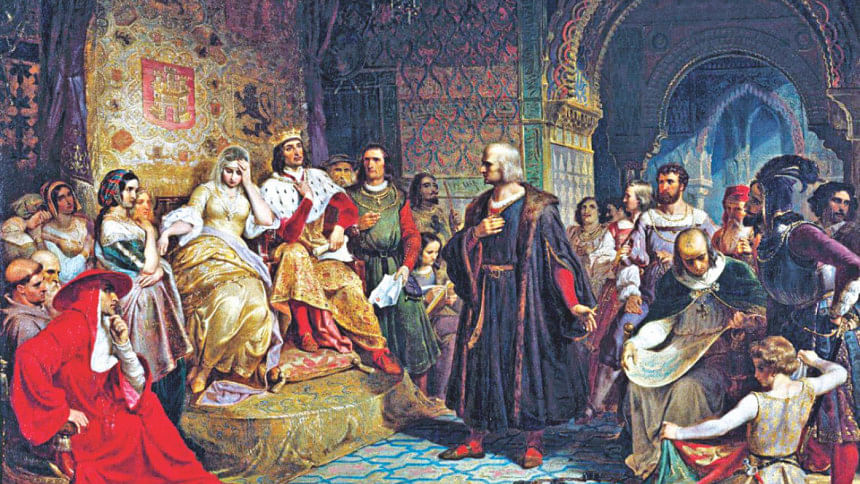 How did a group of a few, small countries of Western Europe come to dominate the world for nearly 300 years? As a recent history book noted (Why Did Europe Conquer the World?, Philip Hoffman), a thousand years ago these countries were "poor, violent, politically chaotic ... hopelessly backward … There were no cities, apart from Córdoba, but it was part of the Muslim world." Few could have predicted that the warring, savage peoples of Western Europe would become world conquerors. They fought bloodily among themselves until as recently as 70 years ago. But even while doing so, these countries defeated powerful empires, the Aztecs of Mexico, the Moors in Southern Spain, the Mughals of India, the Ottomans of Turkey. China, while not conquered, became powerless. Small kingdoms in Indonesia, Malaysia, and Africa were swept aside as an afterthought. How did the Europeans do it?
The epiphany came to me on a cold morning in Amsterdam some twenty years ago. Two days earlier, I had flown all night from the warm summer of Southern Africa to a cold wave then blanketing northern Europe at the beginning of December. But wearing a warm Bangladeshi made parka, gloves and mufflers, I was not bothered by the cold. Amsterdam's charm seemed even brighter in the clear cold weather thanks to the coming Christmas and New Year's festive mood and decorative lights. The city centre was alive with the tinkling of tram and bicycle bells, people walking or biking around in colourful coats and scarves. People were curious and friendly. Striking up conversations was easy. It was idyllic.
Except for the food. Twenty years ago, I was not discriminating about food. That changed, however, after two days of eating Dutch food—bland vegetable mash mixed with gravy and slices of meat. Uncharacteristically, the insipid food lay heavy on my mind. I was not being self-indulgent. If you Google Dutch food even today, you will find the chatter about Dutch food.
In that somewhat depressed state, one afternoon I found myself at the National Maritime Museum. The museum was worthy of Holland's history as one of the world's great maritime powers. One of the memorable exhibits in that museum was a cyclorama—synchronised movie screens projected in all 360 degrees, the cutting-edge virtual reality experience those days. I became a sailor in the nine-month voyage abroad a Dutch ship bound for the Spice Islands, Indonesia. The voyage was an ordeal with the endless rolling and pitching and the seasickness. The howling winds and storms made it clear that death could strike anytime, anywhere.
But, perhaps, the most shocking was the rotten, wretched food, full of maggots, inedible, which sailors had to eat in those voyages. Movie buffs will remember the brilliant scene of Sergei Eisenstein's Battleship Potemkin when sailors are furious after being served with maggot-infested food and end up revolting and training their ship's guns against the Winter Palace. The conditions in a Dutch ship bound for Indonesia in the 17th century, however, were far worse than in Potemkin. There was no fresh meat, dairy or drinkable water. Instead, sailors drank more than a gallon of weak beer a day. Malnutrition was rampant. The dreaded disease scurvy caused by the absence of vitamin C was widespread and killed thousands of sailors.
That was when my epiphany came: Europeans could conquer the world because of food. Their food was terrible, and the spicy food of the East was delicious. Bad food helped Europeans endure the long voyages. And bad food spurred them on to make these long expeditions to get spices to make their food tastier. No doubt the merchants and the rulers who financed these trips also had profits in their minds. These were profits they could make by importing luxury silk and textiles, but, perhaps most of all by importing and selling spices in Europe. Spice was as good as gold in Europe then.
That is why the paramount goal of these long voyages was to reach India and the Spice Islands, now Indonesia. From there, the Dutch East India Company obtained salt, pepper, nutmeg, cloves, and cinnamon. The Malabar coast of India provided pepper, fabric, silk, and cotton. And it was not just to the East that Europe went for spices. Christopher Columbus was driven by the ambition to find a shorter route to India, its riches, and its spices. Well, the Western Hemisphere—the West Indies, more precisely—was not India and this frustrated Columbus's search for spices. But he was convinced that he had reached India. A letter from Columbus to the King of Spain in 1493 claimed "I believe I have found rhubarb and cinnamon."
The cookbooks that have survived from that period suggest that the prosperous European classes—and certainly the royalty—binged on Eastern spices with recipes laden with ginger, pepper, cloves, nutmeg and saffron. For the middle-class too, spices such as pepper were valuable enough to be used even for paying rent.
But how can we say that it was Europe's bland food and the East's spicy foods that spurred Europe's rule of the world? What about the industrial revolution, technology, institutions? As it happens, most of the European conquest took place well before the Industrial Revolution which made Europe—and England in particular—the foremost economic and military power of the world. It took place in a period when the splendour of Chinese and Indian empires still outshone Europe.
And, surprisingly, it took place when they were technologically far behind Asia. We know that China was the fount of technology for most of recorded history, the birthplace of paper and gunpowder. Far less well known is China's prowess in maritime technology. The ships of China's Muslim Admiral Zheng He, which sailed nearly a century before Columbus's, were about five times larger than the ships that Columbus sailed. So were his fleets. During his first voyage in 1407, his fleet had 317 ships carrying 28,000 crewmen. Compare this, if you will, to the three small ships of Columbus and less than 100 crewmen who went on the famous maiden voyage to the Americas on the mistaken idea that they were visiting India. Admiral Zheng He's fleets on the other hand had precise enough navigation to visit and trade goods in Brunei, Java, Thailand in Southeast Asia, India, the Horn of Africa, and Arabia.
But then despotic rule intervened and made the unthinkable happen: the next Chinese emperor stopped the voyages as he saw no gain for China from any contact with the external world. The voyages of the Chinese fleets ended and the ships were destroyed or just left to rot. So, yes, European institutions were critical to Europe's domination of the world. These institutions imposed restraints on despotic feudal power, gave rise to independent trading classes, protected private property and created joint-stock companies and finance and taxation systems that enabled the Europeans to fund their mighty armies and navies. These were all instrumental in Europe's conquest of the world.
 But why were these institutions born in Europe in the first place? It was trade and commerce that allowed an independent trading class to emerge and challenge feudal lords, put limits on their power, and protect the wealth and private property they accumulated through trade. It was also through trade that Europe honed its military technology, the fine-bore ship guns and the man-of-wars that dominated commerce, and the coastal cities of China, India, and Indonesia. Ultimately, this dominance in commerce led to conquest.
So, we are back where we started. Trade was the driving force in making Europe into the dominant world power as it was the midwife for Europe's superior technology and institutions. And Europe's trade happened because their food was quite terrible and they were hungry for spices to make their food tastier. It happened because European sailors could tolerate long voyages subsisting on rotten food. They could do so because the sailors and the traders could dream of the spices they could enjoy and the wealth they could make from it. This, in short, is the tongue-in-cheek spicy history of how Europe came to dominate the modern world.
---
Dr Ahmad Ahsan ([email protected]) is Director, Policy Research Institute and formerly a Dhaka University faculty member and World Bank economist.
---
Follow

The Daily Star Opinion

on Facebook for the latest opinions, commentaries and analyses by experts and professionals.
To contribute your article or letter to The Daily Star Opinion, see our

guidelines for submission

.
---