Effective management of landslides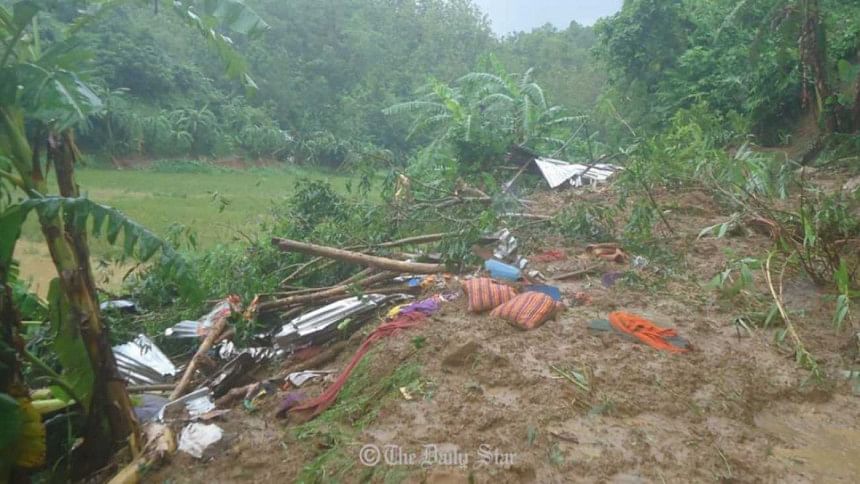 At least 141 people (at the time of writing), including children and four army personnel, were killed in separate series of landslides triggered by heavy rains in Rangamati, Bandarban, and Chittagong on June 13, 2017. The losses have been monumental, and officials fear that the death toll may rise even further in the worst landslide since 2007, when a landslide resulted in the death of around 130 people and affected 1.5 million people in the region. 
Landslide has always been a geological hazard in Bangladesh, especially in the southeastern part of the country. Southwest monsoon flows over the Bay of Bengal, heading towards northeast India and Bangladesh, picking up more moisture from the Bay from June through September. The winds arrive at the Eastern Himalayas with large amounts of rain. Bangladesh and certain regions of India frequently experience heavy rains during this season, and most landslides occur after heavy rainfall. In recent times, landslides have increased both in frequency and intensity, causing widespread loss and damage to life, infrastructure, assets and property, and posing serious challenges to the existing development process. This increase has been prompted by a blend of several elements (morphometric, climatic and anthropogenic) that cause slope instability, most of which is human-induced. 
In 2015, heavy floods and landslides during the last week of June inundated the districts of Chittagong, Bandarban and Cox's Bazar. A second series of heavy rain from July 22–27 caused new floods, landslides and further displacements. The side-effects, so to speak, of Cyclone Komen, were again heavy rainfall, causing additional landslides and flooding which extended to all the coastal regions. 
It is disheartening that despite the occurrence of such disasters in the past, we have learnt little from our experiences. Thus, thanks to mismanagement and lack of preparedness, landslides of such magnitude continue to strike our hills. 
 The Chittagong region is especially vulnerable due to various aspects, ranging from physical, social, political and environmental factors. It goes without saying that comprehensive, well-coordinated steps by the government are needed for sustainable landslide hazard management.
How, one might ask, can we prevent a natural disaster of such scale? Actually, there are several ways. First of all, by controlling the grabbing of state-owned land, such occurrences can definitely be limited. Moreover, understanding the rainfall pattern and its exact relationship with landslide in the region could also help us be prepared. Detailed land use planning of the vulnerable areas, a landslide database, landslide mapping and geophysical analysis of the region are essential to minimise landslides and their impacts in the region. 
For locals living in the hills, it is imperative that they are taught how to secure themselves against landslides. They could also be taught how to control landslides through proper drainage, protection, soil conservation, and watershed management. 
Early warning systems need to be strengthened, with active participation of community leaders. Proper communication amidst the Bangladesh Meteorological Department, community based organisations, the civil defence wing and local government authorities is needed to receive regular data relevant to the area as soon as the monsoon season sets. Volunteers or representatives of the vulnerable communities could also be involved to assist in the alertness and preparedness process. Moreover, existing cross departmental coordination and cooperation on landslide management should be reviewed and strengthened with necessary resources. 
In order to ensure sustainable landslide management, contingency planning at different levels for emergency response should be developed and updated at least once a year. The focus of these plans should be on landslide prone areas and their vulnerability status, and the availability of resources and capacity, apart from other requisite elements that feature in such a plan. 
Capacity building courses on landslide hazard management is needed after a proper gap analysis. Moreover, the constant planning process should include volunteers, managers, workers, government officials, local government representatives, relevant military authorities and media of the vulnerable districts. Half of the participants in the process should be women, as they should also be trained on how to protect their homes, families and communities against such natural disasters.
Landslide mitigation refers to lessening the aftereffects of landslides by taking various projects at vulnerable slopes. Appropriate feasibility studies, along with assessments of risk, uncertainty, possible consequences, constructability, environmental impacts and cost benefit analysis by independent authorities are needed for any mitigation measure. A public hearing and consultation is important in this regard.
Many of those living in the vulnerable areas might not even be aware of the legal provisions that are already in place to tackle such natural disasters. And so, laws such as the Disaster Management Act, and Standing Orders on Disaster (SOD) of the Government of Bangladesh should be understood and exercised by all concerned with appropriate resources, planning, and monitoring and accountability mechanism.
Landslides are the consequence of the political and administrative incapability to manage urban expansion. Consequently, the risks facing the urban poor remain unaddressed or partially addressed by relevant agencies. Measures to reduce landslide risks need to be integrated into area planning. In this regard, actors, including government and local government authorities, the private sector, NGOs and individuals, have particular roles to ensure compliance with land use and relevant policies and procedures, so that landslide risks are addressed when infrastructure is constructed on hillsides. Moreover, the poverty-stricken who live in landslide prone areas cannot even afford an alternative area to live in which could be safer for them. Therefore, addressing poverty of the hill people should be considered as a priority for reducing landslide-related risk and vulnerability.
Politically and socially empowered people of the society in conjunction with corrupt government officials are involved with hill graving and cutting in Bangladesh, violating the existing rules and regulations. Legal instruments should be in place and the enforcement of existing rules should be executed to manage risk-free hills.
In addition, integrating landslide risk reduction in existing development works and future initiatives of different government departments and others working in the area should be made a priority. The concerned authorities should develop a database to carry out detailed study and planning. Government organisations and NGOs also need to redesign their development programmes with the active participation of the most vulnerable communities to ensure that they maximise hazard mitigation potential and incorporate traditional community coping practices. To guarantee the best implementation of all this, adequate resources from the central government and development partners should be ensured by authorities and policymakers.
Countries like China, Philippines, India, Indonesia, Nepal, Japan and the US have managed to control the frequency of landslide occurrence. We should learn from their experiences and seek cooperation from them to enhance our capacity in managing landslide risks. If we are to truly avoid landslide of such magnitude, we need to learn how to be prepared from the beginning instead of waiting for disaster to strike before taking any concrete step. 
The writer is a disaster risk reduction and climate change adaptation expert, and a development lawyer.