Manifestos in the era of alt-facts—the case of education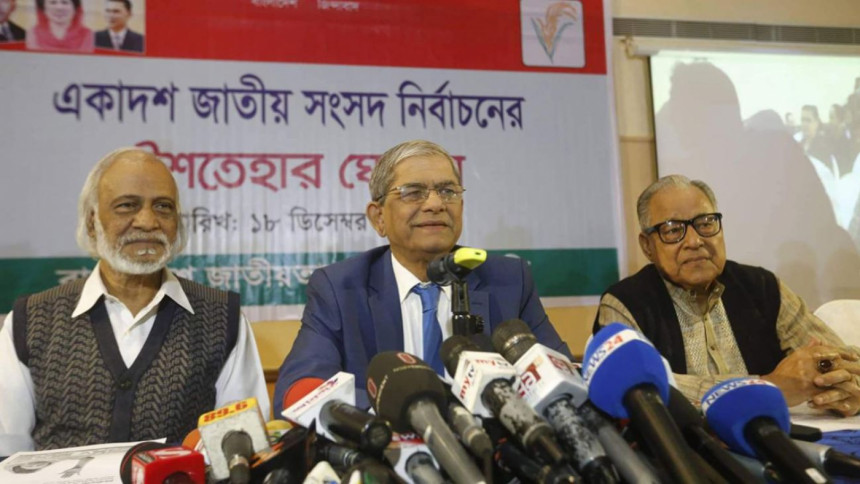 In his famous novel, Love in the Time of Cholera, Gabriel García Márquez, the Nobel Prize winning Colombian writer, writes about Florentino, who professes his undying love for Fermina while he keeps on engaging in trysts with other women. Márquez's magic realism narrative seduces readers and garners their sympathy for Florentino. Critics talk about the novel as an example of narrative as seduction and narrative as the means of constructing and deconstructing truth.
Not that artistic ambiguity is equivalent to artful falsehood in politics. In the era of Trump, the bar for credulity has disappeared, at least for his backers. Press is the enemy of the people and climate change is a Chinese hoax, declared President Trump. He has now announced victory over ISIS, the Islamic State fighters in Syria, and has ordered return home of US troops, while the decade-old war rages on with no end in sight. Politicians everywhere, inclined towards taking licence with inconvenient facts and truth, have given new currency to alternative facts and fake news in an era of "post-truth", replacing old-fashioned lies and falsehood.
The election manifestos of the major parties in Bangladesh are receiving media and public attention now. The parties are vying for seats in the 11th national parliament in the election on December 30. The ruling Awami League and the main opposition contender Bangladesh Nationalist Party (BNP) released their manifestos when only some ten days remained till the polls.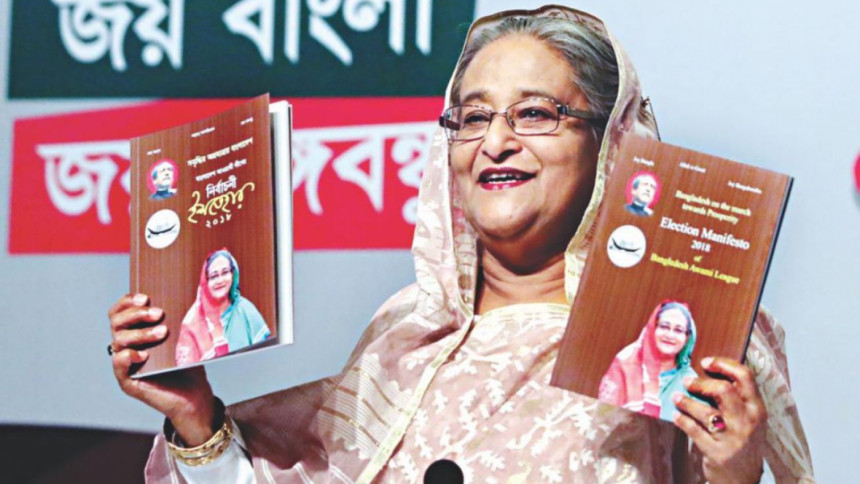 The last-minute release of manifestos indicates a lack of seriousness about the deliberation process followed and how strongly the party stood behind it. A separate manifesto of the Oikyafront, the opposition alliance, of which BNP is the major partner, is also a cause for raised eyebrows.
How credible are the parties' pledges? Awami League has announced "zero tolerance" for corruption, an impossibility under any circumstance. But under the ruling party's tenure, thousands of crores of public funds have been lost through bank scams. The finance minister described bribery as "speed money" to keep the economy moving. And mega-projects are systematically delayed to raise their costs.
BNP, in its manifesto, promises a culture of political tolerance. Under its rule, the mayhem of August 21, 2004 happened when the then opposition leader Sheikh Hasina luckily survived a grenade attack, but 24 of her comrades were killed. BNP and its allies, failing to negotiate with the ruling party the terms for conducting the national election in 2014, perpetrated nationwide street violence.
The result was large-scale deaths of innocent people, arson, vandalism and damage of vehicles and property. BNP still has as its ally a party identified as one culpable for crimes against humanity during the Liberation War.
The plight of the education system and ways of improving it is not the most eye-catching subject in this political season. But ultimately, it is as important as any other, if not more, for the future of the country. The major parties mention education in their manifestos giving it varying degrees of attention.
Awami League in its 21-point manifesto placed education as item number 10 in the list, presenting it in two parts. The part about "success and achievements" includes 27 bullet points. On top of the list is the adoption of the Education Policy in 2010, though much of it remains unimplemented. The other points are about expansion of facilities and keeping the system functioning with teachers, textbooks and stipends for students.
The 12 bullet points under "objectives and plans" promise "highest allocations" for education, though during its 10-year rule the allocation hovered around two percent of the GDP despite repeated pledges to raise it. The other points relate to taking steps to improve quality, more facilities for indigenous groups, ending the disparity in salary between government primary school teachers and others, a technical training centre in each upazila, more nationalisation of institutions, and continuing most of the existing policies.
The 14-point Jatiya Oikyafront manifesto pledges to scrap public exams for grades five and eight, a centralised admission test for all public universities, holding student union elections at all academic institutions and setting up medical colleges in all districts.
The 19-point BNP pledge includes vows to exempt students from all kinds of value added tax (VAT) and withdrawing cases against students involved in recent civil service job quota and road safety movements. Higher education will emphasise science and technology; "world class universities" will be built; and a dedicated education TV channel will be started. BNP also pledged to reduce the price of internet and provide loans for education at low interest rates.
Both Oikyafront and BNP promised a five percent of GDP allocation for education. All three promised employment creation for young people—at least 10 million in the next five years.
It may be instructive to compare the education pledges of the political parties and the "critical areas of action in education" identified by the Centre for Policy Dialogue (CPD). CPD in its pre-election brief lists these under three categories: quality and scope of services, governance, and resources (CPD, December 10, 2018).
On quality and scope, the key points are: (a) Secondary education for all by 2030, with interim national targets for grades 8, 10 and 12—a priority under SDG2030 and for our national middle income aspirations; (b) Ensuring the quality of degree colleges, from where most school teachers come; (c) expanding non-formal alternatives for dropout/out-of-school children and lifelong learning through a network of community learning centres; (d) Quality early childhood development for young children; (e) Making vocational and technical education truly market responsive; and (f) Making teaching an attractive profession with a 10-year plan and a National Teaching Service Corps as its centre piece.
The governance issues are: (a) Bringing all school education (K-12) under one national Ministry; (b) Decentralising education governance with upazila and district-based planning and management; and (c) A permanent statutory National Education Commission to guide education reform.
The main point in terms of resource is increasing the public education allocation to at least four percent of the GDP, and at least to 20 percent of the national budget, as well as effective and efficient use of the resources.
Specific items in the party manifestos are pertinent and a manifesto is not a development plan. However, the contrast cannot be missed between the slap-dash manner and lack of a total vision of change in the manifestos, and the need for structural and holistic reforms noted by CPD.
Columnist Syed Abul Maqsud has written, "People don't give much importance to the election manifesto. The public would like to see democratic practices on the part of the larger parties rather than the promises in the manifesto." (Kaler Kantho, December 20, 2018). Democratic practices in the form of transparency and public accountability are more important than the particular promises. The unfortunate inclination of declaring victory a la Trump and moving on is already evident.
---
---
Follow

The Daily Star Opinion

on Facebook for the latest opinions, commentaries and analyses by experts and professionals.
To contribute your article or letter to The Daily Star Opinion, see our

guidelines for submission

.
---