Why should people suffer for a bad pricing policy?
The government must reconsider its fuel price hike decision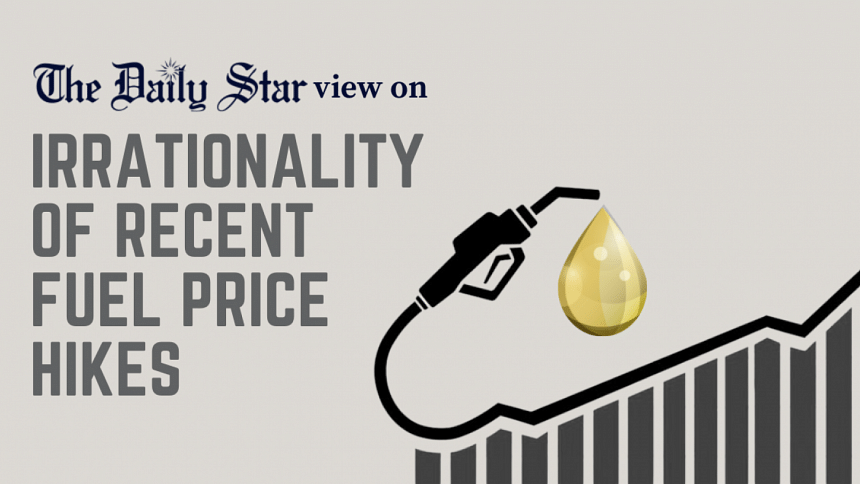 It comes as no surprise that Bangladesh's cost of living crisis has escalated after the record increase of fuel prices early this week, with transport fares, prices of essentials, and production costs already reaching newer heights. The inflationary pressure is set to rise further. If industrial and agricultural production is hampered – which it will soon be – it will further spur imports and decrease exports. It seems that in trying to solve one problem ("adjusting fuel prices"), the government has opened the floodgates to many more. What makes this more painful is that all this could have been avoided.
At an event organised by the Centre for Policy Dialogue, experts said that, instead of increasing fuel prices, there were a number of viable alternatives that could be pursued. The government could have, for example, taken steps to check corruption and mismanagement at the Bangladesh Petroleum Corporation (BPC), which would have saved a lot of money. It could have withdrawn or reduced the taxes it gets from the BPC, which would have helped the latter to make up for fuel subsidies. The government gets up to 34 percent in taxes from the BPC, in the name of customs duty, VAT and advance income tax. It earned Tk 8,540 crore in duty and taxes from the BPC in the last fiscal year, and is expected to get Tk 9,251 crore this year. This tendency of passing the burden of duties, taxes and bad practices onto consumers – but not sharing the profits with them – is totally unacceptable.
Speaking of profits, the BPC did make a lot of them. It made a profit of Tk 46,858 crore since 2015. With this money, it could have funded the subsidies and also offset the losses it has been incurring over the last six months – one of the reasons cited to justify the price hike. Earlier, we were told that the profits were spent on or invested in various development works, a claim termed "delusional" by the CPD. Of the Tk 46,858 crore, the BPC reportedly spent only Tk 9,214 crore on 11 self-funded development projects. What happened to the rest of the money? The BPC apparently has at least Tk 25,254 crore in different government and private banks as Fixed Deposit Receipts (FDRs). Is FDR an investment?
The gulf between official claims and the reality is getting harder to bridge. All this points to a bad pricing policy at best, and an exploitative practice at worst. Neither is excusable, given how badly it has been affecting the ordinary people. True, we cannot rely on subsidy forever. But it can be withdrawn in phases. To do so all at once – despite having alternative options, and despite international fuel prices going down – is alarming. We urge the government to reconsider its decision.