Why are there still so many unfit vehicles?
The number of vehicles with fitness clearance has dropped to a record low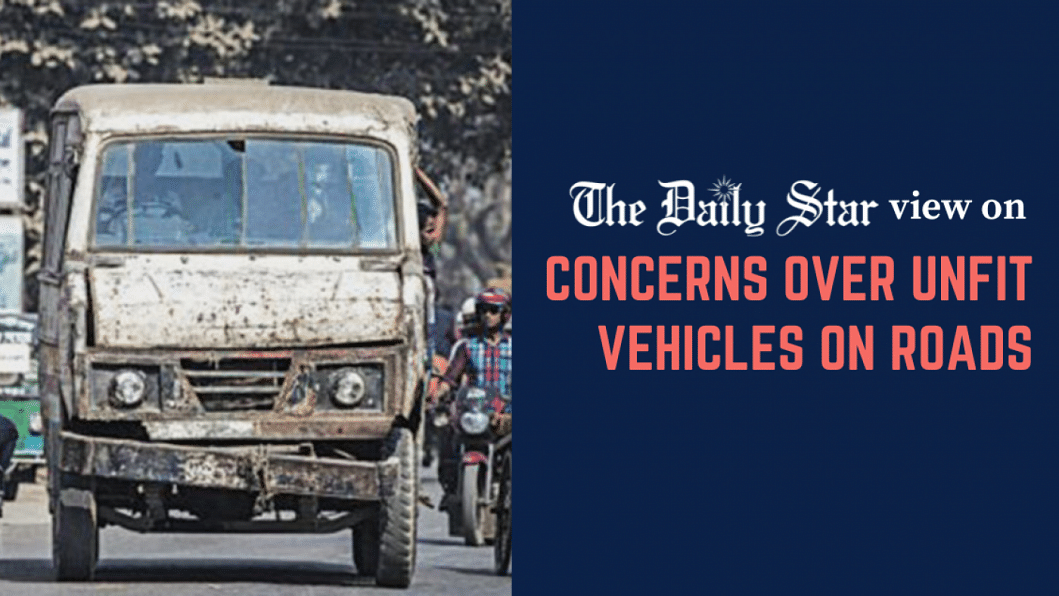 We are concerned to see the number of vehicles seeking fitness clearance dropping to a seven-year low, despite registration of new vehicles seeing a sharp rise over the last fiscal year. It should cause immediate alarm for the authorities, as it raises further concerns about Bangladesh's notorious transport sector. According to police reports, at least 3,186 people were killed and 3,500 injured in 3,776 road crashes in the first eight months of this year. Official numbers, however, are much lower than the estimates given by non-government organisations.
Bangladesh has one of the highest fatality rates from road crashes in the world. And one of the reasons for this is the proliferation of unfit vehicles. With the number of vehicles without fitness clearance increasing, the possibility of more unfit vehicles plying the roads increases concomitantly. This means, the number of casualties from road accidents is likely to rise as well. Unfortunately, despite so many casualties as well as numerous protests – including a countrywide student-led movement in 2018 – against the terrible state of road safety in the country, the authorities have yet to take meaningful action to purge our roads of unfit vehicles, unlicensed drivers and other contributing factors that regularly endanger human lives.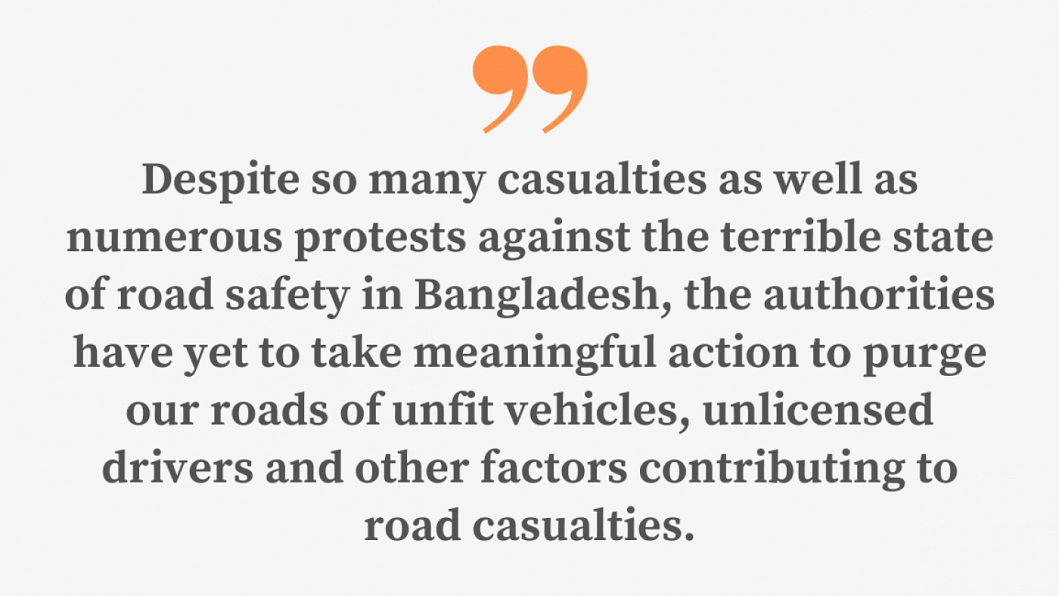 A possibility for why the number of vehicles without fitness clearance is rising is the complexity of getting the clearance in the first place. As with all government services, the procedure for getting fitness clearance is time-consuming, difficult, and often requires bribing officials and middlemen. Additionally, the amount of advance income tax (AIT) that a vehicle owner has to pay for fitness clearance rose nearly by 50 percent since July 1, 2021. The owner of a vehicle, between 1501cc to 2000cc, now has to pay Tk 50,000 as AIT – previously, it was Tk 30,000. The additional cost of getting a fitness clearance, according to BRTA officials, could have made a big difference over the last year.
Even in 2020-21, when BRTA offices remained closed due to Covid-19 pandemic, the number of vehicles with fitness clearance was 6.75 lakh – higher than when BRTA offices were open. Presently, at least 5.42 lakh registered vehicles have been operating without the mandatory fitness clearance. Clearly, the number of vehicles seeking clearance has dropped off quite significantly. The authorities need to find out what exactly is causing this, and rectify the situation on an urgent basis.
According to some BRTA officials, owners of certain types of vehicles such as human haulers and trucks have to bribe law enforcers and transport-sector leaders, even if they have fitness clearance. This may further discourage them to take any clearance test. This culture of bribery and mismanagement needs to change if we are to ensure that the system functions properly. Owners must be encouraged to get fitness clearances for their vehicles on time, and any impediment in their way must be removed.