Towards a disability-inclusive society
Why are persons with disabilities still denied their rights?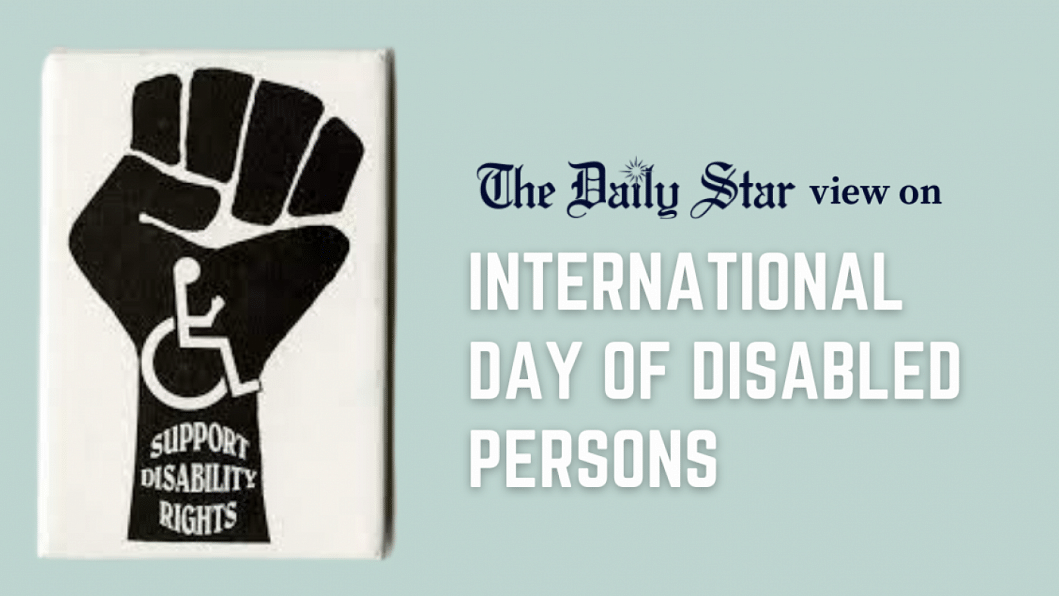 As we observe the International Day of Persons with Disabilities today (December 3), people with disabilities across the country continue to still struggle, often in silence, for their basic rights. According to the recent population census conducted by the Bangladesh Bureau of Statistics (BBS), some 4.74 million people in the country – 2.4 percent of our total population – have some form of disability. They face serious discrimination in all spheres of their lives and are denied access to healthcare, education and employment, despite the fact that we have laws and regulations to protect their rights.
We know that accessibility remains a big issue for persons with disabilities. Our schools, colleges and universities are still far from being inclusive and accessible. A majority of buildings don't have ramps and toilet facilities for the disabled; the same goes for the public transport system. Although there are some seats reserved for people with physical disabilities in public buses, getting into these buses is extremely difficult for them.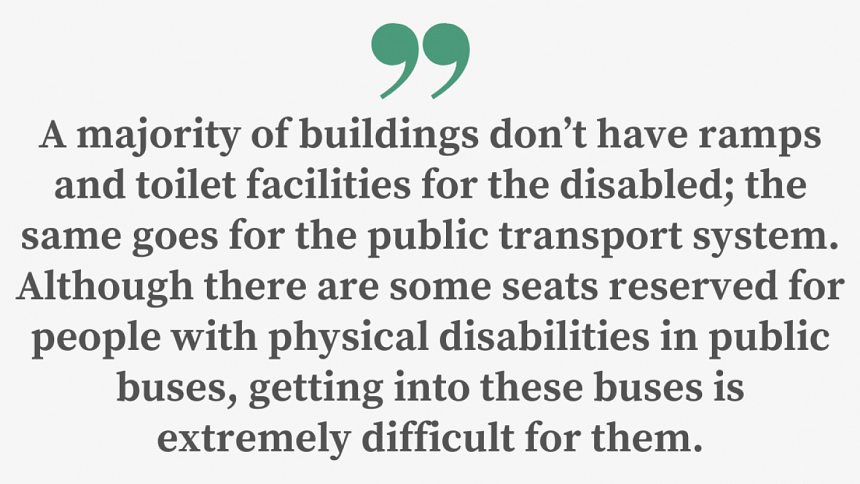 When it comes to education, it is still not easy for a child with a physical or mental disability to get enrolled in a mainstream school. Even if a child can get admitted, he or she finds it difficult to cope with the environment due to a lack of assistance from all concerned. In the case of university education, students with disabilities often don't get to choose the subject they would like to study because of a lack of study material as well as logistical support. It is most unfortunate that our major public universities have still not been able to create a conducive environment for students with disabilities. As a result, the number of such students pursuing tertiary-level education is still very low. 
Understandably, people with disabilities find it tough to get into the job market since there are very few employment opportunities for them. Moreover, most offices are unfortunately still not ready to employ persons with physical disabilities as their staff. The struggle of the disabled does not end here, though. For them, getting access to healthcare is also difficult, as there are no special arrangements in our hospitals to cater to their specific needs. In order to ensure that people with disabilities don't lag behind in society and get the benefits of development equally, the relevant laws and regulations must be enforced properly. Our negative mindset towards disability must also change. People with disabilities are not a burden; it is only our mindset that makes them so. Our policymakers must ensure their inclusion in education and the job market, by recognising and developing their unique skills and abilities, through different types of vocational and other specialised training. In addition, the government's budgetary allocation for persons with disabilities must increase, while its social safety net programmes must be made disability-inclusive. The state must ensure that the persons with disabilities can live their lives with dignity.