No more dirty tactics before election
AL must stop obstructing the opposition's right to free assembly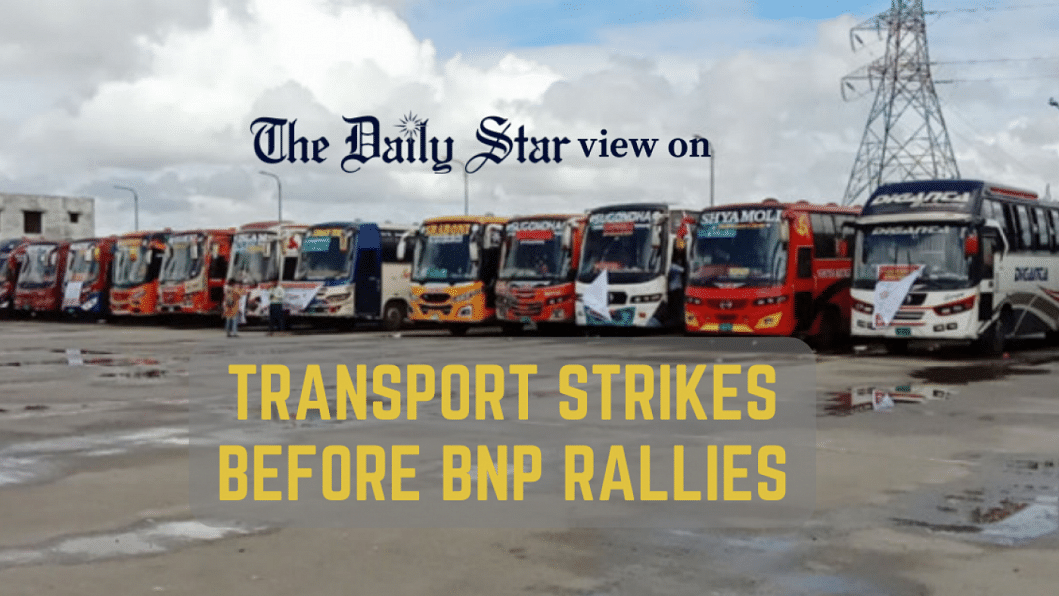 It has now been confirmed that it is the local Awami League leaders and their allies who are actually enforcing the transport strikes in divisional cities right before the BNP rallies. The ministers who have been claiming otherwise are also surely aware of this; therefore, we feel insulted that they keep trying to pull the wool over our eyes by claiming that transport associations are independent and have made the decisions of their own volition, when they clearly are not. 
Just like in Khulna, Mymensingh, and Barishal, transport owners in Rangpur called a 36-hour strike from October 28, a day before the BNP rally. Mozammel Haq, president of the Rangpur Motor Malik Samity which called the strike, is an adviser of AL's Rangpur City unit while Mashiur Rahman Ranga, general secretary of the body, is a Jatiya Party lawmaker from Rangpur. Similarly, in a report this newspaper published on Friday, it revealed that the strikes called in Khulna, Mymensingh and Barishal were all called by associations either directly controlled by local AL leaders or their loyalists. And there is no reason to doubt that this instruction was not passed onto them from high ranking party members – especially given how well-coordinated it has been. 
It is extremely disturbing just how much transport associations, similar to all other associations in various sectors, have been completely politicised by the AL and used for its narrow political purposes. Even in this case, let us not forget that ordinary citizens have also been suffering as a result of the lack of private transport. The transport sector, in general, has been a mess as a result of this deep politicisation, which has been leading to deaths from road accidents on a regular basis – and no meaningful reforms have been taken to fix the sector because of political reasons, despite the heavy cost to citizens. 
The revelations about the transportation strikes verify the concerns expressed by the people, civil society members, the media and opposition parties – that the AL is unwilling to respect the opposition's, and the people's as an extension of that, right to free assembly. It is still unwilling to provide a level playing field to the opposition right before the election, in the interest of making our dysfunctional democracy somewhat functional. And that, we believe, does not bode well at all for the country going forward. Therefore, we would like to call on the AL to refrain from using such dirty tactics, and instead, let the opposition exercise their rights and, most importantly, let the people exercise their rights to decide the fate of the country going forward.