No end to the procession of dead rivers
Habiganj municipal authorities must stop dumping waste into the Khowai river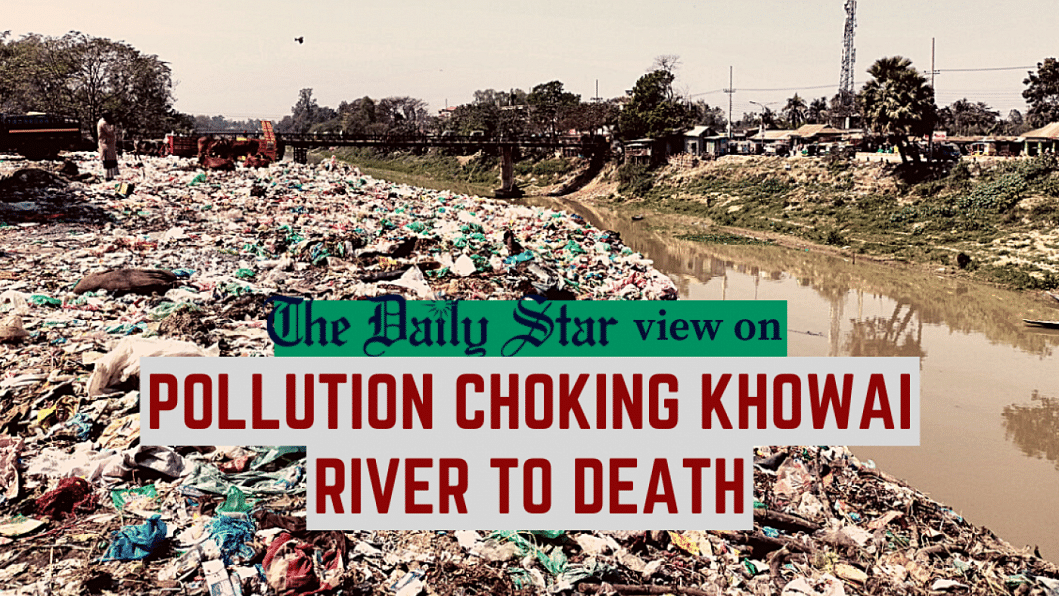 It's quite frustrating to see report after report on the pollution and encroachment of the Khowai river, flowing through the Habiganj town, with the local authorities doing visibly nothing to stop such activities. According to a report published by this daily, the banks of the river have now turned into a veritable dumping ground for all kinds of household and commercial waste, which is not only choking the river to death but also damaging the surrounding environment. What is most concerning, the municipality's conservancy workers often discharge waste collected from the town straight into the river, despite there being a designated dumping ground located about four kilometres away from the main town.
Reportedly, indiscriminate pollution has not only affected the river's marine life, but also become a big public health concern for the town's residents. According to one resident, he used to bathe in the river just a decade ago. Now, it is even impossible to get near it because of the stench of rotting waste dumped on its banks. According to him, people living nearby have to keep their doors and windows closed to get rid of the smell. Fishing in the river has become a story of the past.
Sadly, the situation that the Khowai river is facing is not unique. In fact, this is the condition of the majority of our rivers at present. In most cases, pollution and grabbing take place under the very nose of the authorities, while in some cases, those responsible for taking care of the rivers have become polluters themselves. In the case of the Khowai river, the municipality's garbage collectors are majorly responsible for polluting it. This daily published quite a few reports in the last few years highlighting the reasons for the river's slow death. But no substantial steps have been taken to address this issue.
In order to save our rivers from such pollution and encroachment, the authorities must comply with the directives given by the High Court in 2019. The National River Conservation Commission (NRCC), which is the legal guardian of our rivers, must play the role expected from it. It cannot remain a toothless tiger while most of our rivers are facing an existential threat. Reportedly, the commission made a list of river grabbers in the country a few years ago. We would like to know what it has done with the list.
The shipping minister has recently said that Bangladesh will not survive if our rivers stop flowing, while assuring that the government will rescue the rivers from encroachers. We hope his words will translate into action, and his ministry will take concrete measures to restore the natural flow of our rivers. Only strong political will, backed by proper action from the NRCC, BIWTA and other relevant authorities, can reverse their condition.