A nation-builder like no other
Dr Zafrullah Chowdhury will be remembered for his tireless pro-people activism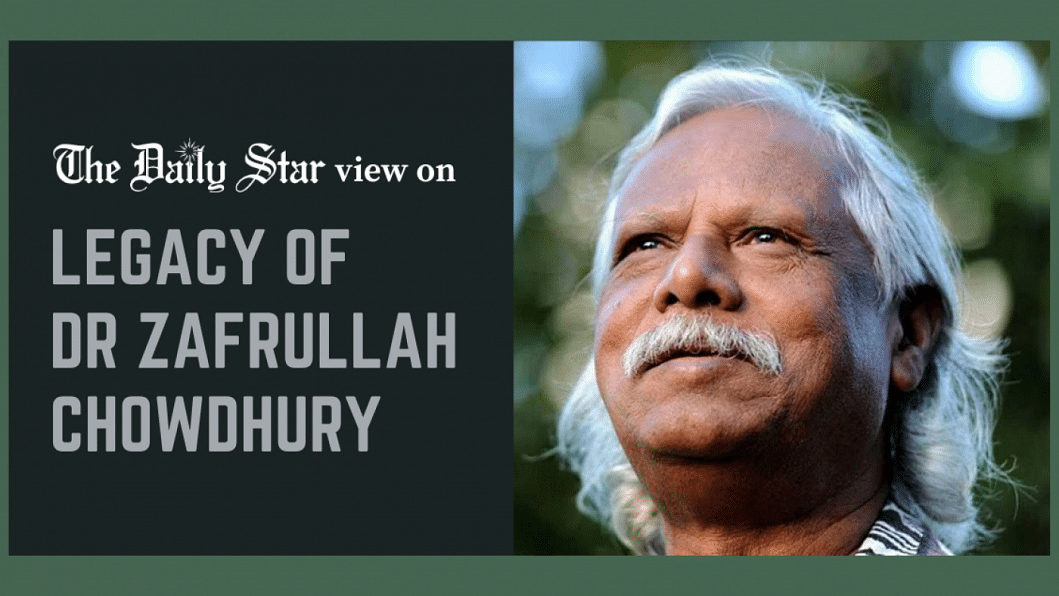 We're deeply saddened by the passing of Dr Zafrullah Chowdhury, 81, who breathed his last at the Gonoshasthaya Nagar Hospital in Dhaka on Tuesday. Few stars in the socio-political firmament of Bangladesh has shone as bright and for as long as he did. As Victor Hugo once said, "Short as life is, we make it still shorter by the careless waste of time." Life's potential, seen through this lens, is measured by not how long it is but how well and meaningfully it is lived, and Dr Zafrullah Chowdhury has surely lived his to the fullest. As a nation, we couldn't be prouder that he chose to do so in the service of our people, tirelessly working for them until his last days.
Affectionately called "people's doctor" because of his lifelong work in public health, Dr Zafrullah's name will be forever etched in our history as the man who had founded Bangladesh Field Hospital to treat wounded freedom fighters during the War of Liberation. It was the seed of what would later be Gonoshasthaya Kendra post-independence. Designed to mainly serve the poor and disadvantaged, this centre would go on to have a revolutionary effect not just in the public health sector but also in the public perception of women, empowering them by breaking gender stereotypes. Today, this multidimensional institution includes projects ranging from primary healthcare centres and hospitals, community schools, agricultural cooperatives and women's vocational training centres, to economic enterprises to help finance its Trust activities. But its most obvious success is its primary healthcare programme (mainly in the villages) which benefits over a million people.
Another notable achievement of Dr Zafrullah was his leading role in formulating the National Drug Policy, 1982, which served as a cornerstone of today's robust pharmaceutical industry. His activism in the dark days of the pandemic in Bangladesh were also exemplary. His deep love for his country and the people also drove him to tirelessly campaign on various socio-political issues. Every time there was an injustice, he was among the first to speak up. Overall, the scope of his works was as breathtaking as their effect. He was a nation-builder like no one else.
The awards he received in recognition of his service were also legion. Among them were the Independence Award (Swadhinata Padak), the highest state honour given by Bangladesh government; a "Certificate of Commendation" for his contributions during the War of Liberation; the Swedish Youth Peace Prize for founding Gonoshasthaya Kendra and providing primary healthcare to rural communities; Maulana Bhashani Award; Ramon Magsaysay Award; The Right to Livelihood Award, Sweden; One World Action Award, UK; Fr. Tong Memorial Award, India; Doctor of Humanitarian Sciences Award, Canada, etc.
Despite all his achievements, however, Dr Zafrullah lived a very ordinary life. He epitomised the philosophy of "simple living, high thinking" – and to his credit, he knew how to realise his thoughts and visions into a reality. So as we try to process the loss of this illustrious son of our soil, we hope more than anything that his rich legacy of pro-people, pro-poor activism will live on.