Journalism is under threat, now more than ever
Repressive governments are targeting journalists worldwide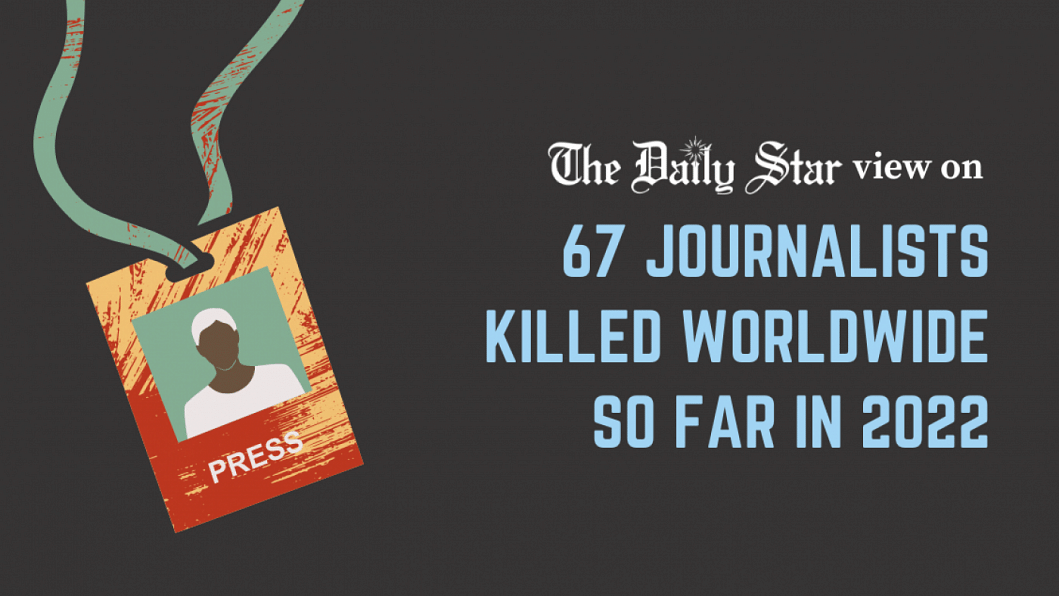 The killings of 67 journalists and media workers around the world so far this year, as reported by the International Federation of Journalists (IFJ) recently, are a reminder of the threats to press freedom and freedom of expression as well as the impunity surrounding these murders. This year's death toll, which is significantly higher than in 2021, when it was 47, also represents an alarming deterioration of the situation, requiring urgent interventions. 
According to the IFJ, the war in Ukraine has taken the lives of 12, mostly Ukrainian journalists. While covering a war always carries the risk of casualties, there have been many cases where states have been directly involved in silencing journalists. The shocking shooting of Al Jazeera journalist Shireen Abu Akleh by Israeli forces in May is a prime example of the risks journalists face when they expose truths that contradict the state narrative. In Mexico, 11 journalists were killed, highlighting the terror of organised crime.
In countries where there have been public uprisings against repressive governments, journalists have been targeted quite blatantly. Since the US troops left Afghanistan and the Taliban regime took over, journalists in both electronic and print media have been arrested, some even killed. Women journalists in radio and TV channels were forced to give up their jobs and even flee the country to save their lives. The IFJ recorded at least 375 media professionals currently in prison; most of them are in China, Myanmar, Turkey, Iran and Belarus. But what about democratic states? Are journalists safe from arbitrary arrests and physical harm here? In Bangladesh, for example, there has been a proliferation of newspapers and TV channels, but does it mean we have total press freedom?
The Digital Security Act (DSA) has become the greatest obstacle to independent journalism in the country, as it gives carte blanche to law enforcement agencies to randomly arrest people for publishing/sharing digital content that may be construed as being "seditious" or "hurting religious sentiments" or some other vaguely defined offense. The DSA and other laws related to the media have resulted in self-censorship, which is the first symptom of an ailing democracy. Moreover, the ownership of media is being dominated by individuals or groups connected to political power which leads to further compromises in objective, authentic journalism. This is quite alarming. 
Meanwhile, in many democracies, social media has been used as a tool to spread misinformation as well as discredit, humiliate and intimidate journalists who have been critical of governments or have exposed uncomfortable truths. Women journalists especially have been targeted for relentless misogynistic trolling and incriminating rumours. The IFJ has also criticised the new form of mass surveillance, Pegasus, used to spy on people including journalists.
All these constitute major threats to the rights of journalists to pursue their careers freely and independently. Governments around the world are failing to realise that apart from providing the public with objective, authentic information, the media also helps governments to keep track of anomalies in their institutions which need to be corrected. It will, therefore, be in their own interest to ensure a safe and enabling environment for journalists, so that they can do their job without their lives and livelihoods being threatened.